Are you exhausted of chasing down leads like a desperate lover trying to win back their ex? Do you feel like your marketing tactics are stuck in the Stone Age, and you're just waiting for a dinosaur to come and end your misery?

Well, my friend, it's time to evolve.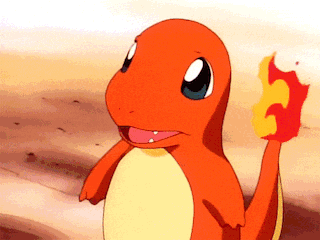 Source
Join the world of HubSpot Inbound Marketing, where leads are hot, content hotter, and ROI the most desirable of them all.
If you're unfamiliar with the term "inbound marketing," don't fret—it's not a fancy way of saying "spam your prospects." Instead, it's all about attracting potential clients to your organization with valuable content and a little bit of charm (well, maybe a lot of charm)
So, if you're ready to ditch the prehistoric marketing tactics and join the Hubspot Inbound Marketing revolution, grab a cup of coffee (or a glass of wine, depending on the time of day) and get ready to learn everything you need to know about the MVP of inbound marketing tools!
What Is HubSpot Inbound Marketing?
The question on everyone's mind is, "What is HubSpot Inbound Marketing?"
Well, it's like the sweet, fragrant nectar that attracts bees to flowers or, in this case, leads to your business. Think of HubSpot Inbound Marketing as the magic wand that turns your marketing efforts from mediocre to magnificent.
But what exactly does inbound marketing mean?
Essentially, it's a methodology or strategy that concentrates on attracting prospects to your company rather than interrupting them with annoying cold calls or ads. The basis of inbound marketing is creating valuable content that your audience wants to consume, whether that's memes (yes, even memes can be considered inbound content,) podcasts, videos, or blog posts.
HubSpot Inbound Marketing is the reigning champ for this type of outreach.
It's like being the king of the jungle, but instead of tigers and lions, the platform is filled with analytics and automation. HubSpot Inbound Marketing allows you to create, manage, and analyze inbound marketing campaigns from a centralized location.
If you minus the questionable fashion choices and blue skin, you can think of HubSpot Inbound as the marketing genie in a bottle.
There are other options for inbound marketing platforms, and one of the other popular options is Pardot (which is now called Salesforce Marketing Cloud Account Engagement—what a mouthful!) If you're interested, we've compared them in our article Pardot vs Hubspot.
With that out of the way, let's explore some of HubSpot Inbound's key features:
| | |
| --- | --- |
| Features | Description |
| Content creation | Design blog posts, emails, landing pages, and other types of content that captivate your audience. It's easy to create and publish content with the HubSpot content management system (CMS) |
| Lead capturing | HubSpot Inbound allows you to utilize pop-ups, forms, and other lead-capturing tools to collect information from your website's visitors. There's even a convenient lead-scoring feature to assist in prioritizing your prospects based on their level of engagement. |
| Social media engagement | Manage social media accounts, schedule posts, and track performance across various channels. It becomes easy to engage with followers and monitor mentions of your brand with HubSpot Inbound's social media tools. |
| Marketing automation | Workflows are seamlessly automated to help save you time while nurturing leads more efficiently. A few of HubSpot's marketing automation features to look out for include lead fostering, scoring, and other tools to move the prospect down the funnel. |
| Email marketing | With built-in email automation tools, HubSpot's Inbound marketing helps you develop workflows that trigger email responses based on specific HubSpot marketing events or actions. You can also send targeted emails to your leads based on their interests, behaviours, or stage of the buyer's journey they're at. |
Following the attracting, converting, closing, and delighting process, you can utilize HubSpot Inbound marketing to increase your business's sales and customer satisfaction.
Definition of Inbound Consulting HubSpot

Inbound consulting can be the matchmaker for companies and their potential clients. Utilizing inbound marketing strategies, businesses can create a strong bond between them and their audience.
The HubSpot software acts like the ultimate wingman—with all the support and tools required to make client connections happen.
Let's break down HubSpot Inbound consultants a bit more seriously but with a tiny smidge of humour:
They're like the Yoda of marketing—A certified Hubspot inbound consultant helps guide organizations on how to attract and retain customers using the force (aka inbound marketing techniques)
HubSpot Inbound consultants are like personal trainers—They keep your marketing efforts fit and in shape.
Business therapists—HubSpot inbound consulting aids in identifying weaknesses and strengths to create a plan for improving a company's customer relationship.
Master conversion-ists—Specialist HubSpot Inbound consultants, understand the art of turning strangers into loyal patrons by providing them with valuable content while building a solid connection.
Irrespective of whether you're a novice or veteran utilizing HubSpot, our dedicated specialists can use their expertise and knowledge to offer training, project management, and best practices advice.
Types of HubSpot Inbound Marketing Consultant Services
With all this talk about how intuitive and robust HubSpot's platform is, it's super clear why there are numerous specialized experts for each nuance of the software. I'd like to show you a few HubSpot consulting services that may interest you and benefit your business.
HubSpot Technical Consulting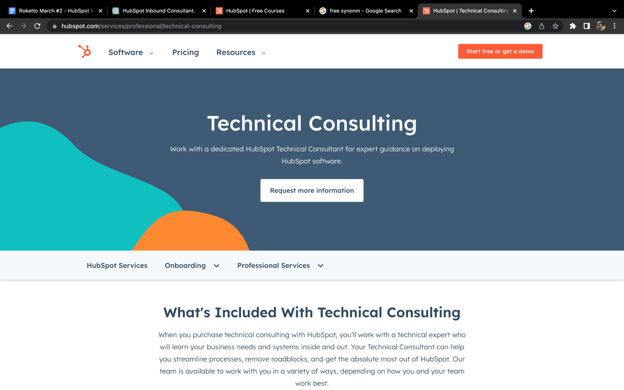 With a focus on providing insights into the more technical side of your organization, HubSpot technical consulting services highlight what is working and what areas require improvements.
After carefully assessing your company, a HubSpot Inbound technical consultant may recommend needed elements to improve your HubSpot platform and help your organization reach its goals faster.
You can expect the following services from your HubSpot Technical Consultant:
Technical troubleshooting
Migrating to HubSpot from another CMS
Developing or improving current technical procedures and providing resource documentation
Educating businesses on system administration, responsive web design, and more
Providing performance recommendations for landing pages, forms, or websites within HubSpot
For instance, let's say you're a business that already utilizes HubSpot Inbound marketing to attract customers but wants to learn more about advanced HubSpot software usage, such as optimizing common integration platforms and connectors like Zapier, Bedrock, Scribe, Salesforce, or Shopify.

While some API integrations with the above service providers may be simple, a few have increased complexity.
A HubSpot technical consultant can save the day!
The agency or individual you select comprehends your unique requirements for the HubSpot integration and ensures all the nitty gritty details, such as web architecture and code, are ironed out.
With the assistance of a HubSpot technical consulting professional, you can launch those more techie projects and take your organization to the next level!
HubSpot Inbound Consulting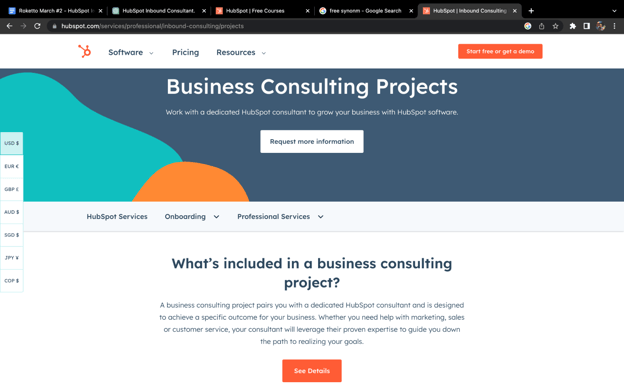 Since the word "Inbound" is in the name, you should know that it refers to HubSpot's Inbound Methodology. We already understand that the practice involves attracting, engaging, and delighting customers and leads so that they become advocates for an organization to aid in organic growth.
In the old days, promoting a company might have required a physical store that clients could visit, or print materials like brochures and catalogues, or magazine or newspaper advertisements.
However, in the last few years, even organizations that have been clinging to these old-school ways of promotion have begun to understand the importance of having a digital presence to advertise their business.
A HubSpot Inbound expert's job is to recognize what a company wants to accomplish (targets, goals, and objectives) to provide the most appropriate advice in reaching those goals with the HubSpot tools they're already subscribed to on the platform, as well as suggesting additional tools that could be used to gain a better ROI.
Here is a small breakdown of a day in the life of a HubSpot marketing consultant:
Work to understand the business and its goals: The first engagement is generally a discovery call that gives the HubSpot Inbound agent insights into the company's objectives. During this conversion, the consultant will ask questions about targets or business goals for the year. SMART Goals are generally finalized at the end of the call so that things can be put in motion for marketing and sales teams to start working towards these objectives.
Providing tactic and strategy guidance: Once goals are in place, a HubSpot Inbound consultant gets to work! They research notes from the discovery call and choose key areas to focus on while building a strategy around these nuances.
Move businesses forward: Once projects are set up on the HubSpot platform, consulting time with the client could include training their employees on utilizing specific software tools, reviewing open action items, or sharing best practices for the launch of a new project.
There are two key pillars for every HubSpot Inbound consultant: Use good judgment and solve the customer's business problems. A HubSpot Inbound consultant follows the client through their journey with HubSpot and makes their own decisions about how to consult best.
HubSpot Migration Services Consulting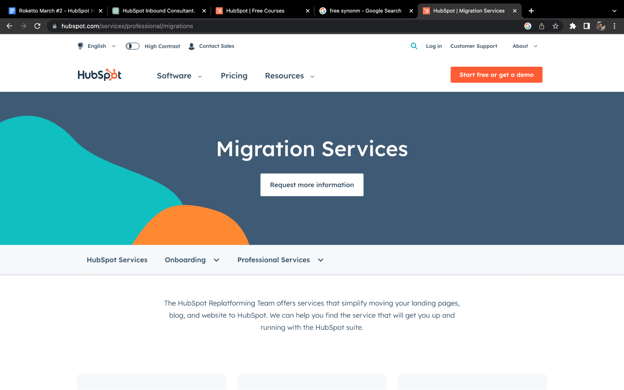 Do you want your migration to HubSpot hassle-free?
HubSpot migration services aid in customizing a solution that meets your particular requirements. It extends past just importing contacts; generally, it includes reallocating automation, pages, tickets, emails, Hubspot Inbound calling logs, templates, notes, opportunities, and other data from legacy systems to the HubSpot platform.
The primary objective for a HubSpot migration expert is to provide a streamlined, safe environment so marketing and sales teams don't have to resolve the mess and can concentrate on their strategies instead.
Let's look at three types of migrations a specialist can assist you with.
CRM Migration
Often, companies lack the expertise or bandwidth to migrate data from their CRM to HubSpot's platform.
A HubSpot Migration specialist audits your current data and CRM to identify data that needs to be migrated. These individuals may also suggest any clean-ups required to make the transition smoother.
The steps below highlight the path a HubSpot CRM migration expert may follow:
| | | |
| --- | --- | --- |
| Step | Task | Description |
| 1 | Strategy and planning | After conducting a high-level assessment, HubSpot migration experts create a schema and plan data migrations, marketing assets, integrations, and workarounds based on client needs. |
| 2 | Execution | A CRM HubSpot migration professional helps create associations, perform customization, and highlight data points while cleaning up and refining your current data. |
| 3 | QA and testing | Testing web pages, landing pages, and emails to ensure reliable data before going live is critical to a successful deployment. A HubSpot CRM migration service handles everything, including object data and QA activities for improving mapping and information accuracy. |
| 4 | Deployment and monitoring | Migrations experts deploy software, assist with HubSpot onboarding of your teams, and compare old data and KPIs (Key Performance Indicators) to ensure success. |
With the multiple nuances involved in ensuring your CRM data is exported into HubSpot successfully, it's recommended to allow a HubSpot migrations consultant to handle this task, even just to speed up the process.
Template Migration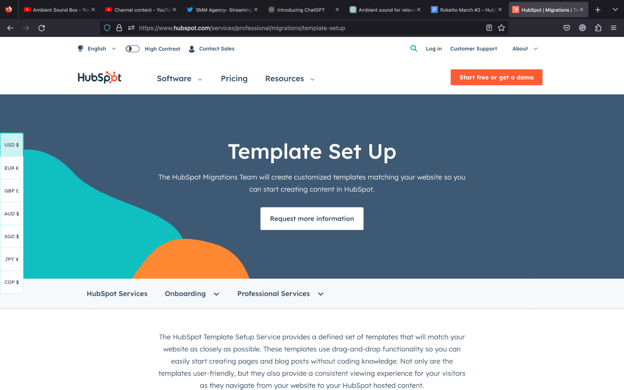 With the assistance of a HubSpot template migration service, you'll get a defined set of templates that match your website as verbatim as possible. These templates' drag-and-drop functionality makes it simple to begin creating blog posts and pages without prior technical knowledge.
It's important to remember that this service generally only involves the migrations of templates and not the data associated with them. A HubSpot template migration expert can develop typography, footers, and headers that match your website as closely as possible.
Once complete, you can personalize the page body layout and content to align better with your brand.
There are a few things that may change when using a HubSpot template migrations service, namely:
HubSpot's search module will replace the site's original search functionality
Some blog layout changes may occur if there are compatibility issues between the legacy system and HubSpot
Column width, non-standard fonts, and precise spacing may change
Let a HubSpot inbound consulting service handle the creation of code files, global groups, and a standard template set to match your external website.
Website Migration
Migrating your website content onto a new theme in HubSpot CMS can be daunting.
That's where a HubSpot website migration specialist steps in.
HubSpot website migration consulting services allow you to migrate your content to a Replatforming, default, or marketplace-built theme.
Allow a HubSpot expert to match the feel and look of the theme of your existing website. Consider using a certified re-platforming specialist to help you navigate the process and perform the website migration.
Businesses thinking about utilizing a HubSpot website migration consultant should remember that some services may not include the following:
Content strategies
Significant custom development
Graphic design
After consulting with a re-platforming specialist, they'll assist you in choosing the correct migration plan for your organization, transfer and resign the existing web content into HubSpot's intuitive platform, ensure the new website's quality, and provide on-ongoing support when the new domain goes live.
It's easy to make future updates to your website because it'll be built utilizing limited custom code to keep things as original as possible.
Benefits of Working With a HubSpot Inbound Consultant
If you are working on a different platform and are thinking about switching to HubSpot, it may take longer than expected to get used to it. It's vital to have someone on your side who can make life easier and answer challenging questions to make the transition as seamless as possible.
Here are a few benefits to convince you that a HubSpot Inbound consultant is worth every penny.
Trained on How to Use the HubSpot Platform
HubSpot Inbound consultants are focused on empowering organizations to utilize all of HubSpot's features to the maximum. They wouldn't just wish you luck and never talk to you again after handing you the keys to success.
When you work with a certified HubSpot Inbound consultant or HubSpot Marketing Partner agency, they want you to fully understand how to use the platform. Relevant and consistent training is essential to hit the ground running after the deployment of new systems or strategies.
Connect Your Marketing Strategy and HubSpot's Toolset
You have an implementation vision of all the marketing initiatives you want to attempt, and a certified HubSpot Inbound consultant can help you achieve those goals. They can even assist you in levelling up sooner!
Without prior knowledge of all the capabilities and intricacies of HubSpot's platform, business proprietors can sometimes limit the extent of the marketing campaigns they wish to run. Hand over the steering wheel or check with your HubSpot Inbound consultant to learn about tips and ideas on how to implement your marketing strategy best.
For example, manual contact enrollment into sales sequences can be automated. A HubSpot Inbound consultant can turn that sales sequence into a workflow to give you the power to completely customize the client's experience, track conversion rates, and boost employee productivity.
Experts Who Show You How HubSpot Should be Utilized
HubSpot Inbound consultants can give you insights into how the platform should be personalized to meet your organization's requirements.
For example, sales enablement for a SaaS marketing company and a university look entirely different. A Hubspot Inbound consultant has the expertise in working with various sales hubs and teams, meaning they'll know what's the best sales pipeline to use in each instance.
Companies minimize guesswork and can create an efficient HubSpot process from the beginning with a certified HubSpot consultant.
Inbound Consultant HubSpot Hiring Considerations
Regarding inbound marketing, having a robust HubSpot Inbound consultant can make all the difference. With HubSpot's comprehensive marketing automation features and tools, the platform requires the expertise and experience of a professional to get the most out of it.
Hiring the correct HubSpot Inbound marketing consultant can help you create, implement, and optimize marketing strategies that generate leads, drive traffic, and boost conversions.
However, not all HubSpot Inbound consultants are created the same. Hiring the incorrect consultant may waste money, resources, and time. Therefore, it's critical to consider some key factors when hiring an inbound consultant for HubSpot.
Expertise and Experience
HubSpot is a powerful tool, and you require someone who has experience working with it. A HubSpot Inbound consultant with extensive system knowledge understands how to navigate the platform, create effective campaigns, and troubleshoot any issues.
Search for HubSpot Inbound consultants with experience and certifications in content creation, social media management, HubSpot SEO (Search Engine Optimization), email correspondence, and of course, inbound marketing.
Communication Skills
A proficient HubSpot Inbound consultant must have excellent communication skills. They should be able to listen to your goals and needs while communicating efficiently to achieve top results. With the help of a HubSpot Inbound consultant, you'll get the opportunity to understand technical details and complex topics in plain language.
Strategic Thinking
Inbound marketing and strategies are peas in a pod. If your HubSpot Inbound consultant doesn't understand your target audience, industry, and business, they'll fail to do the job correctly.
Ensure your chosen HubSpot Inbound consultant can develop a comprehensive inbound marketing strategy that aligns with your company's objectives and goals.
Results-Oriented
Generating leads and driving revenue is the ultimate goal of inbound marketing. Your HubSpot Inbound consultant must have a track record of delivering results for their customers; otherwise, you'll be wasting your time.
Consider a HubSpot Inbound consultant who can provide references, testimonials, and case studies demonstrating their ability to accomplish quantifiable results.
Compatibility
Finding someone who will work closely with your team and company to produce optimal outcomes is essential. Finding a Hubspot Inbound consultant compatible with your organization's values and culture is critical to success
Your Hubspot Inbound consultant must have a positive attitude, a strong work ethic, and share your company's vision.
HubSpot Inbound Marketing Training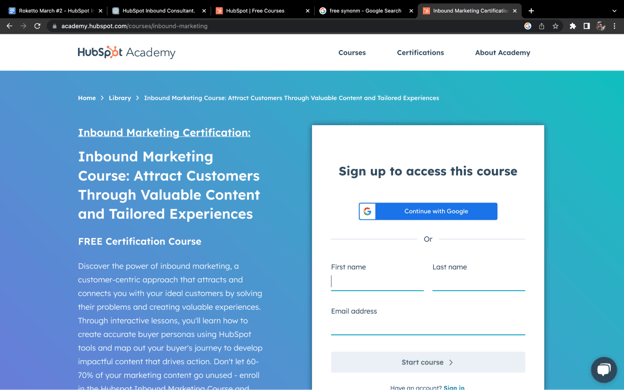 If you want to take your marketing skills to the next level, HubSpot Inbound Marketing Training may be the ideal solution. With its comprehensive curriculum, engaging content, and expert instructors, HubSpot Inbound Training turns marketers into superstars.
With HubSpot Inbound Marketing Training, you'll learn how to create compelling content, optimize your website for search engines, nurture leads, and measure the success of campaigns. You'll also learn how to utilize HubSpot's robust marketing automation tools to streamline workflows and maximize results.
If you're considering HubSpot Inbound Marketing Training, here are a few key advantages to look at:
Certification: Culmination of HubSpot Inbound Marketing Training is found in a certification exam that tests your skills and knowledge. Achieving a HubSpot Inbound Marketing certification is a valuable addition to your resume and can assist in standing out in a crowded job market.
Flexibility: Convenience and Flexibility are the names of HubSpot Inbound Marketing Training's game. The educational material can be accessed from anywhere, at any time, and at your own pace, making it easy to fit the training into your busy schedule.
Cost-effective: HubSpot Inbound Marketing Training is a cost-effective way to learn about inbound marketing. Because the course is online-based, HubSpot Inbound Marketing Training is convenient and accessible, , making it perfect for marketers of all levels and budgets.
HubSpot Inbound Marketing Training can be a worthwhile investment if you're ready to kick your marketing skills up a notch.
However, before signing up, consider these factors:
Learning style: HubSpot Inbound Marketing Training is delivered through various media, including exercises, articles, and videos. If you prefer a more traditional classroom-based learning environment, HubSpot Inbound Marketing Training may not suit you.
Time commitment: As with learning anything new, HubSpot Inbound Marketing Training requires a significant time commitment. While the training is flexible, you'll need to spend considerable time reviewing the materials, completing exercises, and preparing for the certification examination.
For anyone who wants to excel in the world of inbound marketing, HubSpot's training program offers a cost-effective and flexible approach. But remember, as with any investment, weighing up the pros and cons is critical to finding something that works for you.
So, take the leap, sign up for HubSpot Inbound Marketing Training, and get ready to shine like a star in the marketing universe! And for those of you who are strapped for cash, please check out HubSpot's complementary training for some awesome educational free courses.
HubSpot Academy Inbound Marketing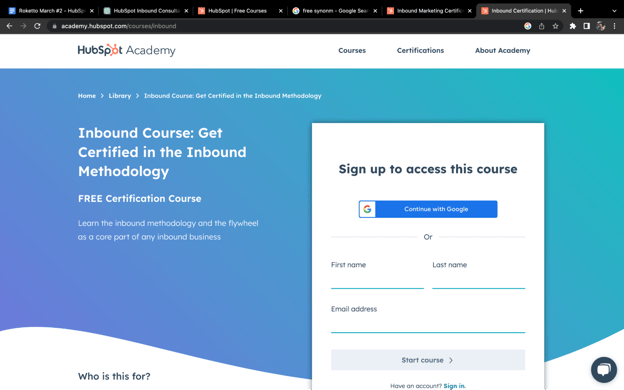 HubSpot Academy Inbound Marketing has a wealth of information covering all aspects of running a company, from detailed lessons on data privacy to a dynamic overview of inbound marketing. While every HubSpot Academy course teaches you something new, a few syllabuses provide incredible knowledge that copywriters can utilize. .
As we all know, content is king and is key to any effective marketing strategy.
With the HubSpot Inbound Marketing course containing over four hours of content, including lead nurturing, conversion strategies, and ways to create converting content, marketers can make the most of their self-improvement efforts.
HubSpot Inbound—Final Thoughts
So there you have it, folks. HubSpot Inbound marketing may seem like rocket science, but with the right consulting partner, like Roketto, you can blast off into the stratosphere of success.

Don't let your marketing strategy crash and burn— reach for the stars with HubSpot Inbound marketing and Roketto!
After all, if rocket scientists can put a car in space, imagine what they can do for your organization.

Contact us to find out more about our inbound marketing services, and let's grow your business together!.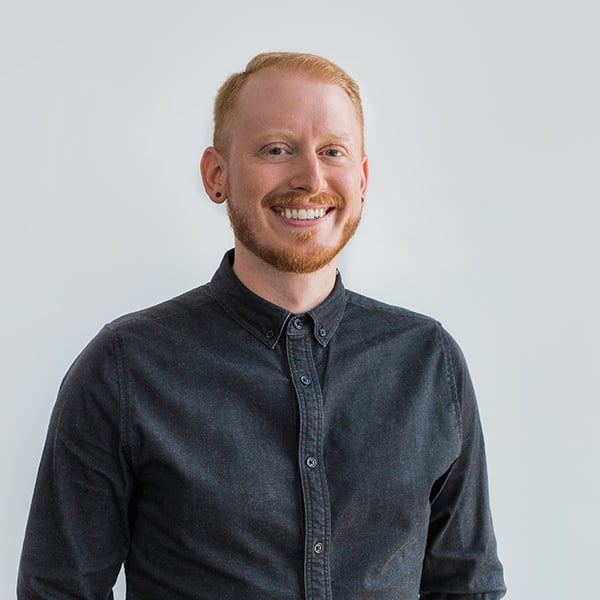 Ulf is one of the co-founders here at Roketto. His passion shines brightest when tasked with increasing business growth through inbound marketing. If you want to talk strategy, give Ulf a shout and you're likely to see him spark with excitement.