Are you tired of playing a game of digital whack-a-mole with your online business? Are you juggling so many sales and SaaS marketing tools that you're beginning to feel like a circus performer?
Fear not, my friend, because HubSpot for WordPress is here to save the day!
With HubSpot for WordPress, companies can finally put all their marketing tools in a single basket. No more playing hide and seek with email campaigns or chasing after social media posts like a headless chicken. HubSpot for WordPress makes it all easy peasy lemon queasy.
HubSpot for WordPress also comes with super spy analytics tools that allow you to see what your website is doing. You can track visitors like a hawk, see what content works like a charm, and even check out competitors' strategies like a nosy neighbour.
Gone are the days of having to be a tech wizard to make your website look like a million bucks. With HubSpot for WordPress's customizable template and a drag-and-drop editor to create CTAs, email campaigns, and landing pages, your competitors will be weeping with envy.
This article explores valuable information on HubSpot for WordPress, including HubSpot's features for WordPress, HubSpot and WordPress integration strategies, best practices, and frequently asked questions.
Let's get started!
HubSpot vs WordPress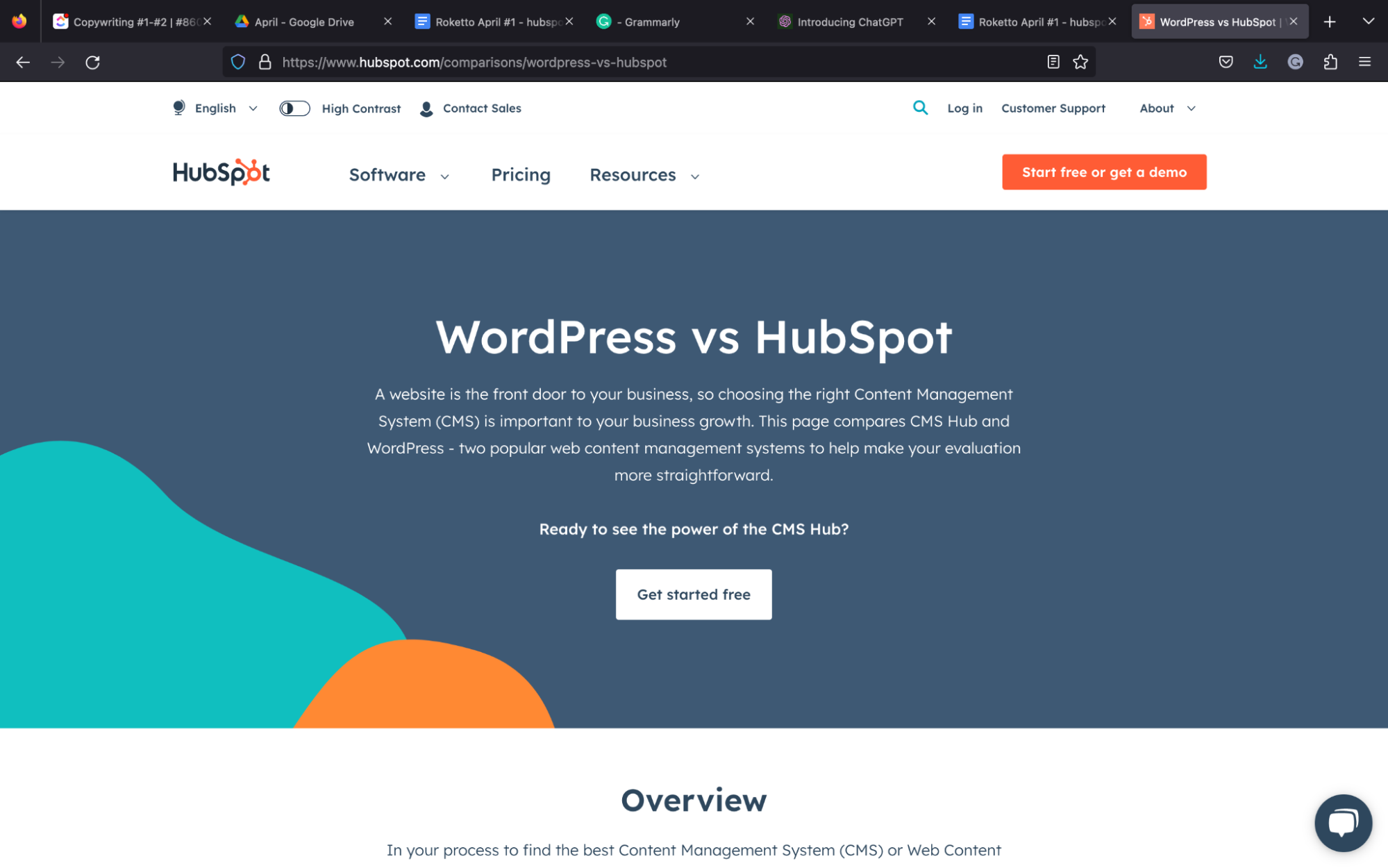 Source
Ah, the age-old debate of WordPress vs HubSpot. It's like choosing between tacos and pizza or cats and dogs. Both are fantastic, but which one is better for you?
Think of your website as a house. WordPress is like a DIY home renovation project—it has the materials and tools to build your dream home from scratch. The platform is versatile and customizable, making moulding whatever your heart desires a breeze
But let's be honest; not everyone has the time or expertise to build a house from the ground up.
That's where HubSpot for WordPress comes in.
It's like hiring an interior designer to take care of everything for you. They have all the expertise, knowledge, and tools to create a beautiful, functional space that meets all your requirements. HubSpot for WordPress is the perfect solution for organizations that want to concentrate on growth and leave the technical details to the professionals.
To make things easier for you to compare HubSpot for WordPress and WordPress, here's a convenient table for viewing pleasure.
| | | |
| --- | --- | --- |
| Feature | WordPress | HubSpot for WordPress |
| Ease of Use | Requires technical knowledge | Beginner-friendly |
| Customization | Highly customizable | Limited customization |
| SEO | Requires third-party plugins | Built-in SEO tools |
| Marketing Tools | Limited built-in tools | Full suite of marketing tools |
| Analytics | Requires third-party plugins | Built-in analytics tools |
| Support | Community support | Professional support |
As you can see, both WordPress and HubSpot for WordPress have their weaknesses and strengths. WordPress is excellent for companies that want complete control over their website and don't mind putting in some elbow grease. On the other hand, HubSpot for WordPress is perfect for businesses that want to focus on their marketing and sales objectives without worrying about the technical nitty gritty.
But wait, there's more!
HubSpot for WordPress provides a suite of marketing tools and integrates with all your favourite vendors, including Zapier, Shopify, Salesforce, and more. And if that's not enough. HubSpot for WordPress also offers robust automation tools that save time and energy.
You can create automated workflows that streamline your sales and marketing process, so you can focus on what matters—growing your company!
It's like having a personal assistant who never sleeps!
The choice between HubSpot for WordPress and WordPress alone ultimately depends on your organization's requirements. If you want total control of your website and are okay putting in the effort, go with WordPress.
But if you want to concentrate on growth and leave the technical know-how to the experts, HubSpot for WordPress is the way to go.
It's like choosing between hiring that interior designer or building the house independently. Either way, you'll have a beautiful home that fulfils your needs.
Why Use HubSpot for WordPress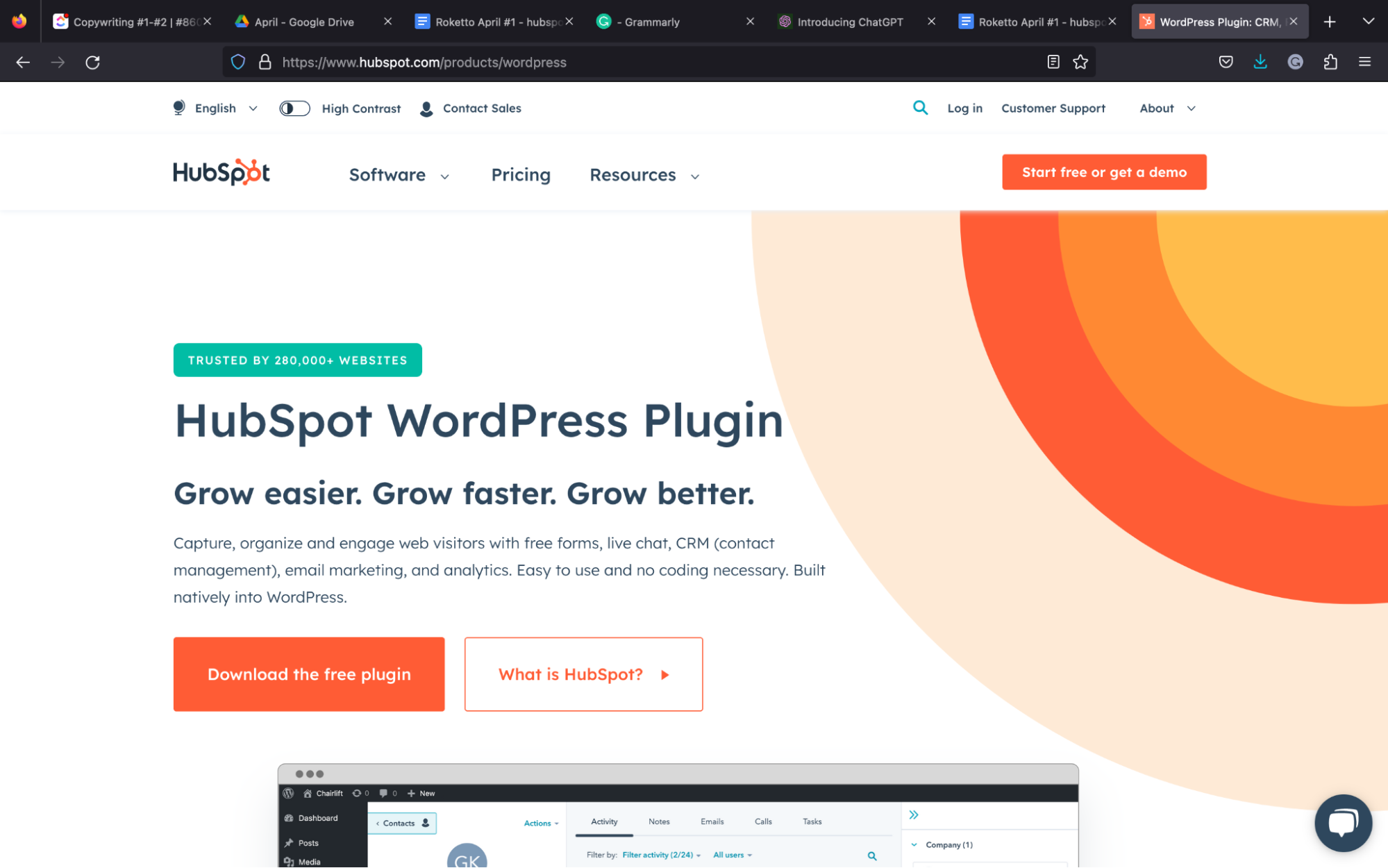 Customizable HubSpot WordPress Forms and Pop-Ups
You're probably thinking, "Pop-ups?: Ugh, those annoying things that interrupt my browsing experience and make me want to pull my hair out?"
Woah, slow down, my friend.
HubSpot offers pre-built templates and a drag-and-drop builder to assist in creating a form from scratch. They can be designed to fit seamlessly into the website's design and only appear when visitors have shown a genuine interest in your content.
Pop-ups and forms are utilized to collect the following valuable information from visitors:
Name
Email address
Phone number
Age
Advertisers use these details to personalize marketing efforts and target specific segments of the target audience. HubSpot integration with WordPress makes being on your prospect targeting A-game easy without being too intrusive or disruptive to the user experience.
The benefits of utilizing a HubSpot embedded HubSpot form in WordPress include:
Lead notifications are automatically sent to the prospects, marketing teams, or sales departments. Most WordPress plugins make it arduous to deliver messages depending on how the organization sets up the service to send emails.
Form entries from your website flow in HubSpot as Contact without integration
If you still want to use WordPress's native form builders, such as Contact Form 7 or Gravity Forms, they must be augmented with HubSpot via add-ons.
However, it's only recommended if the contact form has multiplex functionality.
Marketing Automation
As a business owner or marketer, you probably have a million and one things to do, and there need to be more hours in this day to complete them all. HubSpot for WordPress's marketing automation features can help you streamline marketing efforts and save time.
You can set up automated email campaigns, social media posts, and even chatbots to engage with the target audience and nurture leads through the sales funnel.
And the best part?
Once you set up automation workflows, it's time to sit back, relax, and watch the leads roll in (or, you know, use that free time to binge-watch your favourite show.)
Lead Management and Segmentation
With HubSpot for WordPress, you can track every interaction visitors have with your website while utilizing this information to segment the audience based on their interests and behaviours. That allows the tailoring of marketing efforts to each segment so that they only receive content relevant to their needs.
For example, if a visitor has shown interest in your product but hasn't made a purchase yet, you can send them targeted emails with promotions or special offers to entice them to buy. And if the visitors have already made a purchase, personalized automated follow-up emails are sent to thank them for their business and ask for feedback.
Analytics and Reporting
HubSpot for WordPress provides detailed reporting and analytics tools that allow business owners to measure the access of their marketing efforts and make data-driven decisions about their strategy.
You can use HubSpot's traffic analytics tool to view website traffic data, including but not limited to the following:
Source
Bounce rate
Country
Device type
Topic cluster
Conversion rates
Page views
HubSpot also tracks visitors utilizing browser cookies. HubSpot searches for an existing tracking cookie whenever a user visits your site. If there are no cookies associated with the visitor, one will be created and log every page that individual visits in the future.
How to Integrate HubSpot with WordPress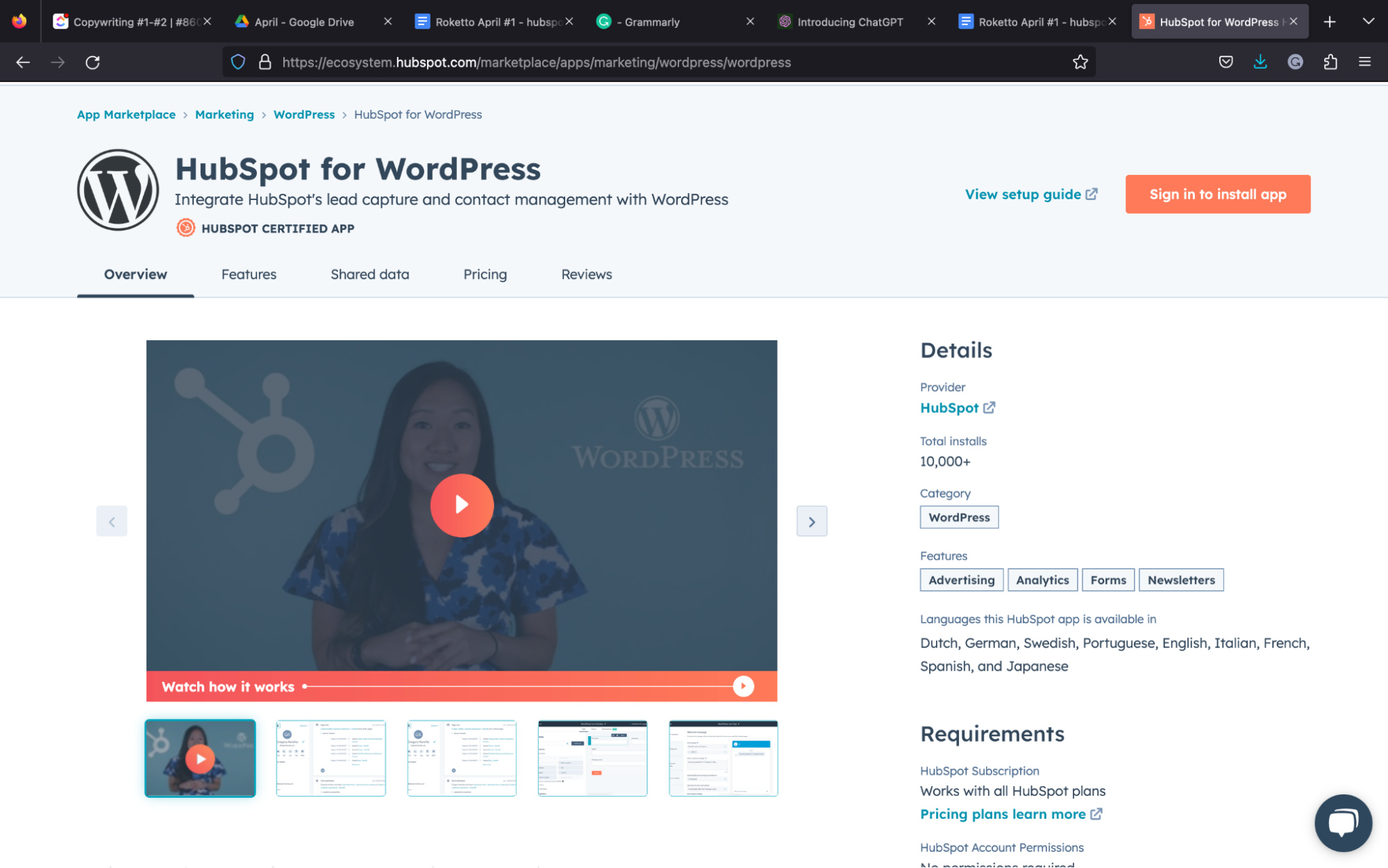 With nearly 150 five-star ratings and over 200,000 active installations, it's clear that the HubSpot for WordPress plugin is loved by business owners worldwide.
What's more?
The HubSpot for WordPress plugin is updated regularly, meaning you're always left with a reliable extension that performs effectively.
Let's learn how to configure the HubSpot for WordPress plugin and discover what it can do for your business.
Install HubSpot Plugin for WordPress
First things first, you need to install the HubSpot plugin for WordPress. It's like installing a GPS in your vehicle. You want to know where you're going and how to get there, correct?
To install the HubSpot WordPress Plugin, follow the steps below:
Head to your WordPress dashboard
Click "Plugins" on the left sidebar
Press the "Add New" button near the top of the page
Type "HubSpot" into the search bar
Select the "HubSpot – CRM, Email Marketing, Live Chat, Forms and Analytics" plugin
Once you've selected the HubSpot for WordPress plugin, click "Install" to add it to your website.
After it's installed, click "Activate," and you're ready to begin.
Creating a HubSpot Account and Connecting It to WordPress
Upon activation, a HubSpot portal inside WordPress should open, allowing you to sign in or create an account.
For your convenience, a Google account can be used to sign up, or if you prefer a non-Gmail address, you can enter your name and secondary email address. Click the confirmation link that is sent to you after signing up.
After clicking the link, you'll be taken to a page to create a password (ensure it's strong.)
Next, you'll need to complete setting up the account with your organization's domain, company name, and other business particulars, including:
How many individuals work for your business?
Your field of work (customer support/service, marketing, admin, operations, sales, or other.)
An explanation of your position (marketing content providers, operations, staff, administrative, designer, director, marketing manager, or CEO.)
This account is where you'll manage marketing campaigns, track leads, and access all the features and tools of the HubSpot platform.
Set up Forms and Pop-Ups
HubSpot WordPress integrations allow users to build various forms and pop-ups to gather information from users or encourage them to sign up for a mailing list, access gated content, or download a white paper.
The intuitive drag-and-drop builder makes easy adding and removing modules in your form possible.
The table below highlights the four different types of forms to choose from.
| | |
| --- | --- |
| HubSpot Form Type | Description |
| Embedded form | Create a form that you be embedded in part of your website |
| Pop-up box | Add a form that pops up as a box in the center of the page |
| Standalone page | Create a form on a standalone page that you can share through a link |
| Dropdown banner | Add a form that will drop down from the top of the screen |
You can select a template and personalize it from there, or start with a blank canvas and design a super engaging pop-up yourself.
The best thing about this HubSpot for WordPress integration?
Visitors inserting their details will automatically sync with the HubSpot platform.
Creating and Implementing Marketing Automation Workflows
Creating workflows that automate company processes is critical to increase productivity and boosting team efficiency.
Automatic record enrollment is activated when a particular criterion is met, and action needs to be taken on the following:
Tickets
Quotes
Contacts
Deals
Companies
In the workflows dashboard, you'll find all your created workflows under the "Created in workflows" table. If you've made the workflow from other tools, such as deals, tickets, emails, or forms, the "Create in other tools" tab will store those workflows.
HubSpot for WordPress Best Practices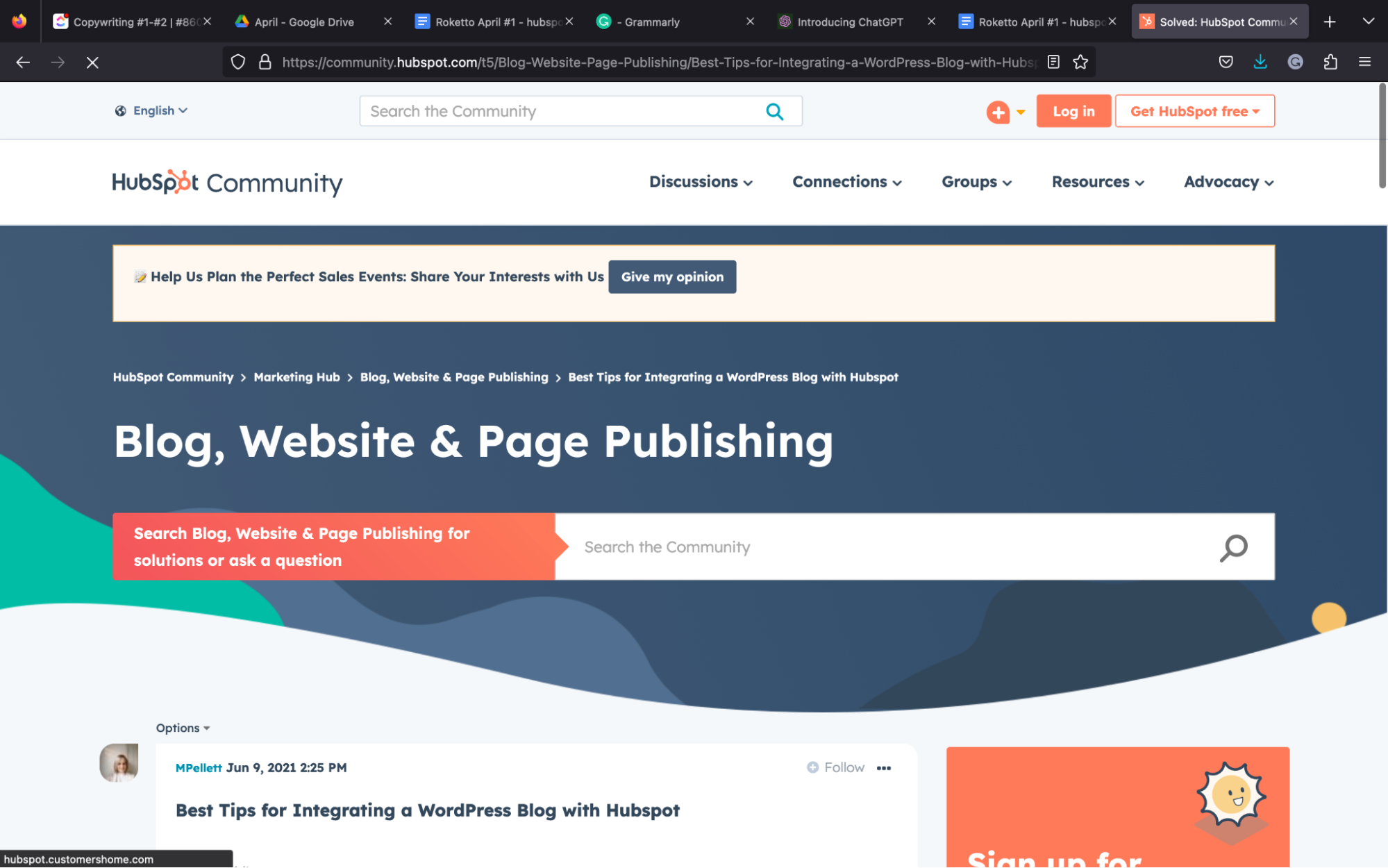 Marketing automation workflows are vital to a successful HubSpot inbound marketing strategy.
But you can think of the process as similar to baking a cake. Just like you need the right ingredients, tools, and timing to create a delicious dessert, you must have the correct tools and strategies to develop an effective marketing campaign.
When creating sweet marketing automation workflows, HubSpot for WordPress is one of the best recipes out there.
But as any baker knows, even the best recipe can be ruined if you don't follow the best practices. So let's dive into the five best practices for using HubSpot for WordPress and creating marketing automation workflows that are as sweet as a slice of cake.
Integrating with Other Marketing Tools
Using HubSpot for WordPress is excellent, but it's even better when integrated with other marketing tools to take automation to the next level.
For instance, integrating with a social media scheduling tool like Hootsuite can assist you in reaching a wider audience and generating more leads. Another example is merging with a customer relationship tool like Salesforce can help you better track and manage leads, prospects, and customers.
You can also create custom dashboards and reports to get a 360-degree view of all sales and marketing activities.
Consistent Tracking of Website Performance
Imagine consistently tracking your website performance, like watching a cake bake in the oven. You must watch the delicious sweet treat so it isn't undercooked or burnt.
The same goes for your website's performance; it's critical to identify areas of improvement and optimize marketing efforts. With HubSpot for WordPress, you can track a variety of metrics, including:
Traffic sources: See where website visitors come from (e.g., email marketing, social media, organic search, etc.)
Bounce rates: Measure the percentage of visitors who leave the site after viewing only one page
Conversion rates: track the percentage of users who complete a desired action on the website (e.g., make a purchase, fill out a form, etc.)
Time on page: Measure how long visitors spend on each page of your site.
You can make data-driven decisions to optimize your website's performance by monitoring these metrics regularly.
Regularly Optimizing Forms and Pop-Ups
We already know that pop-ups and forms are powerful tools for capturing leads and driving conversions.
However, if not optimized and designed with the user in mind, pop up and forms can be highly annoying and intrusive.
After you've created and optimized forms and pop-ups that convert visitors into leads with HubSpot for WordPress, your bottom line will thank you.
Here are some best practices for optimizing pop-ups and forms:
Implement exit intent pop-ups: These pop-ups only appear when the visitor is about to leave your site, making them more effective and less intrusive.
Test different designs: Try different layouts, colours, and fonts to see what resonates best with the target audience.
Use attention-grabbing headlines: Clarify what the visitor will get in return for filling out the form (e.g., consultation, a free ebook, access to gated content, etc.)
Keep it simple: Only ask for the information you REALLY need (e.g., email address and name.) The more fields you add, the less likely visitors are to fill out the form.
Optimizing your pop-ups and forms with HubSpot for WordPress can mean the difference between capturing leads or driving visitors away. With these best practices in mind, you'll be well on the way to converting visitors into loyal customers.
Monitoring and Analyzing Lead Data
Understanding the target audience is vital to personalizing marketing efforts to their requirements and preferences.
That's where monitoring and analyzing lead data steps in.
HubSpot for WordPress allows you to track various lead data, including but not limited to the following:
Contact information: Phone number, email address, name, etc
Demographics: Location, gender, age, etc
Behaviour on your website: Time spent, pages visited, etc.
Interests: Topics of interest based on content consumed and browsing history.
By diving deep into data, you can create targeted marketing campaigns that resonate with your audience, keep them engaged, and drive conversions.
Implementing A/B Testing to Improve Conversion Rates
A/B testing, also known as split testing, compares two versions of a webpage to see which one performs better. With HubSpot for Wordpress's intuitive testing features, you can easily set up A/B tests to improve your website's conversion rates.
Here are a few elements you should consider testing:
Headlines: Try different headlines to see which one resonates best with the target audience
Images: Use various photos to see which ones grab the visitor's attention
Call to action: Test individual colours, texts, and placement for your call-to-action buttons to see which drives the most clicks.
Forms: See which form lengths and designs convert the most leads
When setting up an A/B test, ensure only one element at a time is tested. Otherwise, you won't be able to identify which factors caused the change in performance. Also, ensure you run the test for enough time to collect sufficient information to make a data-driven decision.
FAQs
How to Embed Hubspot Form in WordPress
You can embed a HubSpot form in WordPress utilizing two methods.
Follow these instructions for embedding a form to your WordPress post or pages using the classic editor:
In the WordPress dashboard, navigate to "HubSpot" then "Forms."
Find the form you want to include on the website, hover over it, and click "Copy shortcode" (Clicking "Create form" will allow you to start the process from the beginning.)
Navigate to a post or page, then paste the shortcode into the page editor.
If you prefer using the newest addition of Gutenberg to embed your HubSpot Form in WordPress, follow these steps:
Navigate to your post or page in the WordPress dashboard.
Select the plus icon in the toolbar.
Search for the "HubSpot Form" block and click it to add it to the content.
It's that simple.
Do you want to learn more about analyzing your form submissions data? Check out the plethora of informative content on HubSpot Academy, or speak to a HubSpot expert at Roketto for your HubSpot onboarding requirements.
HubSpot for WordPress - Final Thoughts
Utilizing HubSpot for WordPress is like having a secret weapon in your marketing arsenal. It's like having a Swiss Army knife that can do everything from creating landing pages to analyzing lead data. HubSpot gives you access to many tools and features that help streamline marketing efforts and grow your organization.
But wait, you might be thinking, "What about WordPress? Is it still relevant?" Absolutely!
WordPress is like the trusty workhorse that never lets you down. It's a reliable platform for building and maintaining your website and integrates seamlessly with HubSpot. Think of it like a peanut butter and jelly sandwich—two separate components that create something delicious.
However, not all marketing agencies are created equal.
That's why it is essential to choose a HubSpot marketing partner agency that knows its stuff. And regarding that, we at Roketto think we fit that criterion perfectly.
As a HubSpot marketing partner agency, Roketto has the knowledge and expertise to assist you in making the most out of your WordPress to HubSpot or HubSpot to WordPress integration. We can even help you create a website that not only looks stunning but, with the help of our SEO services for WordPress, also drives conversions.
So what are you waiting for? Start using HubSpot for WordPress today and see the difference it can make for your company.

And if you need some assistance along the way, remember to contact Roketto first.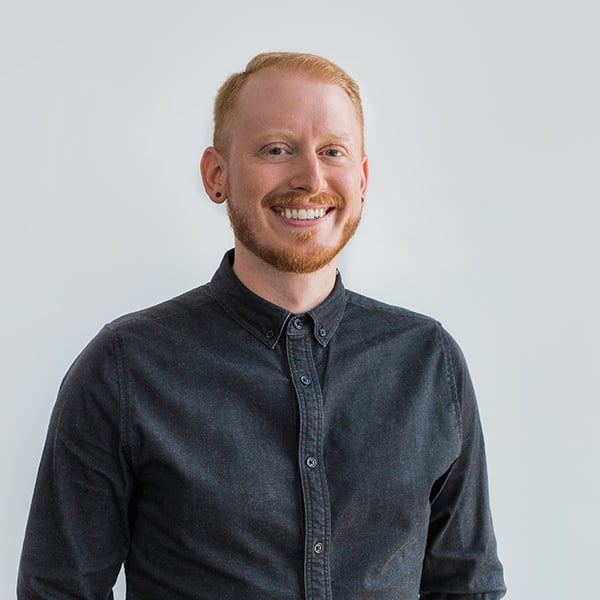 Ulf is one of the co-founders here at Roketto. His passion shines brightest when tasked with increasing business growth through inbound marketing. If you want to talk strategy, give Ulf a shout and you're likely to see him spark with excitement.