By now, as a SaaS business owner, you've likely discovered that there's far more to the SaaS industry than simply creating an exceptional service. After all, what good is your service if nobody knows about it?
Marketing and distribution are just as, if not more important to your success than creating the service itself.
It's no secret that there are many different channels you can use to market your service. From outbound to inbound marketing, paid to non-paid channels. Creating an excellent marketing plan is a must for any budding SaaS company.
But what about the SaaS companies who are looking to take their marketing and distribution to the next level? Those who already have a sound marketing and sales strategy and are simply looking to expand their reach even further?
Hang tight. It's time to look into building SaaS partner programs.
Similar to any new challenge you're looking to take on before you dive in, it's important to understand exactly what you're getting yourself into.
What Are Saas Partner Programs and Why Are They Important?
When it comes down to it, many of the common SaaS partner program models offer two main benefits:
Leveraging more well-known brands
Upscaling your marketing and sales efforts
Each different type of partnership comes with its own specific set of benefits, but these generally apply to any SaaS partnership.
One important takeaway here is that an effective SaaS partnership is beneficial to both parties involved. While it can be easy to be caught up in the rewards of your newfound SaaS partnership, remember that your partner should be able to reap some rewards as well. After all, that's what a partnership is all about.
Another factor in the success of any SaaS partnership is understanding what your goals are and successfully tracking them. Tracking similar metrics to the ones you use in your primary marketing efforts will help make sure that your new SaaS partnership strategy is helping you achieve the goals you've set.
Types of SaaS Partner Programs
As we've previously mentioned, there are several different models of SaaS partnerships to choose from. The model you choose to go with will depend on a few different factors, including:
The size of your SaaS company
Your available time
How much you're willing to invest
Available resources
Finding the right fit
Your goals
With each model of SaaS partnership, it's important to understand what will be expected of you, what the specific benefits are, and how long it can take to start seeing results.
Below are the most common types of partnership programs.
Referral Program
Referral programs are one of the most common forms of SaaS partner programs. This is because the way they operate is simple: Users of your service refer other people to your service in exchange for a commission payment. These payments can come in a variety of different forms, including:
Discounts
Credits
Percentage of sales
Using referral programs, you can use your most loyal customers to help promote your service for you, which in turn will boost your traffic and sales.
So what does it take to get started with a referral program?
Well, the time investment is very minimal compared to some other SaaS partner programs. Setting up the actual rewards program will take some time initially, but the program can be mostly automated from there on out.
As far as money investments go, a referral partnership program doesn't really take much of your revenue to get started. Since you're offering rewards from within your service, the costs are kept low.
Referral partnerships offer a slew of benefits, including:
Choose the Right Incentives
We've already mentioned a few different varieties of payments involved with referral programs. However, the challenge is choosing the right one.
Ask yourself: What would benefit my customers the most? A discount on their subscription fee? A free month? An upgrade to a higher tier of your service?
Offering the correct incentive to your customers will greatly increase the chances of them using and sticking to your referral program.
You could also consider using cumulative incentives. This means that the reward increases alongside the number of referrals, which gives an even greater incentive to refer as many people to your service as possible.
Keep it Simple
Customers respond well to convenience. If referring their friend to your service is a long and arduous task, why would they even bother?
This means that the process should be easy for both the current user and the referral. The process your current user needs to go through should be seamless and require as few steps as possible. Meanwhile, the landing page your referral ends up on should be clear and concise. There shouldn't be any resistance to the referral subscribing to your service.
Keep it simple. Your current users and potential customers will thank you for it.
Promote Your Referral Program
Just like the service itself, if you don't promote your referral program, how will anyone know about it?
There are several different channels you can leverage to break the news about your new referral program, including:
The homepage of your website (or a separate landing page)
Using popups or slide-ins
Your email list
Social media
Within the software itself
Using a combination of these channels, it shouldn't be hard to get the word out.
In short, a referral program is great for SaaS companies looking to build a simple and cost-effective partnership. They may not scale overly well, but their low cost and quicker return will be appealing to those who are just starting out.
Affiliate Programs
Affiliate partner programs are often confused with referral programs. However, there are a few key differences between the two.
| | |
| --- | --- |
| Affiliate Programs | Referral Programs |
| Don't have to be current users of your service | Current users of your service |
| Often paid a percentage of sales generated through affiliate links | Usually compensated with discounts or credits related to the service itself |
| Require a little more upfront time and resources | Less resource dependant |
As you can see, the key difference is compensation. Since affiliate partners don't necessarily need to be current users of your service, they're typically compensated with a small fee for everyone who takes the desired action on your website.
Affiliate programs often require a little more effort to get up and running. Where a referral program can be set up quickly, affiliate programs can often take a couple of months to set up, and even longer to see a return.
They're also going to require a little more upfront cash to get started as well. This is because you'll likely need to pick up some software designed to help you keep track of your affiliate network.
Software like AffTrack could come in handy here. Coming in at $199 a month, AffTrack offers all the features you'd need to set up an effective affiliate program, including:
Unlimited affiliates
Real-time analytics
Proxy and fraud detection
Daily newsletters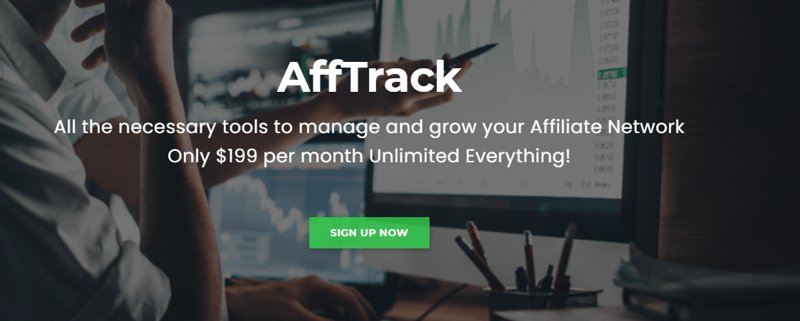 If AffTrack is a little outside your price range, there are certainly some cheaper alternatives. Make sure their features suit your needs, though.
Affiliate programs offer a lot of the same benefits as referrals. Word-of-mouth marketing and reliable promotion are the main ones. However, one key difference is that affiliate marketing can reach a wider audience since affiliate partners often have their own loyal customer base that you can tap into.
You can also expect to see some great returns over a longer period of time as well, with revenue from affiliate programs increasing by 10% every year since 2015.
One very important consideration with affiliate programs is that your sales funnel needs to be well-established with high conversion rates. After all, it's not going to be appealing to an affiliate if your landing pages aren't optimized for conversions and they miss out on potential revenue because of it. Make sure your sales funnel is optimized for conversions before you even think about using an affiliate program so that you can attract expert affiliate marketers.
The verdict? Affiliate programs can be a great tool for SaaS companies with a little more time and money to spend. While the return isn't as quick as referral programs, the revenue you can earn over a longer period of time makes them an attractive prospect.
Integration Partner Programs
Integration partnerships are a slight step away from referral and affiliate SaaS partner programs. However, that doesn't mean they're any less effective when it comes to growing your SaaS company.
A SaaS integration partnership essentially allows two different services to work in tandem with each other with the goal of creating a more user-friendly and convenient service.
Some of the benefits of an integration partnership include:
Getting your service in front of a fresh audience
Enhancing your service's value
Opportunities for co-marketing efforts
So what's it going to take to build a SaaS integration partnership?
The time requirement is largely going to depend on whether you're starting from scratch or going with third-party software. Using integration software will largely cut down on time constraints.
Cyclr is a great app that can be used to accomplish this task. With a drag-and-drop UI designer, you can use Cyclr to connect with any service in their library. From early-stage to enterprise, Cyclr has an integration solution.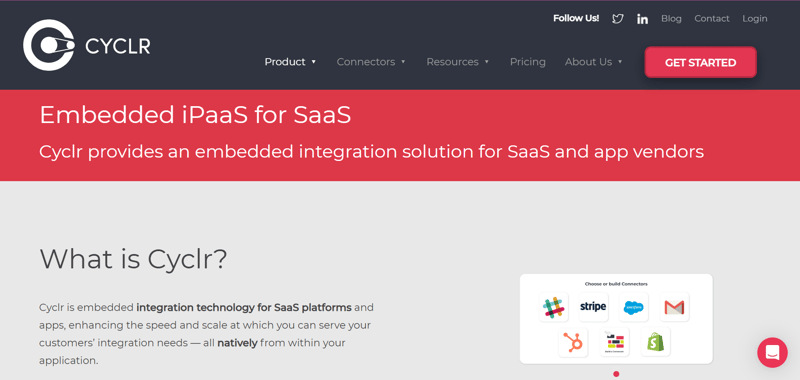 One key consideration here is that SaaS integration partnerships are more about customer retention than customer acquisition.
Your customers are likely going to be using other software. Why not capitalize on this? If your service works well in tandem with software your customers are already using, that's a recipe for success.
Value-added Reseller
A Value-added Reseller (VAR) is a type of SaaS partner program where a company resells a SaaS product and additional value-added services to their customers. Value added reseller agreement SaaS act as intermediaries between the SaaS provider and the end-user customers, adding their expertise, customization, and support to enhance the overall value of the SaaS offering.
Here is a detailed explanation of the Value-added Reseller model in SaaS partner programs:
Reselling SaaS Products: In a VAR partnership, the VAR company purchases the SaaS product or licenses from the SaaS provider at a discounted rate. They then resell the product to their own customer base or target market. The VAR is responsible for marketing, selling, and delivering the SaaS solution to its customers.
Value-added Services: The VAR adds value to the SaaS product by offering additional services such as customization, integration, implementation, training, consulting, ongoing support, and maintenance. These services differentiate the VAR from other resellers and help them meet the specific needs of their customers.
Revenue Sharing: The revenue-sharing model between the VAR and the SaaS provider varies depending on the agreement. It can be based on a percentage of the SaaS product's subscription fee, a fixed fee per customer, or a combination of both.
Mutual Benefits: The SaaS provider can leverage VAR's expertise, customer base, and sales channels to reach a wider market and increase product adoption. Similarly, the VAR gains access to a proven and scalable SaaS solution, reducing its development and maintenance costs while adding value to its offering and generating additional revenue streams.
What is a Strategic Partnership for SaaS?
In a strategic partnership, SaaS companies collaborate on various aspects such as product development, marketing, sales, distribution, and customer support. The partners typically have complementary offerings or target different market segments, allowing them to leverage each other's strengths to create a more comprehensive and competitive solution.
The primary objective of a strategic partnership is to create a win-win situation for all parties involved.
The benefits can vary depending on the specific goals of the partnership, but some common advantages include:
Enhanced product offerings: Partners can integrate their SaaS solutions or combine them to offer a more comprehensive suite of products and services.
Increased market reach: By partnering with another SaaS company, organizations can tap into each other's customer base and expand their market reach.
Access to specialized expertise: Strategic partnerships allow companies to leverage their partners' expertise, knowledge, and resources.
Shared marketing and sales efforts: Partners can collaborate on joint marketing campaigns, co-branded initiatives, or cross-promotion activities to increase brand awareness and lead generation.
Improved customer support and service: By pooling resources, partners can provide higher customer support and service.
SaaS Partner Program Examples
In order to demonstrate what partner programs can do for you, why not look at a few successful examples? These companies have been able to leverage partnerships in order to elevate their services to the next level.
Slack
Slack operates an integration program that allows its customers to use apps within Slack. Their partners include some big names like Google and Zoom.
However, they don't allow just anyone to join up. An application must be filled out in order to become a Slack partner.
By allowing teams to use their everyday apps within the Slack interface, Slack has taken ease of use and convenience to a whole new level. Teams can reach unparalleled efficiency since they won't need to constantly switch between different software to tackle different tasks.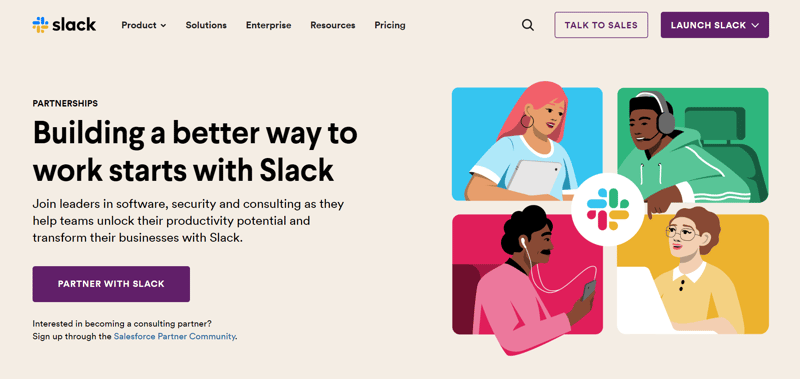 Slack currently works with over 1000 different SaaS companies. Just goes to show the importance of integration partnerships.
Zendesk
Zendesk actually offers three levels of partnership: Affiliate, select, and master. Because of this, Zendesk's partner program appeals to a much wider audience. From smaller start-ups to larger companies.
While different levels of partnership can end up being confusing and leaving partners wondering what the actual benefits are, Zendesk provides clear documentation laying out what each level of partnership entails.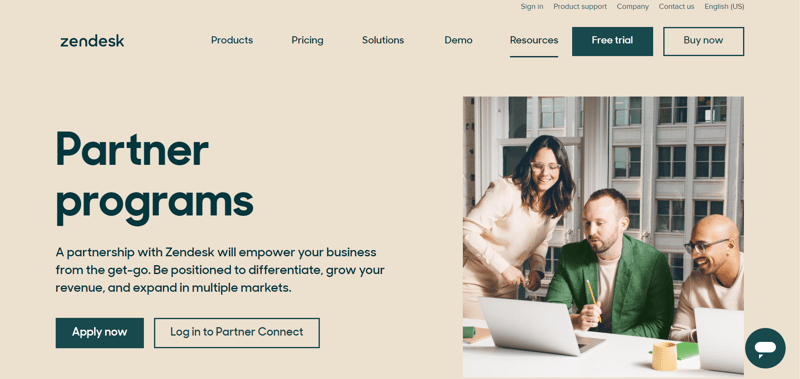 From integration services to referral fees, Zendesk has a partner program for just about everyone.
Shopify
The Shopify partner program is reserved for Shopify experts. Partners gain access to a wide variety of perks, including:
An ongoing monthly income
Discounts on different products and services
Access to new features and marketing materials
Shopify's partner program is also incredibly user-friendly, with partners able to access all the required tools from a dashboard. From there, you can monitor your commissions, referrals, and more.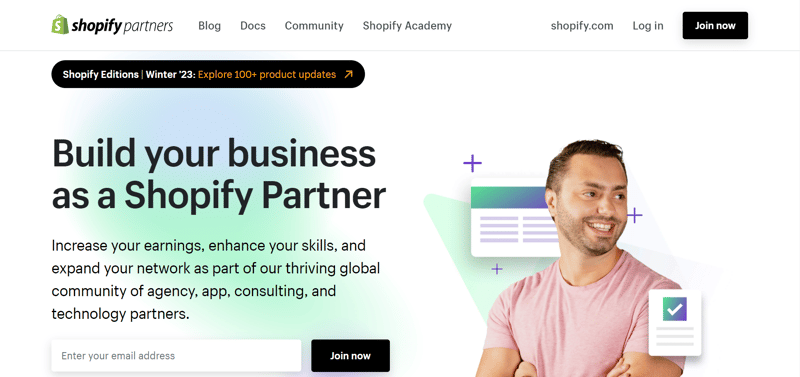 While there's a lot of effort that went into this partner program, Shopify didn't get to have one of the largest partner networks out there by slacking in this department. Creating an effective SaaS partner program will take a lot of time and effort. So be prepared.
Drift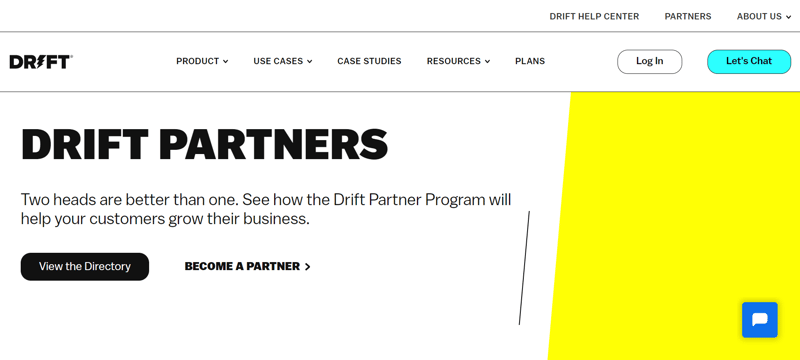 Drift's reseller program puts a spunky spin on the typical value-added reseller setup. These partners become the masters of customization, fine-tuning Drift's conversational chat AI to suit their clients' wildest chatbot dreams while selling tailored versions on their fabulous websites.
But what makes this partner program truly shine? It's the multi-layered support extravaganza that leaves partners and customers alike shouting 'Hallelujah!' From comprehensive sales resources that make other programs green with envy to an exclusive community where partners can pick Drift's brain and schmooze with fellow resellers, there's no shortage of knowledge-sharing wonders.
And let's not forget the icing on the partnership cake—an extraordinary channel account manager who swoops in with personalized assistance, helping partners crank up those sales dials to eleven.
Plus, the cherry on top? Partners can become Drift certified without spending a dime, becoming bonafide Drift experts ready to dazzle customers with top-notch support whenever needed. Now, that's what I call partnership goals!"
How to Create a SaaS Partnership Model
Creating a SaaS partnership model is like crafting a symphony of collaboration, where harmonious relationships and shared success take center stage. So, let's dive into the steps and orchestrate this masterpiece of partnership prowess.
Outline your Strategy
Just as a conductor sets the tone for a performance, you must establish a clear strategy for your SaaS partnership programs. Define your objectives, target markets, and partner selection criteria. Consider your competitive landscape and identify how your partners can help you expand your reach.
For example, if you're a project management software company, your strategy might involve partnering with IT consulting firms to tap into their client base and offer integrated solutions.
Create a Compensation Plan
In this symphony of collaboration, partners play their instruments to create beautiful music, but they also deserve a fair share of the applause. Develop a compensation plan that motivates and rewards your partners for their efforts.
To keep your partners motivated and engaged, it's important to consider implementing a commission structure that rewards higher performance or offers a share of recurring revenue based on customer subscriptions. This approach aligns the incentives with desired outcomes.
Consider the Program's Structure
Just as an orchestra has sections and subsections, your SaaS partnership strategy needs a well-defined structure. Determine the partnerships you want to establish, such as referrals, resellers, or integration partners.
Each type may require different levels of support and resources. For instance, if you have a reseller program, provide your partners with comprehensive sales enablement materials, product training, and dedicated account managers to help them succeed.
Build Processes
A symphony requires precise timing and coordination. Similarly, your partnership program needs streamlined processes to ensure smooth collaboration. Develop onboarding procedures to welcome new partners, provide them with the necessary tools and resources, and facilitate knowledge transfer.
Establish communication channels for ongoing collaboration, such as regular partner meetings, webinars, and a partner portal where they can access marketing materials and support documentation.
Be a Resource for Your Partners
The best conductors empower their musicians with guidance and support. As a SaaS provider, be a valuable resource for your partners. Offer training programs, certifications, and technical support to enhance their product knowledge. Provide them with co-marketing opportunities, including joint webinars, content collaborations, or case studies that showcase their success. Investing in your partners' growth strengthens the bonds of collaboration.
Measure Success with KPIs
To determine the success of SaaS partnership programs, you must evaluate their effectiveness. Define key performance indicators (KPIs) that align with your program's goals, such as:
The number of leads generated by partners
Revenue contribution from partner-driven deals
Customer satisfaction ratings for partner-led implementations
Regularly track these metrics to identify areas for improvement and celebrate the successes achieved together.
You can lead the way to a harmonious SaaS partnership program with these steps. Your strategic planning, compensation plans, processes, and KPIs will create an environment of collaboration that results in mutual success.
SaaS Partnership Templates
So now that you're ready to set up some SaaS partnerships, you'll need to create a partnership agreement form. While this may sound like a chore, if you're prepared with all of the necessary info you'll need to create the agreement, it won't be as difficult as it sounds.
Different partnerships will likely require different sections. For example, a referral partnership agreement form will be far less complex than an integration partnership agreement. There is simply far more ground to cover when it comes to integration partnerships.
Since partnership agreements can be tough, how about we help you out with a simple referral (or affiliate) partnership template? While this won't be the be-all-end-all template, it should get you started and on the right track.
SaaS Referral/Affiliate Program Template
[INSERT COMPANY NAME] Referral/Affiliate Partnership Agreement
Partner Information
(Company name, location, phone #, email)
Partnership Agreement
(Expectations, etc.)
Fees and Compensation
(Payment methods, taxes, etc.)
Confidentiality and Intellectual Property
(Procedures, ideas, logos, etc.)
Independent Contractor Status
General Section
(Additions or important info that doesn't fall into the previous categories)
Company and Partner Signatures
This referral program template covers all of the basic information needed for a referral partnership. Agreements should, however, be thorough yet simple for partners to understand. Effectively outlining the expectations of the partner is vital to a healthy and productive partnership.
SaaS Partner Programs Summary
At the end of the day, SaaS partner programs are an often-overlooked channel for marketing your SaaS business. Since content marketing is normally the catalyst behind the greatest marketing success stories, many SaaS companies put the majority of their focus into creating the best content possible.
Now we're certainly not saying this is a bad strategy. The benefits and rewards of an effective content marketing strategy are well known. Having one in place ASAP will certainly be beneficial.
The point we're trying to make here is that there are other avenues you should be pursuing as well. And SaaS partner programs happen to be one of those avenues.
An effective referral or affiliate partnership can give you that extra little boost you need to meet your revenue goals. While they may take a little time to get off the ground (especially in the case of an affiliate partnership), the rewards can be monumental.
Integration partnerships can be the perfect tool to help get your SaaS company in front of a whole new set of eyes. With the right integration partnership, you can rest assured that you aren't leaving any money on the table.
So what are you waiting for? It's time to start building those meaningful SaaS partnerships.
SaaS Partner Programs Still Getting the Best of You?
SaaS partner programs can be complicated. There's no doubt about that.
Just remember, there's no shame in asking for a helping hand. Reach out to us. Whether you have questions about referrals, integrations, or even how to draft an effective partnership agreement, we're here to answer the call.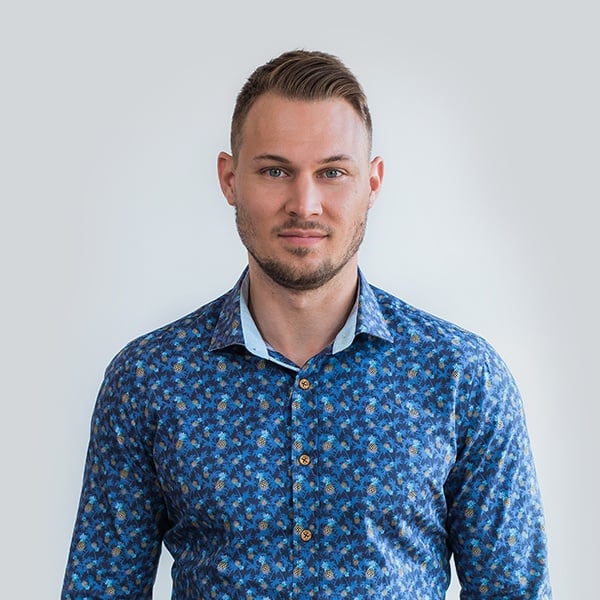 Chris is one of the managing partners at Roketto. His area of expertise is digital marketing and loves sharing and educating on topics like Google Ads, CPC bidding tactics, Google Analytics, and marketing automation. When Chris isn't in the office, he enjoys playing volleyball, mountain biking, and hiking with his American Eskimo.