Alright, we're talking about it. The big S-E-O.
Let's face it, there's a f*cktonne of content out there about search engine optimization. Blogs, YouTube videos, LinkedIn posts. It's a digital dumpster fire, as one guru after another claims to have cracked the code.
All you have to do is pay for their course, download their eBook, or *cringe* join their 'crew'.
If you've fallen victim to a digital marketing guru – don't worry, you won't find any snake-oil SEO strategies here.
None of these SEO tactics are outlandish, controversial, or even that special. The truth about SaaS SEO is that it doesn't need to be secretive or complicated – but it should be oriented around creating high-value content for potential customers.
We've compiled our favourite and most reliable SEO tactics for SaaS companies. They're simple, easy to understand, and align perfectly with the way SaaS companies think and operate.
How SEO For SaaS Actually Works
Before we delve into the nitty-gritty, let's take a step back and do three essential exercises:
Review the SaaS business model & goals
Understand traditional SEO frameworks
Adapt SEO tactics to fit SaaS goals
Did you really just sigh out loud?
Sure you do, but you might not have thought about it through the lens of SEO. Like many SaaS companies on the scale-up journey, you might be slapping the same outdated tactics onto your strategy without first adapting them to fit the SaaS business model.
Pro Tip: Surprise surprise, there's no 'one size fits all' SEO strategy for SaaS. SaaS is different from other industries and sales models, so your SEO strategy needs to be tailored.
Got your attention now? Sweet, let's begin.
Recapping The SaaS Business Model
SaaS - software as a service - companies look like this:
They sell a software product that solves a particular problem
They sell a product that is intangible and unlimited
The software product is sold to customers on a subscription basis
The software product can be updated and adapted over time
The SaaS company can add features to their product so it works for more audiences
So, what do SaaS companies need to do to succeed? Why is a SaaS company like Zendesk dominating the industry?
Well, every SaaS company has the following goals:
Maximize monthly recurring revenue
Minimize churn
Minimize the cost for every customer acquisition
Maximize the average revenue per customer
Maximize the lifetime value of a customer
And they do this by:
Attracting visitors to their site
Convincing leads to sign-up to a freemium version or a free trial
Turning sign-ups into users of the product
Upgrading users onto a paid subscription model
That's software as a service, reduced down to its most basic form. We know this, you know this.
Understanding The Foundations Of SEO
Now onto search engine optimization, the tactics and strategies used to bring more quality traffic to your site from search engines - Google, we mean Google.
Traditionally, there are four pillars of SEO tactics.
| | | | |
| --- | --- | --- | --- |
| SEO Tactic | What? | Why? | Example |
| Keyword Research | Using a keyword research tool to identify the words and phrases that people enter into search engines to find products, services, and information related to your offering. | By weaving relevant keywords into your online content, Google is more likely to send organic traffic to your site. This is because the algorithms register your content as being relevant to their search queries. | We found that the keyword "SaaS SEO" had a high volume of searches. We've naturally used this exact keyword, and other similar phrases, to leverage this blog so that people like you find it. |
| Technical Structure | Search engine algorithms favour websites and content that follow certain technical rules. Some examples are responsive design, secure connection, fast loading time. | Search engines want to provide a good experience to customers. Therefore, they need to give users the best possible results for their search query. By applying technical structures to your content, you're maximizing the chance that traffic will come to your site and stay on it. | Almost 40% of users will leave a website if it takes too long to load. By making sure your website load speed is lighting fast, search engines are more likely to point traffic in your direction because it provides their users with a better experience. It's a win-win. |
| Content Creation | SaaS companies need to have high-quality content to leverage SEO. This includes blogs, landing pages, videos, infographics and social media posts. | For search engines to direct traffic to your site, they need to crawl through your content and figure out whether it's relevant to users and their queries. The more quality content you have, the easier it is for Google to rank your site. | We have a long-term content marketing strategy that boosts our search engine ranking and keeps us on page 1 for relevant search terms. Our B2B SaaS marketing and lead generation guide is led by long-form blogs that are mobile responsive, keyword-driven and, most importantly, valuable and entertaining to our audience. You're welcome. |
| Link Building | Putting hyperlinks from other reputable websites into your own content helps establish your domain authority. Search engines crawl links between websites to discover new content and determine whether it's worth ranking. | Link building is super tricky but SaaS companies should do it because it shows search engines that they're trustworthy. Basically, if you link to reputable sites, it gives off the impression that you know what you're talking about. Internal links to other pages within your site signal to Google that those pages are important. | We use a certain number of internal and external links to leverage our domain authority. It also increases our chances of receiving links from other sources, so there's a lot of reciprocity going on. |
The most important thing to know about SEO is that it's changing all the time. A strategy that worked last year might not work so well this year. Google's algorithms are constantly evolving to deliver the best possible results for users, so you've got to stay on top of these changes and be agile.
Another important, and more controversial, thing to know about SEO is that it's so much more than tricks and tactics.
You're not going to grow your SaaS company JUST by using the right keywords, writing articles of the perfect length, or using exactly the right amount of links. The most important thing for SEO is, and always will be quality content. More on that later.
SEO & SaaS: How They Intersect
Now that we've covered the basics of both SaaS companies and SEO strategies, we can start identifying how SEO tactics apply to the characteristics, challenges, and goals of SaaS.
This is what we'll cover:
| | | | | | |
| --- | --- | --- | --- | --- | --- |
| No. | SaaS Characteristic | SaaS Challenge | SEO Pillar | SEO Tactic | SaaS Goal |
| 1 | Intangible product | Building awareness | Technical structure | Site audit | Maximize revenue |
| 2 | Product solves problem | Acquiring customers | Keyword research & content creation | Topic clusters | Minimize the cost of customer acquisition |
| 3 | Product can be updated and adapted for multiple audiences and industries | Activating customers | Content creation & link building | Blogs, landing pages, videos, and infographics | Minimize churn |

3 Best Ways To Do SEO For SaaS
1. Perform An SEO Audit To Establish A Strong Foundation For SaaS Growth
Before you unleash your killer SaaS marketing strategy upon the internet, you've got to audit your site.
This basically involves running through a series of checks, updates, and upgrades to your website to ensure your technical SEO is up to scratch.
Why is this important? Well, technical SEO is the backbone of all your SEO strategies.
It doesn't matter how epic your SaaS blogs are, or how perfectly you've used your keywords – if one element of technical SEO is wrong, your site doesn't rank.
Performing a site audit is a bit like spring cleaning your house. If you're like me, you'll procrastinate for a while, you might even half-ass it by only doing the tasks you find easy. But you'll only feel deep satisfaction and get meaningful results by going through every single step and doing it thoroughly.
So, here are four of the most important tasks to audit your SaaS website:
Make sure it's mobile-responsive
Speed it up
Check your organic traffic
Make Sure Your SaaS Website Is Mobile-Responsive
It should be painfully obvious to you by now that mobile devices make up the vast majority of search engine traffic – 60% of Google searches, to be precise.
If people encounter a problem, have a burning question at 3 am, or need to fact-check their friend's outlandish story at a party – their smartphone offers the answer in seconds.
Google has a mobile-first algorithm that enables it to only rank websites that are mobile responsive.
Pro Tip: If your SaaS website isn't effortlessly accessible to any and every screen, it's going to hurt you from a UX standpoint, as well as your SEO.
Sweating nervously? Take the test.
Rev-Up Your Page Load Speed
If you're a relatively new SaaS company, you need your organic traffic to just give your website the time of day. Otherwise, you can't explain how your product works and – more importantly – why they should care.
If your website loads just one millisecond too slow, people will click away. It's tough out there for a SaaS company.
To give the rest of your website the best shot at impressing new leads, you've got to maximize page load speed. This can be a pretty complex task, requiring web development support and a lot of testing, but Google will reward you for having a fast website.
Here are a few things to consider:
Take a speed test
Clean your HTML
Compress images
Upgrade website hosting
Switch up your tech stack
Set A Benchmark For Organic Traffic
Before you start blundering into marketing strategies and SEO methods, you've got to know where you're starting from.
Go to Google Analytics and analyze the last 6 months of organic traffic. Notice any trends? Has it increased or decreased over time?
If the initial results aren't pretty – chill out. Checking your organic traffic is a simple yet effective way to know where your website is at in terms of SEO. Now you can start setting goals and seeing improvement after this SEO audit.
2. Conduct Keyword Research To Strategize Content Marketing
You've finished your site audit, now it's time to do the real work. The 'get down and dirty' side of SEO… keyword research.
One of the biggest SaaS SEO mistakes made by marketers is the assumption that people are searching for the keyword that describes their product.
For example, let's say you're selling an app that helps people maintain a keto diet – recipes, macronutrient tracking, restaurants nearby that serve keto food.
You might be thinking, "Our website should rank for 'keto app' because...we sell a keto app".
This technically makes sense, except it's a terrible strategy for SaaS SEO.
Why? Because people hardly ever search for your exact product – especially if it's a relatively new concept with few competitors.
Take a look at this:
There are less than 1k searches for 'keto app' per month, and the keyword difficulty is pretty high. It's going to be super challenging to rank your website for this keyword – plus, people who don't know your product exists will struggle to find it.
But take a look at the informational keywords relating to keto:
You'll see that "keto restaurants" has a monthly volume of nearly 3k – almost 3x the volume of "keto app", with a significantly lower difficulty.
By targeting keywords that your customers search for before they know your product exists, you have a much higher chance of being successful with SEO.
Plus, targeting informational keywords gives you plenty of content ideas for blogs, videos, and infographics to publish on your website.
By building a goldmine of content targeting informational keywords such as "what is keto", "benefits of keto", and "is keto healthy", you achieve two things:
Your website starts to rank for these relevant keywords
Potential customers see you as an authority on the topic
SaaS startups experience major challenges with educating customers about their product, building awareness, and establishing themselves as an industry authority.
By building an SEO strategy that aligns with the initial search intent of potential customers – before they know about your product – SaaS marketers can build an effective SEO strategy that naturally flows into inbound marketing activity.
3. Create Valuable Blog Content To Attract & Convert Leads
Source - Skiplino.com
You've got your keywords in a pretty little spreadsheet – time to turn them into content that'll get you customers.
This is where you might start to feel overwhelmed and lost. You'll ask the following questions:
How long should it be?
How should I format it?
How do I optimize a blog for search engines?
Let's tackle blog types, because this is where many businesses trip up with their content marketing.
How Long Should My SaaS Blog Be?
In the world of SaaS content marketing, there's been a shift away from short content towards long-form blogs, whitepapers, case studies, and deep-dives.
Marketers used to assume that people were too busy or too lazy to read in-depth articles.
But it's now common knowledge that people want quality content that goes into painstaking detail on a subject. When Moz and BuzzSumo teamed up to analyze over a million articles, they found that longer content got way more social engagement.
Pro Tip: Blogs that are between 3,000 words and 10,000 words get twice as many shares as shorter content that is <1000 words.
At the end of the day, if you're gonna write 4,000 words about something – you probably know what you're talking about. Blogs of this length, by default, tend to be well-researched, substantive, and, most importantly, skillfully written.
Writing long-form content puts you in a higher tier of industry authority, far above the 500-word blogs by amateurs who are just looking to rank.
How Should I Format My Blog?
We recommend using these blog formats:
Listicles (X Tips For…)
Ultimate Guides
X vs. Y
Formatting your blog as a listicle, ultimate guide, or comparison piece signals to the reader that they'll get a wealth of information about the subject they searched for – and tangible actions they can take away.
How Do I Optimize A Blog For Search Engines?
Need SaaS SEO best practices for blogging? You got 'em. This is what we do (and it gets us on page 1 pretty regularly):
Use 5 internal links
Use 5 valuable external links
Create tables, lists, and bullet points
Bold important sentences
Use tables to display important concepts
Include the KSP in the title and first 100 words
Use LSI keywords in the headers
Following this framework for content supports SEO because it makes your content more relevant, targeted, and accessible to people who are looking for information. You're effectively making Google's job easier.
By sprucing up on a few essential technical SEO best practices, you'll make it easier for organic traffic to reach your website and find the information it's looking for.
Structuring answers as tables, lists, and bullet points also helps you rank for the top spot in the SERPS – the featured snippet.
Google gives featured snippets to content that answers the question in the most direct and valuable way and comes from a site that looks authoritative.
These best practices might seem pedantic and exhausting at first. But, in reality, they provide a helpful framework for SaaS bloggers and marketers to create the best possible content.
The SEO tactic underpinning these blog tips and tricks is – valuable content. Google wants to give users the most outstanding, informative, expert-level content out there, so when it crawls through your blog and finds a beautifully structured, long-form article centred around a specific topic you're more likely to rank.
Valuable content trumps keyword density any day of the week. Back in the day, marketers would argue over the perfect number of keywords to use in a blog post – is it 1%? Is it more or less than 1%?
This is where marketers lose themselves in arbitrary SEO practices and forget about value. Trust me, if you're writing valuable content about a topic you have expert-level knowledge in, the above SEO tactics will come pretty naturally.
7 SEO KPIs You Should Be Tracking For Your SaaS Company
Now that you've started implementing your SaaS content marketing strategy and publishing high-value, search engine optimized content, you need to make sure it's getting the results.
Tracking SEO KPIs is essential, otherwise, how do you know if something is working or not working?
We'll brief you on the 5 most important KPIs to track for your SaaS SEO.
Traffic by Source
Traffic by Page
Click-through-rate
Bounce Rate
Keyword Rankings
Let's dive in.
1. Traffic by Source
You want to know where traffic is coming from, right? Knowing how people find your SaaS company helps you identify which sources are most effective for your SEO.
For example, if you find that you're getting more traffic from LinkedIn than from search engines, or more from referrals than paid ads, you can adjust your campaigns accordingly to maximize organic traffic.
2. Traffic by Page
You can refine the metrics even further to see what pages on your website attract the most traffic from different sources.
For example, a certain landing page or blog post might be getting significantly more organic traffic than the rest of your website.
This is important for increasing traffic to the most important pages on our website is essential for conversions. Setting targets around certain landing pages and keeping track of the results will help you filter traffic through to the highest-converting content on your website.
3. Click-Through-Rate
This determined how many 'clicks' visitors use to navigate your website. Naturally, higher click-through-rates lead to better results, because it suggests that people are taking the time to explore your website and find a solution.
If you want to know if your landing page is working, track its CTR to see if those call-to-actions and high-value content are doing their job.
4. Bounce Rate
When users click on your site, then leave without interacting with any pages or CTA's, this is called a 'bounce'.
Your bounce rate tells you how good your website UX is – if it's high, you probably need to overhaul your website design and check for technical issues.
5. Keyword Rankings
If you've been targeting a certain search phrase or keyword with your blog, you need to know if this strategy is actually working. If you never check your keyword ranking, you could be wasting valuable content and blog writing on an SEO strategy that isn't working.
Various SEO tools and Google's own Search Console will help you track your ranking for specific keywords to measure the success of your campaigns.
Remember – don't be disheartened if your latest blog isn't ranking the week after you publish it. It can take weeks, even months, to get results.
Bang For Buck: Calculating SaaS SEO ROI
If you're investing in SEO and inbound marketing, of course, you want to see how it's helping you achieve SaaS growth.
The thing is, calculating the ROI for SEO can be tricky – especially if you're a relatively new or small business and you've only just started taking SEO seriously in the last six months.
If you've only been investing in SEO for six months or less, it's going to be impossible to get an accurate measurement of ROI.
Performing these essential SEO activities...
Researching keywords and creating a strategy
Writing and publishing epic content
Building links
Improving domain authority
...takes at least six months to see any kind of impact, sometimes more.
Perhaps the only way to at least feel somewhat comfortable during the initial 6 month period is to partner with a SaaS inbound marketing agency that can help you validate your investment.
The right inbound marketing company will be able to show you exactly where your money can go and provide you with ballpark estimates to demonstrate the potential of investing in SEO.
And we're not talking about those high-and-mighty outbound marketing agencies promising all these crazy metrics before they've even met you. Be very wary of marketing agencies making seriously big claims centred around metrics – it's a major red flag that suggests they only care about short-term numbers, not long-term growth for your company.
But, of course, if you're running a SaaS company or have a CEO breathing down your neck, you need to prove that this investment is working.
So, once six months have passed, this is how you can measure the ROI of your SEO efforts in a way that directly relates to your SaaS company's performance and growth.
Success equals SaaS lead generation and sign-ups – right? Content needs to convert. So let's address the ROI of SEO-driven marketing that directly leads to sign-ups. This is called Performance SEO.
Here are the essential steps:
Get Your Head Around Customer Acquisition Cost (CAC)
Figure Out Your Acceptable CAC
List All SEO-Related Costs
Build Your Spreadsheet
Working with an experienced inbound marketing agency is essential to keep track of your SEO ROI accurately without making common measurement mistakes.
Too many SaaS companies get inaccurate data around ROI by…
Focusing on the ROI of individual web pages and blogs
Focusing on the ROI for a single campaign or part of a campaign
The best way to gain insights into your SEO ROI is to measure the entire campaign as a whole.
Conclusion: Find A SaaS SEO Expert
There's no denying that SaaS SEO can be a nightmare. Figuring out how to use search engine optimization to grow your online presence and attract more customers will definitely drive you insane.
That is if you try and figure it out on your own.
Luckily, there are agencies out there who are dedicated to helping SaaS companies navigate the murky waters of SEO with strategies that actually bring long-term growth – not just flashy numbers to use for their own advertising.
At Roketto, we know what works. We help SaaS companies grow and see tangible results from inbound marketing by implementing a well-researched, results-driven process.

Ready to get it right this time? Talk to us.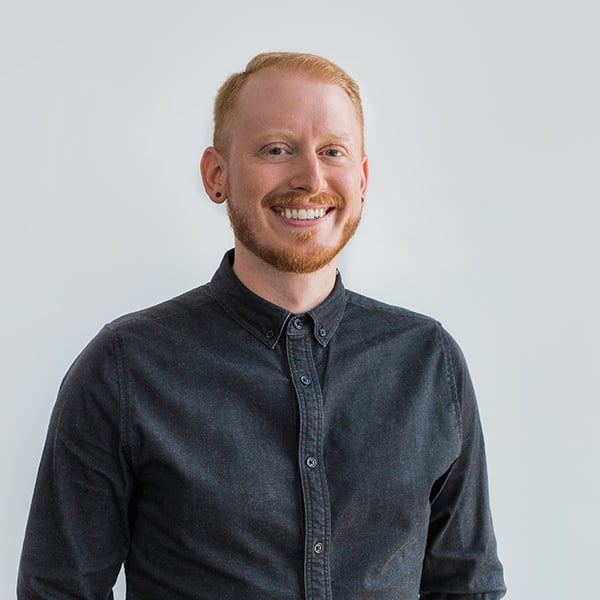 Ulf is one of the co-founders here at Roketto. His passion shines brightest when tasked with increasing business growth through inbound marketing. If you want to talk strategy, give Ulf a shout and you're likely to see him spark with excitement.