Success in the business world—especially SaaS—is a funny and fickle thing. To some, it's anything up and to the right. To others, it's a well-defined KPI hitting its mark—even if that takes rounding it to a third decimal place.

And while the general definition could be said to be anything that qualifies as purposeful and meaningful improvement, success tends to look different to every SaaS company—and for good reason.

Considering the wide variety of niches, industries, and verticals, compounded by differences in products, customers, development stages, approach, and so much more, there's no limit to the number of reasons why success and all of its underlying components can look so vastly different.


But that's not to say there aren't important similarities. In fact, despite the glaring differences in everything from niche to development stage, plenty of businesses tend to use some key strategic elements to build that success. And best of all, for the sake of both this blog post and the people and businesses that benefit from it, those strategic elements are exemplary models of what, how, and why to refine your marketing efforts. And applied within the context of your own business, those elements could stand as the insight and execution you need to start writing some of your own success stories.
SaaS Marketing Success Through Alignment
Over the years, we've seen enough SaaaS marketing examples and success stories to know that they come in all shapes and sizes, even outside the regular bounds of marketing. But if there's one nearly—if not entirely—universal element that seems to consistently set SaaS companies on that path to success regardless of what facet of their business they aim to improve, it's customer alignment.
That said, customer alignment can be a really ambiguous concept, especially since most businesses more or less design their products and services to meet the needs of their audience, and that in itself can be a customer alignment challenge.
But on a granular level, aligning with your customers through every facet of your business will go a long way in creating a meaningful and therefore long-lasting relationship between you and those you're trying to serve.
Of course, that can come in a variety of forms, from simple SEO refinements to completely revamping the brand voice, lexicon, or even offering, so we'll take a look at some concrete SaaS marketing examples of how small changes in alignment can make for big results in the long run.
How Hugo Doubled their Daily Active Users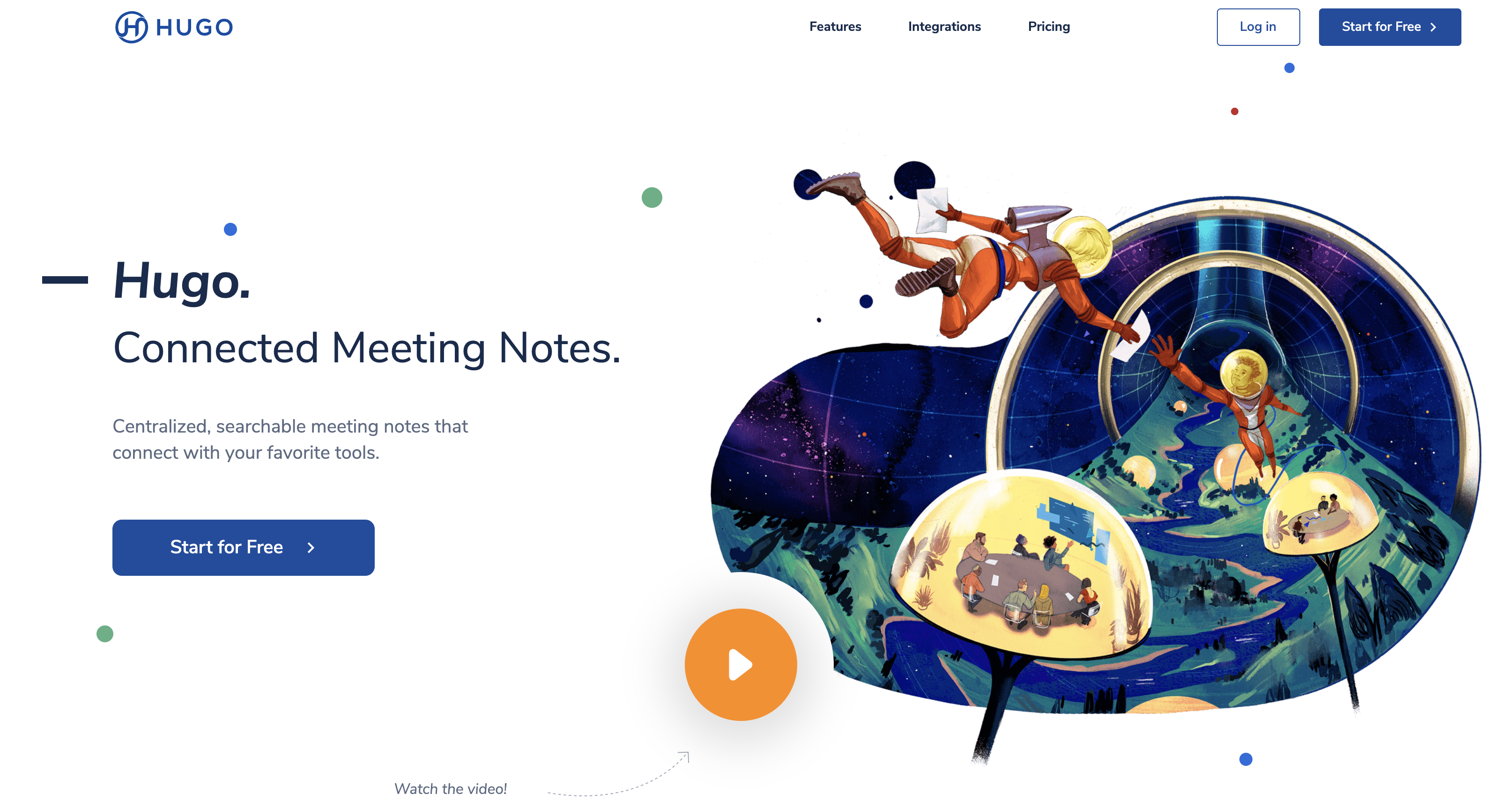 As many good marketers already know, email can be a powerful tool for a variety of marketing initiatives, either as the centrepiece of a campaign or complementary support. And yet, there are plenty of others who are content with it simply being a generic utensil for feeding the lead machine—and the average results that come with it.
That was a problem faced by co-founder and COO Darren Chait of Hugo—a comprehensive and integratable meeting notes platform—during the process of ramping up and refining their marketing efforts. Before Chait changed Hugo's approach, the company's email marketing efforts were deployed on a rather elementary level.
"At first, we used email in a basic, standard sense to market and nurture leads," says Chait. "But it was undifferentiated and converted only at standard rates."
But when goals were put in place to improve the company's sign-ups, open rates, and overall conversion rate, he realized there would need to be significant changes made to both their approach and execution. After closer examination, it turned out that their industry-average results were largely a product of the significant lack of detail that makes email marketing campaigns both meaningful to the customer and effective for the business. Through refinements like segmentation, personalization, and engagement metrics, Hugo was able to turn their middling results into something far more beneficial.
"We switched to only sending users highly-customized, personalized, helpful communications, which were contextual and based on user actions," says Chait. "[And because of it] we doubled our daily active users within a month."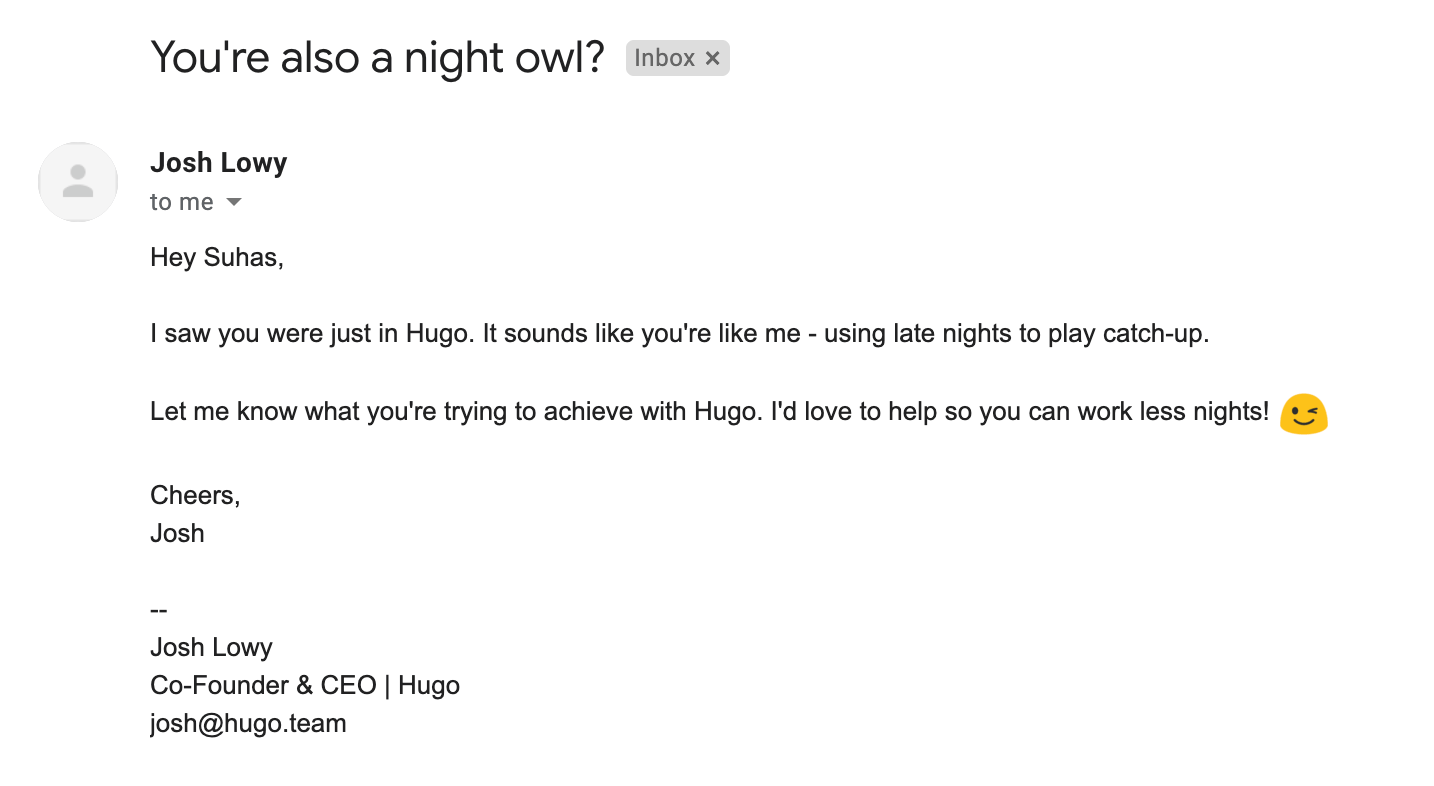 Hugo was able to improve their email-based metrics by providing a much more personalized approach to communication, like the example above.


Of course, not every business will see such significant results the first time they attempt to revamp their current initiatives, but Hugo's story stands as a prime example of just how good things can go with the right mindset, insight, and efforts.
How SEMrush Reduced Cancellations Nearly 10%
Much like Hugo's experience above, many companies generate significant results by simply understanding the wants, needs, and maybe most importantly, pain points of their customers—and SEMrush is the perfect example.
Before founding Digital Olympus, a digital marketing conference held in Poland, and launching her own digital marketing consultancy, Alexandra Tachalova was the regional Marketing Director of SEMrush, a SaaS focused on delivering an all-in-one toolkit for digital marketers. From her position, Tachalova's goal was to increase the ROI of the company's marketing efforts as many ways as possible without any further significant investments. Even though the business wasn't in bad shape, she knew any improvements to their current processes at scale would likely produce significant results, so she started at the heart of just about every SaaS business: user subscriptions.
Knowing that decreasing cancellations would fulfill her ultimate goal, Tachalova came up with an amazingly simple solution:



"I simply suggested that they remove the button that allowed you to cancel your subscription," says Tachalova. "[Then] replace it with a button that would open a form to send a request to the support team."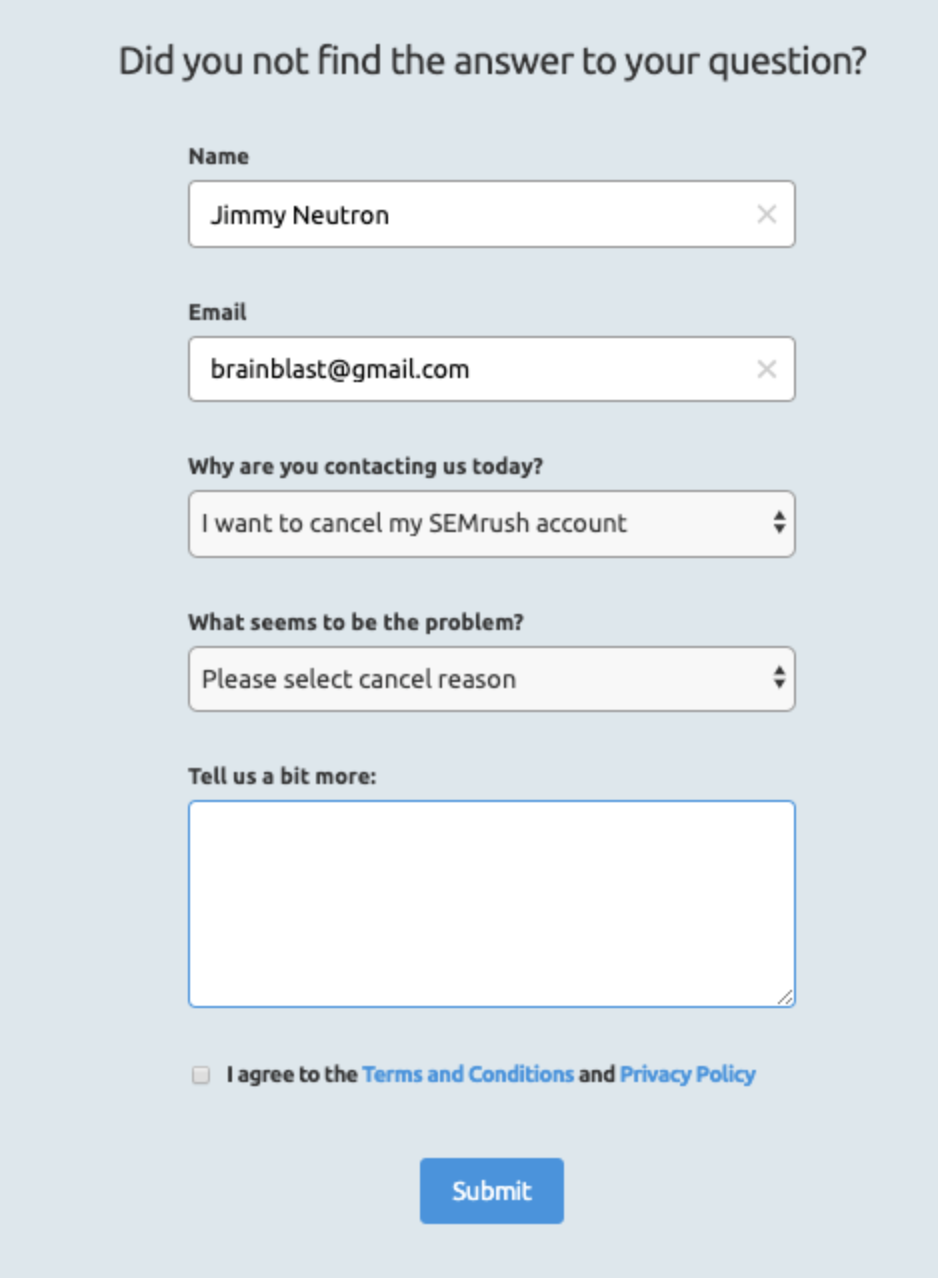 Not only did this directly impact the user's ability to just up and cancel their subscription without notice or reasoning, but created a direct line of communication to the SEMrush support team, providing them better and more direct insight into issues users were having, and giving them a chance to reconcile those issues before cancellation was an option—all instead of simply letting users get frustrated and outright cancelling service.
SaaS Marketing Success Through Optimization
In the examples above, it took one big change to fundamentally shift the way each business approached and acted upon some of their greatest challenges. But frankly, it's just as common to need a more comprehensive overhaul that includes a series of small shifts to produce overarching results in the end.

Great examples of this include search engine optimization (SEO) and content marketing for SaaS. Basic usage starts with employing the right keywords, but there are far more individual elements that can be refined to create a more effective, cohesive, and holistic SEO strategy—such as understanding keyword research, employing keywords contextually, obtaining and leveraging backlinks, effectively promoting, and creating compelling meta descriptions.

Much like the examples above, some of a business's most important assets are already established, they're just not being used to their fullest potential—or in other words, optimized. While the results may show those assets to be functional, that doesn't always mean they're truly effective. And it takes a keen eye to spot the difference, as we'll illustrate in the examples below.
Because you don't have direct physical access to customers like a brick and mortar, you need to reach them in a real, human, and helpful way with everything you do, from the design of your UI to blog posts and live support. Understanding them in relation to your product is crucial to providing what they need most—and that doesn't always mean following generic trends.
How Moosend Nearly 10x Organic Traffic in One Year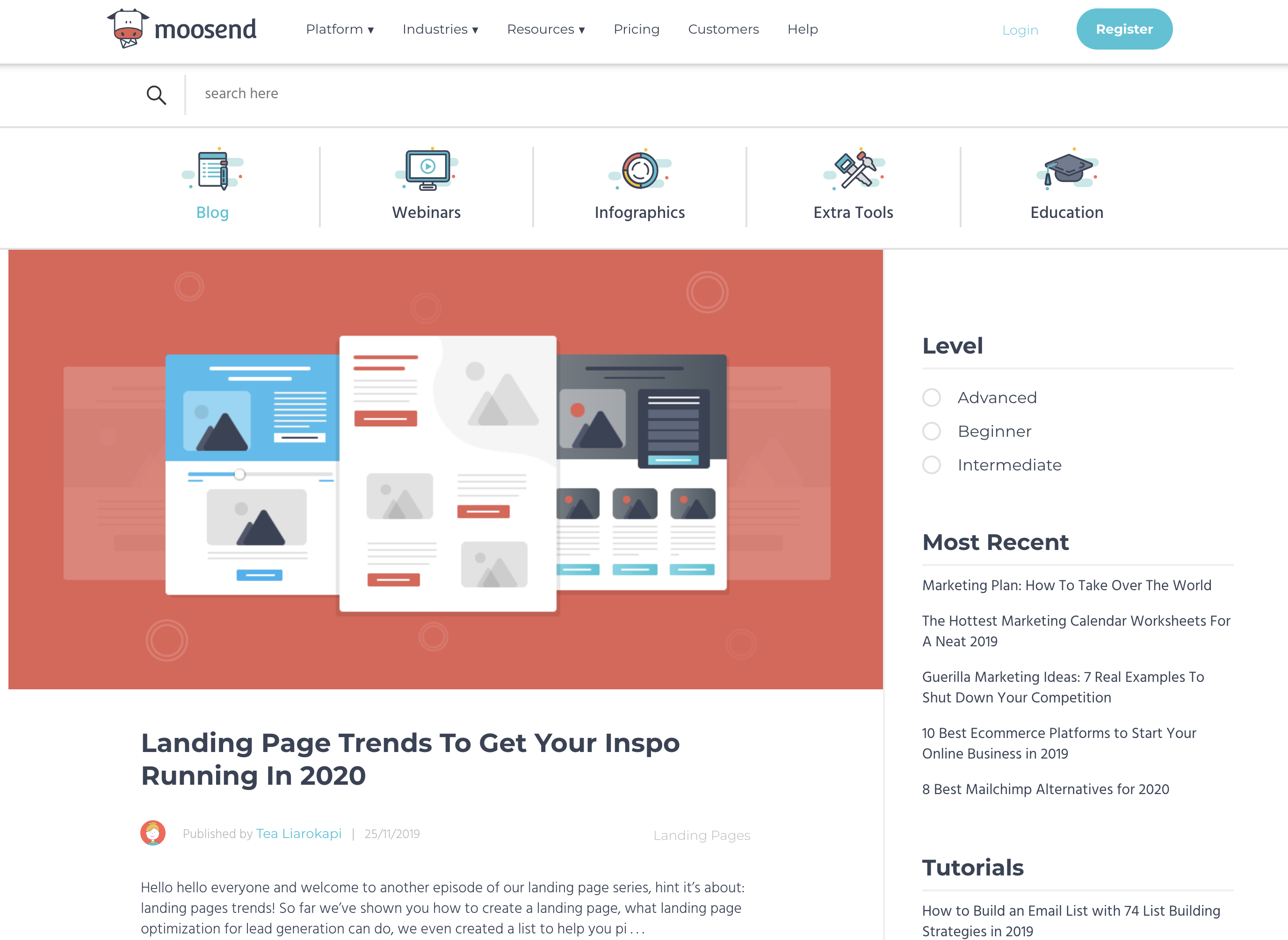 Like many other companies on their way to being truly established, Moosend's ongoing marketing efforts were at least semi-successful in most facets, but unfortunately, some areas received more attention than others.
"The growth of our organic traffic wasn't necessarily bad," says Moosend's Head of Growth, Nick Dimitriou. "We had some small increases month over month but we weren't seeing the substantial increase that we needed to eventually have a greater impact."
After closer examination, it became clear that their approach to SEO wasn't as comprehensive as they originally thought, so they decided to boost their efforts across the board. But unlike many others, who make the common mistake of simply trying to pump out more content, Dimitriou decided to rework everything from the bottom up.

"We started by evaluating and optimizing our current content from day one," says Dimitriou. "Then we heavily focused on promoting our newest and most valuable older content through various off-page SEO strategies."
By conducting a thorough audit, Dimitriou was able to see which pieces of content were the most valuable and effective, which were no longer necessary, which could be combined to make them more impactful, and where information gaps existed, giving him keen insight into what could be updated with the latest keyword research and how to position them in context of Moosend's greater content marketing efforts. In turn, they also organized and optimized their promotional strategy, allowing them to drive more readers to their work. The results?
"Through 2019, we've managed to almost 10x our organic traffic—and improve visibility as well as our conversions," says Dimitriou.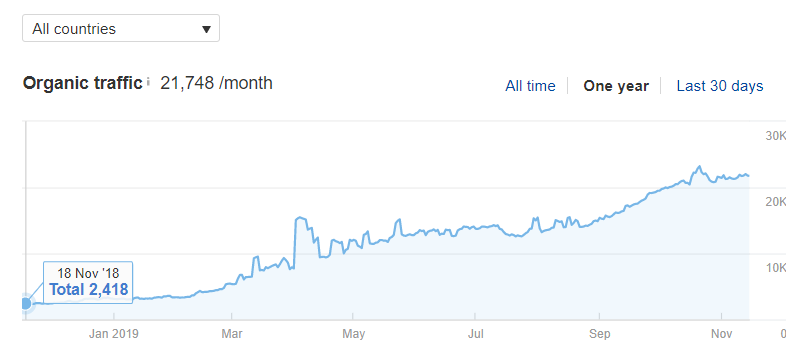 Through an audit, Moosend identified their content's strengths and weaknesses, then structured, edited, and optimized every piece to fulfill their greater goals and leverage their most valuable pieces—all with a significant impact on organic traffic.
How Atlassian 2x Organic Traffic with a Holistic SEO Strategy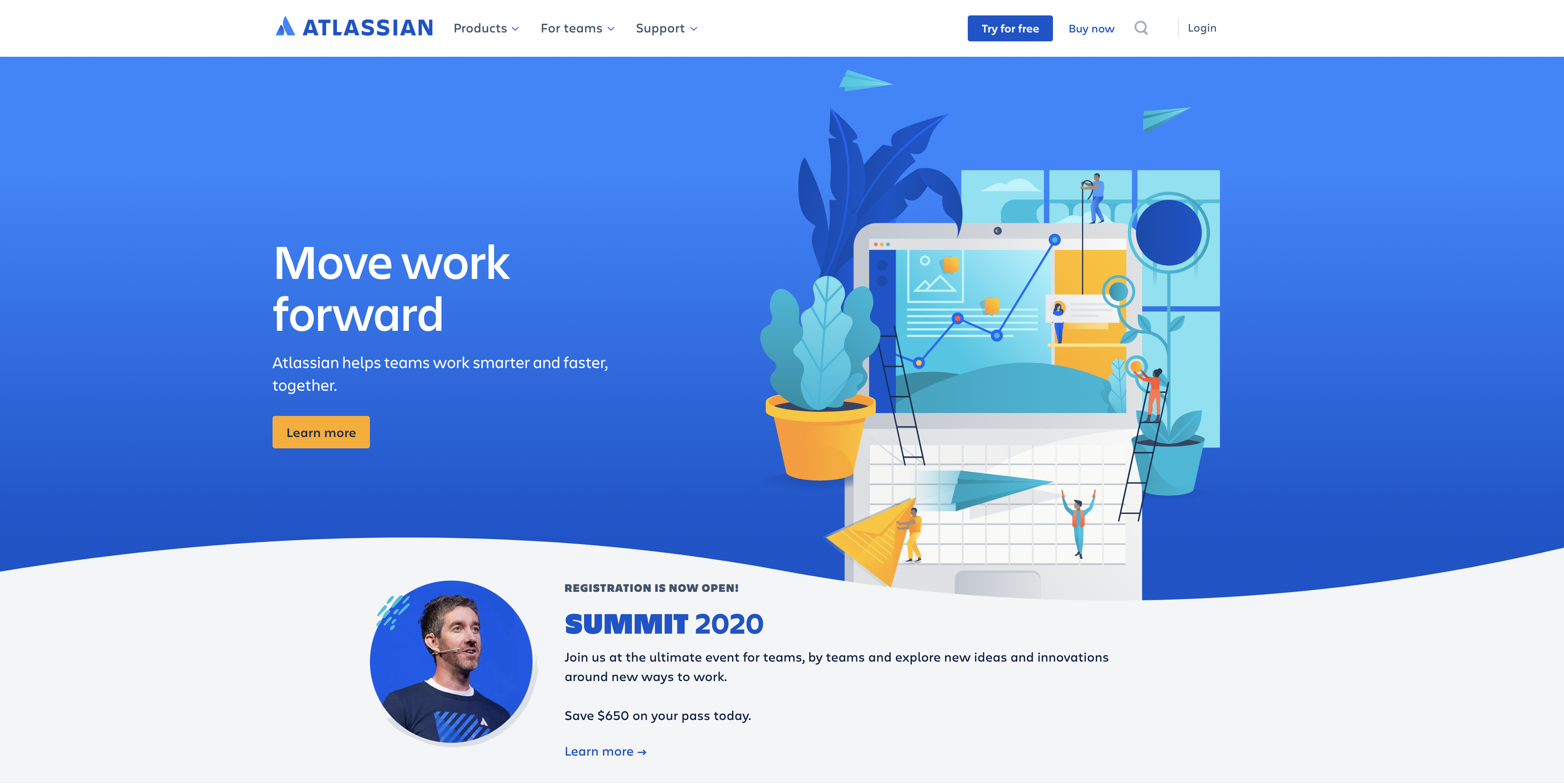 Despite the obvious success that many big companies often enjoy, that doesn't mean that they're doing everything right. In fact, the truth is often far from it, as the example below will clearly show.
Before becoming the VP of SEO and Content for G2, Kevin Indig was Head of Technical SEO for Atlassian, an Australian enterprise software behemoth, and was faced with a significant challenge: boosting organic traffic for a company that hadn't paid much attention to SEO best practices for quite a while, if ever.
"SEO never really existed at Atlassian," says Indig. "Some marketers and product people did [aspects of] SEO, but Atlassian never had an SEO team and a strategy. A lot of the growth until then literally came 'organically'."
Much like those at Moosend, Indig realized that initiating a full-scale transformation of marketing efforts would need to start with a content audit to generate quick wins by working with the company's previously established assets, then setting their sights on impactful, yet attainable objectives, and identifying KPIs to monitor them.

"We set different kinds of goals related to evangelization, technical optimization, content optimization," says Indig. "At such a large organization, you have to think holistically and tackle SEO in every aspect. In the end, there wasn't just one thing we did but one thousand. It's the sum of many parts."
Over time, that sum became quite apparent.



By aligning with the big picture and optimizing every facet on a granular level, Indig generated massive growth for Atlassian's organic traffic in just a few years.
"We almost 2x organic traffic within about three years," says Indig. "That's a great result for a company like Atlassian because it's driven by freemium sign-ups and has a very high conversion rate. We had a fundamental impact on the business. Today, it's worth about $30 billion."
How Postfity 2x MRR in Just 8 months Through Content Marketing and Outreach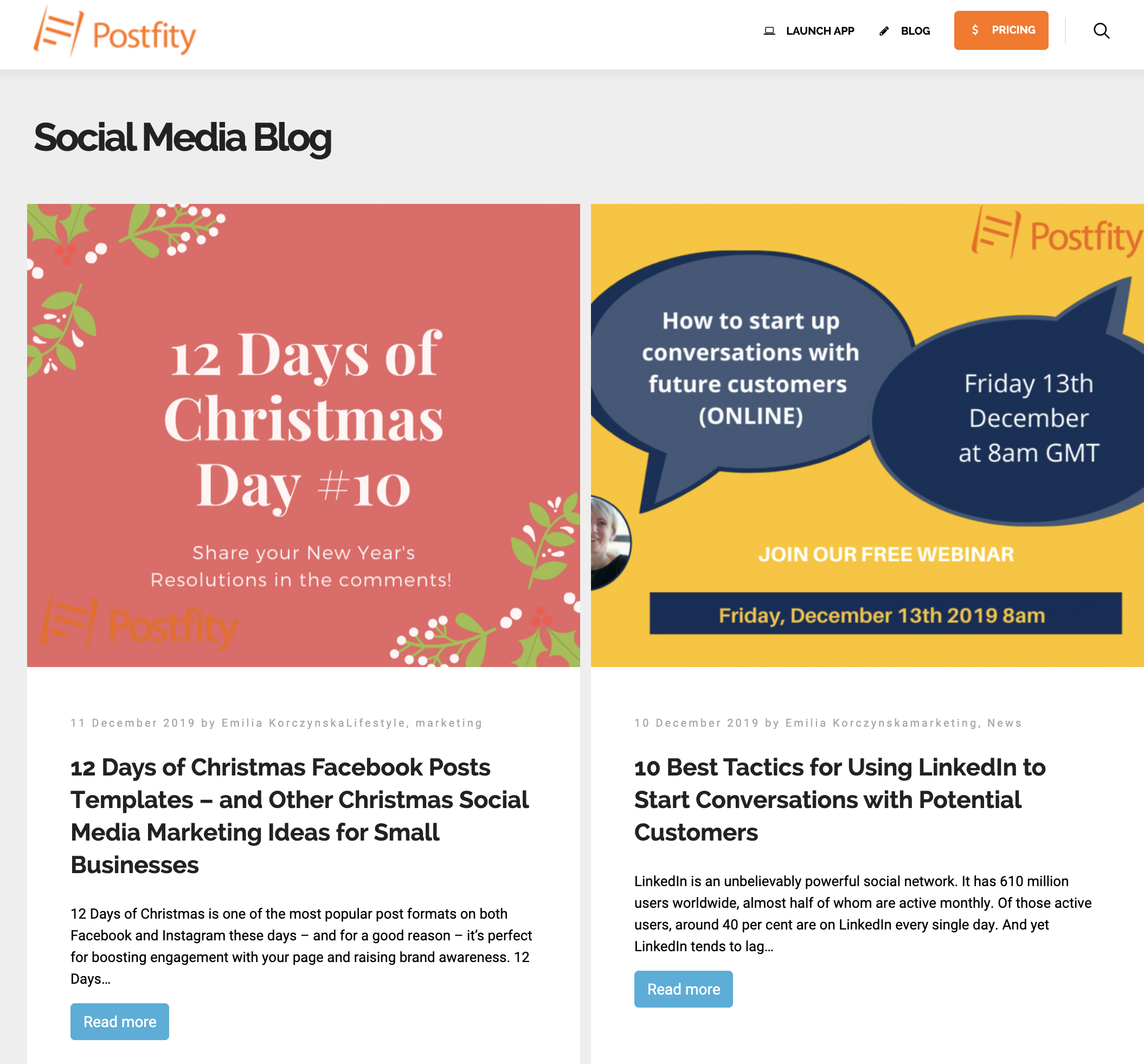 Of course, Atlassian isn't the only SaaS with a great offering but a lack of marketing direction—in fact, it's exactly what Marketing Strategist Emilia Korczynska encountered when she first joined up with social media automation platform Postfity in early 2019.

"The MRR (monthly recurring revenue) had flatlined about two years before I joined as a growth hacker in February, at around $5k," says Korczynska. "Even though the product was great, their team didn't really have any strategy for their marketing."
Understanding the lack of direction, Korczynska knew it was unwise to build on something that was clearly a bit disorganized, so she decided to begin deconstructing and building from the ground up by using assets that were already in place. To start, she began by setting the goals of improving the content quality, SEO efforts, and 10x-ing the output, then did some reverse engineering to figure out how to best achieve them.



"We began creating 12-week 'content sprints' with a niche, low KD (keyword difficulty) keyword strategy, targeting one niche at a time," says Korczynska. "For example, how to promote a language school or VA business, then supplemented with social media and email marketing funnels around the content."
In turn, she and her team began doing consistent guest posting and link building outreach with high domain authority sites to round their efforts out.
"In the end, [after starting in February] we doubled the traffic and hit the 10k MRR mark in October."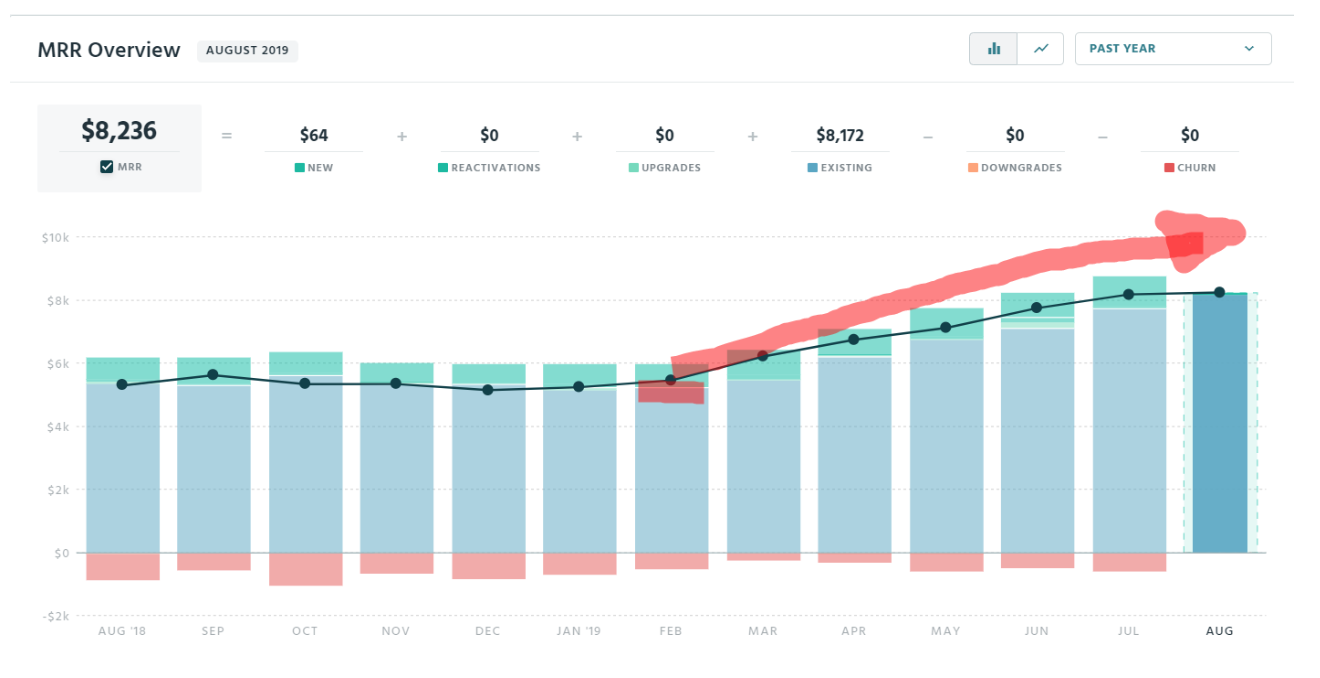 By building their content strategy one niche at a time, Korczynska and Postfity capitalized on their audience quite literally, and 2x-ed their MRR over the course of just 8 months.
How Chanty Drew 70% of Their 10k Users Through SaaS Content Marketing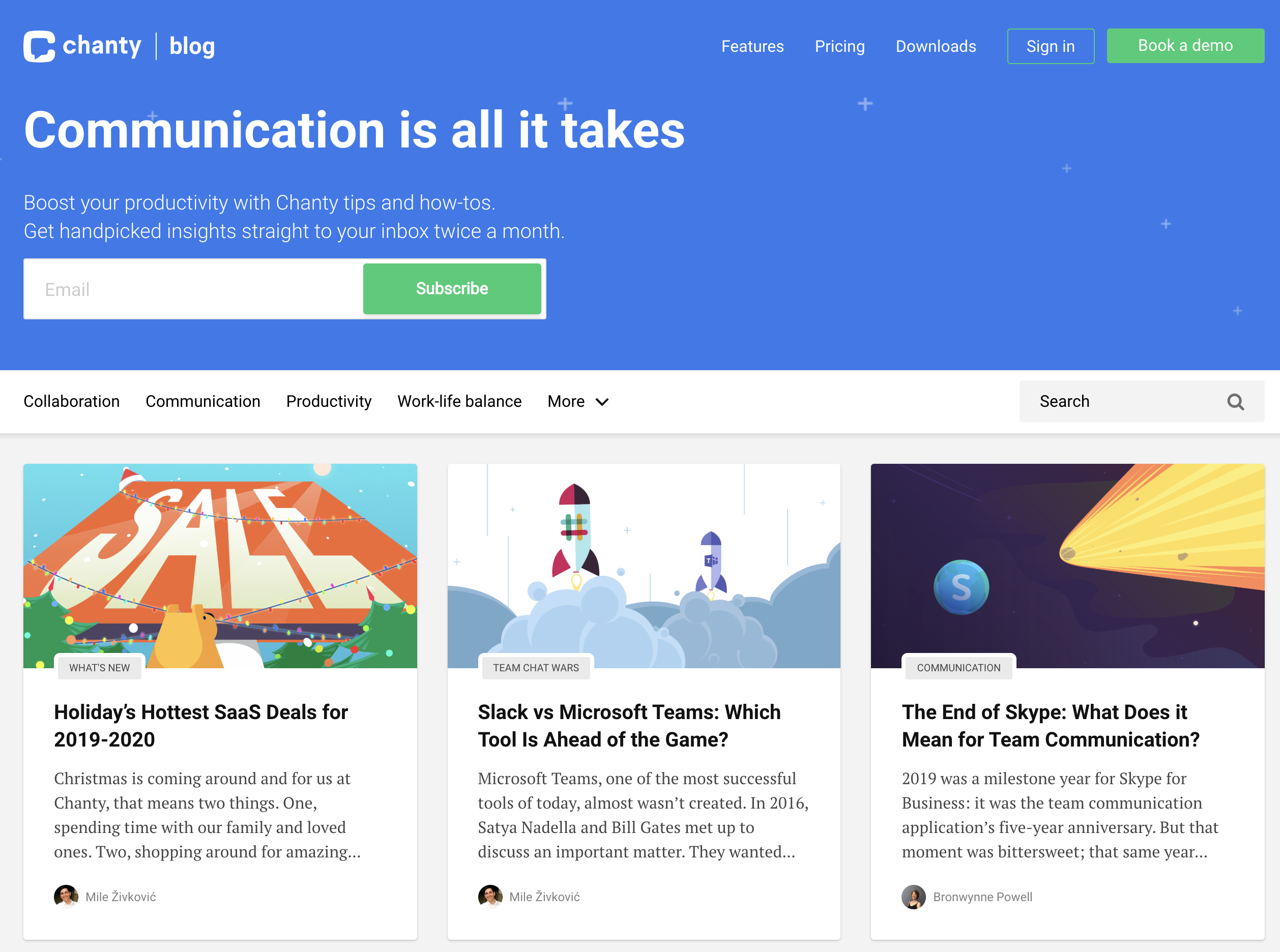 Compared to the other examples we've touched on above, Content Marketing Manager Mile Živković had a lot less to work with when tasked with scaling up the user base for Chanty, an AI-powered Team Chat platform—and faced a well-established direct competitor to boot.
"[Before undertaking our most recent efforts], we mostly relied on referrals and word of mouth," says Živković. "We connected with entrepreneurs and SaaS marketers to get our first users but this was barely enough to be called a user base."
Unfortunately, due to a lack of finances and Slack, their direct competitor, already established in the market, Živković and his team didn't have a lot of options when trying to figure out how to position themselves and their marketing efforts. Without money to run paid ads, SEO became their natural choice—but they didn't let their size, resources, or competition hold them back from setting ambitious goals.
"We wanted to rank #1 on Google for our most important keywords," says Živković. "We found them through a combination of keyword research and a mix of three critical criteria: high volume, low competition, and high search intent. For example, ranking #1 for the keyword 'Slack alternative' brings us lots of relevant traffic that converts into customers. Then, we wrote high-quality content optimized for them and built links through guest blogging to help them rank faster."
Since making these changes, Chanty is now seeing nearly 50,000 monthly visits to their website and registering 400 new teams at the same rate, most of which come from the articles they wrote, optimized, and linked to.
"70% of all of our customers come from SEO and content marketing," says Živković. "In a highly competitive field, we've been able to acquire the majority of our 10,000 users through SEO and organic traffic. I think those are pretty solid results."
What's Your Story?
As you can see, despite the differences in size, niche, and offering, plenty of SaaS business are able to use similar techniques to find success, whether through aligning with their audience, optimizing some facet of their marketing, or cleverly combining a number of different efforts.
Of course, this is only a limited selection of success stories, but we're doing our best to create more and more every day.
If you'd like us to share your success story in our next post—or need help in making your own come to life—don't hesitate to reach out. We'd love to hear from you and/or share your results!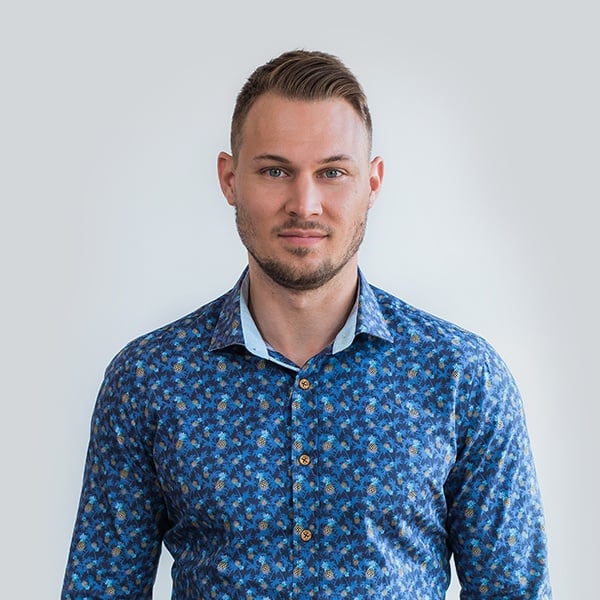 Chris is one of the managing partners at Roketto. His area of expertise is digital marketing and loves sharing and educating on topics like Google Ads, CPC bidding tactics, Google Analytics, and marketing automation. When Chris isn't in the office, he enjoys playing volleyball, mountain biking, and hiking with his American Eskimo.