Managing a SaaS company is a bit like being a racecar driver.
No one cares that you're hitting speeds of 200 mph if there are 20 cars ahead of you.
But don't take it personally — that's just how life is in our cutthroat industry, where not even 20% YoY growth is enough to guarantee survival.
Take a look at these average growth numbers for SaaS companies if you don't believe us:
Source
Sky-high or what?
They are, but, before you run for the hills and become a farmer, let's cut to the good news:
Your company can achieve and exceed these results.
It won't be easy, but we believe in you.
And to prove it, we'll give you a little bit of free nitro(us oxide) in the form of 18 proven SaaS best practices broken down into nine comprehensive categories:
Contracts
Implementation
Billing
Renewals
Architecture
Websites
Security
Customer support
Customer success
Excited? You better be because it's time to put the pedal to the metal and start overtaking!
SaaS Contract Best Practices
1. Don't Just Cut and Paste a Pre-Written SaaS Contract Template
We get it.
It's pretty darn tempting to use a pre-written contract because of its two clear-cut advantages. It's sure to save you 1) a bunch of time and hassle and 2) expensive legal fees.
And on top of that, many startup accelerators offer their own tried-and-tested templates (which are definitely far better than just randomly Googling a template).
Here's an example from Y Combinator:
It's a solid contract filled with SaaS best practices, but two things could go wrong:
The template might not have the necessary terms to accurately reflect your SaaS tool's services.
The overly vendor-favorable contract might lead to friction during contract negotiations.
What should you do?
Pro Tip: Find a SaaS contract expert and spend a little time and money customizing it.
It'll be worth its weight in gold.
2. Decide if You Need a Click-Through Agreement, an Enterprise Contract, or Both
But how?
It's surprisingly easy — simply think about the type of customer your SaaS solution is targeting.
If you target single end-users or SMEs, you'll be alright with a click-through agreement. This type of contract makes signing up as easy as clicking a few buttons (hence the name).
Something like Asana's works like a charm:
Source
However, this strategy won't fly with large companies and MNEs.

Their in-house legal teams will refuse to sign your online click-through agreement and insist on using one of their contracts instead. And that's not a good way to start a business relationship.
This means enterprise-level clients need enterprise-level contracts, and you should be prepared to negotiate and ensure a win-win outcome.
But what happens if you have both types of clients?
Simple, have both types of contracts at hand.
SaaS Implementation Best Practices
1. Offer Full-Service Implementation to Customers With Limited in-House Resources
SaaS firms deal with clients with a wide range of internal IT maturity.
It's part of the day-to-day.
Some clients are jacks-of-all-trades, some have in-house experts, others rely on expensive contractors, others still have no time or resources to dedicate to yet another IT program.
These resource-strapped clients are the ones that need extra attention because they're also the most likely to churn without ever using your SaaS solution.
So rather than waiting for the inevitable to happen, take matters into your own hands and offer them full-service implementation when they sign up.
They'll be relieved, and you'll get the best shot to demonstrate the value of your software.
ServiceNow does this exceptionally well by providing several different implementation packages (from hands-off to hands-on) to ensure there's something for everyone.
Source
2. Give Clients a Choice Between Onsite and Remote Implementation
We know the world is turning towards remote implementations and offsite teams.
In part thanks to improving communication technology and in part due to COVID.
And that's all fine and dandy when you're selling simple SaaS systems that don't require complex implementations and/or juggling diverse groups of stakeholders.
But if that's not the case, you should offer the choice between onsite and remote.
You'll differentiate yourself from other providers, and your customers will appreciate that you're willing to visit them, even if they go for a remote implementation to keep costs low.

Curious to see who's doing it well?
Then check out Square — they're a great example of a SaaS company that has mastered the balance of remote and onsite implementation in a delicate and ever-changing industry.
SaaS Billing Best Practices
1. Keep Your SaaS Pricing Model Dead Simple
You have the choice between four major SaaS pricing models:
Pricing models

Pros

Cons

Flat pricing

Straightforward
Shortens sales cycle
Perfect for companies with a single product or buyer persona
Easy to forecast key metrics

Unfriendly to price-sensitive clients
No upselling
Affects perceived value

Per-user

Still straightforward
Easily scalable
Excellent for targeting startups

Limits adoption
Login abuse
Higher churn rates

Tiered

Excellent customizability
Wider appeal
Perfect for upselling

Potentially confusing
Expensive top-tier packages

Usage-based

Pay-as-you-go billing
Widest appeal
Higher margins

Difficult to predict revenue
Customers aren't locked in
Easy to overspend
But regardless of which model you choose, remember to keep it as simple as possible.
The last thing you want is to confuse your users and knowingly contribute to complex billing processes, more questions to customer service, fewer sign-ups, and more churn.
Instead, be like Basecamp and create pricing pages that even 4-year-olds can understand.
2. Use Your Billing System to Upsell and Reduce Churn and Revenue Leakage
Your billing system is a powerful tool because it equips you with the customer data you need to 1) increase upselling and 2) cut churn and revenue leakage.
All it takes is an internal system that automatically picks up on behavioral and payment patterns and then takes corrective action.
Here are three examples of SaaS billing best practices:
You notify customers that use up their quota and upsell a better package.
Source
You proactively offer "cheaper" packages to customers that consistently exceed usage quotas in an attempt to grow customer satisfaction, loyalty and reduce churn (which will happen sooner or later if they notice the extra charges).
You reduce revenue leakage and churn by setting up an automatic billing system that makes payment, collection, and reminders an effortless task for all parties.
SaaS Renewal Best Practices
1. Automate the Entire Customer Lifecycle
Renewals don't start when a user's contract runs out.
They start from the moment they sign up.
So don't wait until it's too late and nurture your customers from start to finish with automation, a 21st-century tactic that's backed by nearly 60% of employers.
Area

How automation helps

Email campaigns

Increases engagement
Shares best practice
Improves onboarding

Customer service

Offers 24/7 help via chatbots
Links users to the right self-help resources

Customer usage

Upsells to customers exceeding quotas
Tracks and actions unengaged users

Billing and payment

Makes paying as easy as pie
Provides timely warnings

Feedback

Prompts feedback from customers if a positive or negative behavioral trigger is set off
Lowers churn by showing customers you care
Need an example?
Here's how Profitwell uses Userpilot and email marketing to build tighter relationships:
2. Educate Your Users and Keep Engagement High
Nothing spells out churn more than disengaged users.
They don't use your solution, and hence they don't see its value.
You need to change that by communicating often. And meaningfully — definitely don't just spam customer email and SMS inboxes.
We suggest you test out marketing automation solutions and build sequences of regular emails, surveys, and tutorials.
Something like this from Hugo:
Source
This strategy will get your users to use your software productively, which means you won't need to worry about them churning as your solution will become part of their BAU.
Well, unless they forget.
But in that case, it's enough to have a solid system to remind them once more, and that's a done deal.
SaaS Architecture Best Practices
1. Make Sure Your SaaS App Is Self-Serviced
A good SaaS app is self-serviced.
Why?
Because every single client needs to be able to register and get started with your SaaS solution without having to waste time or contact your support staff.
Remember, people are impatient nowadays, and delays lead to churn.
Good self-serve tactics include:
Frictionless sign-up forms
Knowledge bases and help center widgets
Tooltips
Welcome screens like this one from Postfity
2. Go For a Multi-Tenancy Architectural Approach
You won't just have one client.
That's kind of the whole point of SaaS.
So don't go for single-tenant architecture — your costs will be too high, and you won't be able to scale your solution efficiently.
So, UNLESS your product's core value is security (i.e., you're a Fintech startup that handles sensitive data), the answer is always a multi-tenant architectural approach.
Source
Most SaaS providers follow this principle, including big boys like Salesforce, Zoho, Zendesk, and HubSpot.
This strategy enables you to leverage a single infrastructure and codebase to achieve economies of scale and pass those savings on in the form of more affordable pricing.
It also makes customer onboarding and system maintenance more manageable tasks as you only need to look after one environment.
SaaS Website Best Practices
1. Ensure Your Website Stays Simple
Simplicity pays off.
Especially on your site, one of the most prominent players in the SaaS marketing playbook.
After all, your customers are landing on your site because they have a complex problem, and they want your help in solving it.
So subconsciously prove that you're the perfect company by presenting them with a simple yet catchy website design that demonstrates you understand their problem and have a hassle-free way to solve it.
And in our minds, no one does it better than Evernote. Their super clean site literally shows you that there is hope to tame your hectic life.
2. Deliver Your Value Proposition Above the Fold and Then Convince Users to Scroll Down
The fold matters. A lot.
Just think that users value information above the fold 84% more than information below the fold.
This means that website visitors make snap decisions about your company solely based on the tiny amount of information available at the top of your homepage.
You have one shot to prove your SaaS solution's value and get them to keep scrolling.
Don't mess it up.
Is the pressure getting to your head?
Diffuse it by checking out Olark and their ridiculously cheeky way to deliver a simple value-driven proposition and simultaneously push your eyes to the content below the fold.
These website design decisions are truly SaaS best practices.
SaaS Security Best Practices
1. Pick a Solid Hosting Provider and Take Advantage of Their Security Features
The world's largest cloud hosting platforms are phenomenal places to turn to for cybersecurity advice and features.
After all, they've spent years and millions (if not billions) of dollars on creating safe, reliable infrastructures for their clients and their client's clients.
Their very existence relies on it.
So rather than trying to build your own security infrastructure, pick a famous hosting provider with a proven track record (like AWS, Azure, or Google Cloud).
You'll be in good company:
Source
But what security features can hosting companies help you with?
Full data encryption
Secure API gateway services
Security monitoring
Key vault services
Two-factor authentication
Speaking of which...
2. Always Implement Two-Factor Authentication
Passwords — no matter how complex — aren't enough anymore.
You need two-factor authentication (2FA).
It's a relatively painless extra step (unless you lose your mobile phone) that double-checks that the user trying to log in is actually that user and not a mischievous hacker.
Source
This process increases user-level security and lowers the risk of social engineering hacks.
These are three main types of 2FA tokens:
Something the user knows (i.e., a PIN code or responses to security questions)
Something they have (i.e., authentication codes via a phone)
Something that's part of them (i.e., a fingerprint)
MailChimp goes for option 2 to make sure the only one that's allowed to annoy your customers is really you.
SaaS Customer Support Best Practices
1. Be Accessible (Easily and Often)
Customers expect quick answers.
Get with the times because it's 2021, and nobody's happy waiting around anymore.
Things have gotten so bad that 90% of consumers now want immediate answers to their customer support queries across 13 different channels (from their phones to Slack).
It's essentially mandatory to provide lightning-fast answers across as many mediums as humanly possible.
As Amir Farhi of WalkMe eloquently put:
"People want to get the support they want, whenever they want and through whatever method is most convenient."
How can you meet this unforgiving expectation?
Offer 24/7 (or at least extended office hours) support.
Add live chat to your website and mobile apps.
Make it easy to find the contact us buttons.
Source
Communicate via phone, email, live chat, social media, and forums at the bare minimum.
Answer all questions on time and keep communication transparent.
2. Prioritize Self-Service Customer Support
Did you know that 70% of consumers prefer to use self-service documentation over contacting customer support?
Well, they do, and it's because they're busy people that don't want to waste their time.
Think of them as the "Google it" generation.
And they help you hit two birds with one stone — improve customer satisfaction and reduce your support team's workload.
How?
Pull together a comprehensive list of FAQs, answer them in great detail, and then post them in a knowledge base on your website.
And oh yeah, two more things:
Make sure it's easy to find in your navigation bar.
Add to your knowledge base every time you get asked something new, and soon enough, it'll start looking as good as Atlassian's Confluence resources.
SaaS Customer Success Best Practices
1. Build a Dedicated Customer Success Team
If your customers are successful, then so will you.
That's pretty much what SaaS boils down to.
This slide sums up the benefits of customer success (thanks, ProfitWell!):
But it leaves out the "how to master customer success" side of things.
Don't worry; it's simple (at least in theory).
Build a dedicated customer success team that takes ownership of keeping your customers happy and liaises between clients and the right internal teams.
They can help your entire company understand what success looks like from a customer perspective, create a client-centric onboarding process, and collect valuable feedback at various points of your relationship.
Can we interest you in an example?
Then drop by Growbots, an expert in the customer success field that:
Collects info about customer goals, pains, and expectations on day 0
Compares performance against expectations in a review meeting in month 3
Provides unsolicited actionable advice to clients
Uses surveys to empower even better recommendations and personalization
Sends educational material via email and their website.
Pro Tip: Don't expect customer success to be solely the customer success team's job. You'll need broader organizational buy-in to make their initiatives stick.
2. Be Proactive and Reach Out to Customers Who Are Struggling
SaaS companies are blessed with a nearly unlimited amount of data at their fingertips.
So put it to good use by dedicating some of your workforce power to proactively checking customer accounts and your full analytics suite.
And as soon as you notice that one of your users isn't making progress with your SaaS tool, contact them and help them overcome their problems with personalized advice.
By doing so, you create two positive effects:
You demonstrate that your customers really matter to you, and
You prevent users from getting frustrated enough to churn.
This Wave.video email should provide with some inspo for getting started:
Concluding Thoughts: A Final Look at our SaaS Best Practices
18 SaaS best practices is a lot.
Definitely enough for you to have forgotten some of them by this point.
What do you say if we give them a quick recap for safety's sake?
SaaS contract best practices
Don't just use a pre-written SaaS contract template
Decide if you need a click-through agreement, an enterprise contract, or both
SaaS implementation best practices
Offer full-service implementation to customers with limited in-house resources
Give clients a choice between onsite and remote implementation
SaaS billing best practices
Keep your SaaS pricing model dead simple
Use your billing system to upsell and reduce churn and revenue leakage
SaaS renewal best practices
Automate the entire customer lifecycle
Educate your users and keep engagement high
SaaS architecture best practices
Make sure your SaaS app is self-serviced
Go for a multi-tenancy architectural approach
SaaS website best practices
Ensure your website stays simple
Deliver your value proposition above the fold and then convince users to scroll down
SaaS security best practices
Pick a solid hosting provider and take advantage of their security features
Implement two-factor authentication
SaaS customer support best practices:
Be accessible (easily and often).
Prioritize self-service customer support.
SaaS customer success best practices
Build a dedicated customer success team.
Be proactive and reach out to customers who are struggling.
Memorized them?

Sweet. Now either take a well-deserved coffee break (hmm, caffeine) or get in touch if you'd like to discuss SaaS best practices further or learn how to up your SaaS marketing game!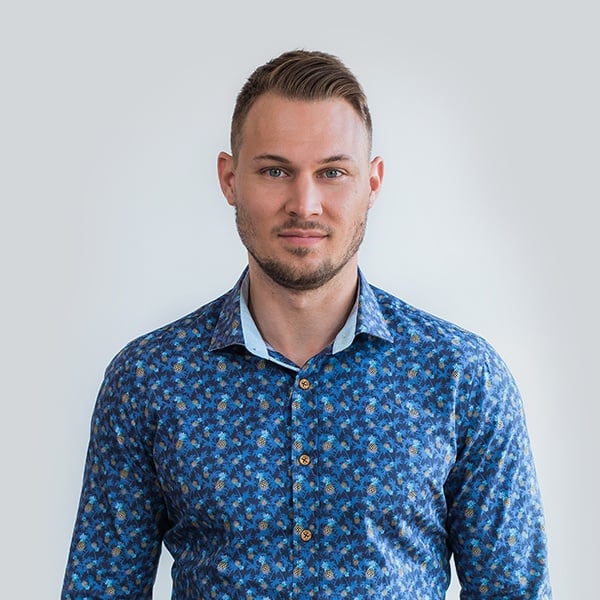 Chris is one of the managing partners at Roketto. His area of expertise is digital marketing and loves sharing and educating on topics like Google Ads, CPC bidding tactics, Google Analytics, and marketing automation. When Chris isn't in the office, he enjoys playing volleyball, mountain biking, and hiking with his American Eskimo.