Psst. Hey. Did you know that eCommerce growth has significantly jumped in the last few years? That's right, the global eCommerce growth rate for 2023 is forecasted at 8.9%, meaning global eCommerce sales worldwide are expected to hit $5.9 trillion (that's so much money, we can't even fathom what it would physically look like).
That's a 1.8% increase from 2022's growth rate, which suffered a significant dip from 2021. But that's likely because of the pandemic—everyone was buying stuff online because of lockdowns, so 2021 eCommerce growth rates hit a whopping 16.8%.
So if we looked at a graph, it would look like this: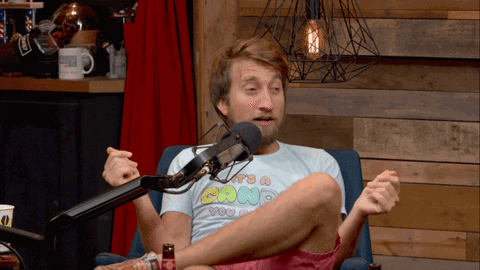 The ebb and flow of spending on e-commerce marketing is starting to stabilize—but it's also landing at a higher rate than just a few short years ago.
Like working from home, the increase in eCommerce sales could be seen as a result of the pandemic. And like working from home, this increase is hopefully here to stay—which means that eCommerce websites have more of an opportunity than ever before to attract and retain customers and boost sales.
But while we like to be positive, there's also the reality that factors like inflation and other economic pressures are affecting countries worldwide and reducing people's likelihood to spend. While eCommerce is growing, worldwide consumer spending has also decreased in the last three years.
So while more purchases are being made online, contributing to eCommerce growth, overall spending is still less than what it was in 2019 (pre-pandemic).
This highlights the importance of retail and eCommerce businesses developing effective strategies to drive sales.
And as you'll see, effective eCommerce SEO is at the heart of all of these strategies.
In this eCommerce SEO guide, we'll outline various strategies that online storefronts can action to attract customers, build trust, and increase revenue in 2023.
Why You Need An eCommerce SEO Plan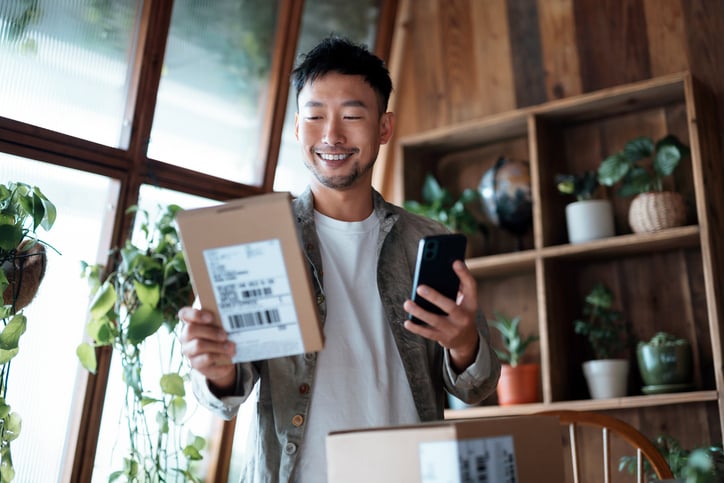 For eCommerce businesses to continue attracting customers, they need to focus on the essentials that make a website visible—SEO.
Risks of Poor Planning
The risks associated with not having a plan or having a poor plan are rather obvious—in the United States, the UBS projects that 40,000 to 50,000 retail stores are going to close within the next five years (which, even though that's down from the original forecast of 80,000 stores, it's still a high number).
This is the reality, even with the projection that eCommerce sales from these retailers will grow to 25% by 2026, up from the 18% increase in 2021.
So if eCommerce is going to be fine, why do I need an SEO plan?
The answer is because these retailers will inevitably shift their focus from brick-and-mortar to online, competition will be fierce.
If your business falls into one of these categories:
Clothing and accessories
Consumer electronic
Business and home furnishings
Then you're especially likely to see increased competition online and in a market where consumers are more discerning with their spending. In other words, without a plan or by following a poor plan, you're taking a huge risk that you'll experience a significant drop in sales, customers, and overall profitability.
Benefits of a Winning Strategy
However, if you have a winning eCommerce SEO strategy locked and loaded, you can ensure your business is prepared to deal with uncertainty.
Here are the main benefits of having a solid SEO strategy for eCommerce websites:
Consistent traffic. With solid SEO, you can ensure that you'll have consistent traffic to your website—and you'll have a head start on the other guys who are only just transitioning to a full-time eCommerce focus.
An established online presence. It takes time for customers to get to know you online. By building an effective eCommerce SEO strategy, you can build your online presence to a point where your customers will remember and recommend you to their network.
Increased conversions. If you've optimized your product pages and written long-form content as part of your SEO strategy, your website has a better chance of popping up for relevant queries. The more traffic you get to your website, the higher your conversion rates will be. That's just math.
Lower pay-per-click (PPC) costs. Pay-per-click advertising is lucrative and shouldn't be ignored, but it's a short-term strategy, and SEO is long-term. Optimizing pages and creating long-form content that targets the keywords you want to rank for in search results increases the chances that your website will show up without having to fork over the dough for continuous PPC ads. Consider leveraging a performance marketing and advertising technology platform like ZeroPark to achieve lower pay-per-click costs, complementing your long-term SEO efforts.
eCommerce SEO Checklist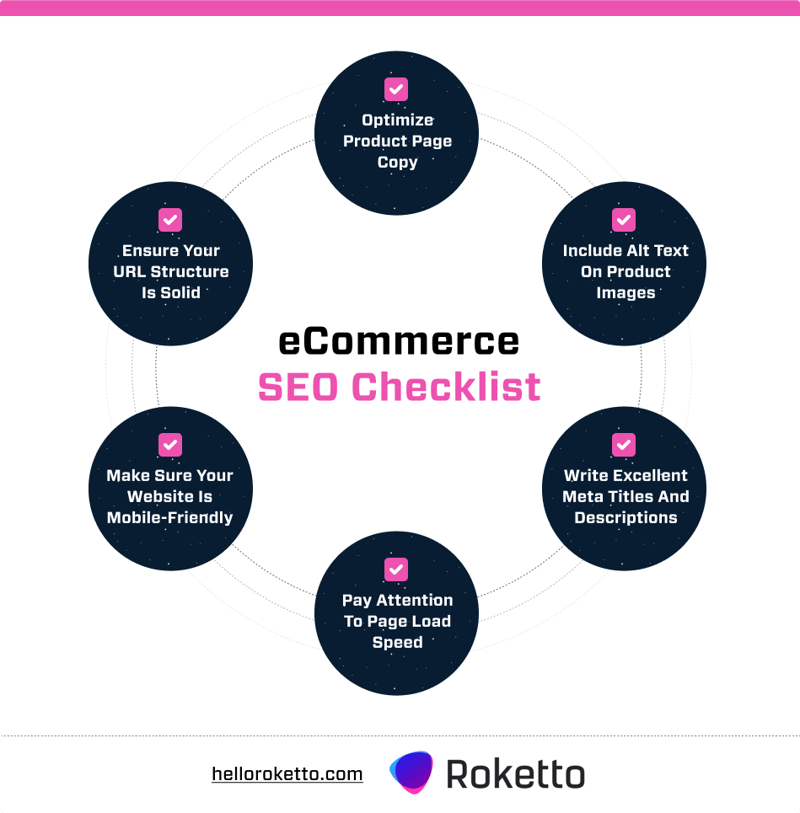 To ensure that you're meeting all of the requirements you need to for your eCommerce SEO strategy, here's a checklist of best practices:
☑️Optimize Product Page Copy
Make sure that each of your product pages targets one lucrative core keyword.
Follow a logical content structure consistent for all your product pages. The page's title should be H1, sections should be H2, subsections should be H3s, and everything else should be paragraph text.
All copy on your product pages should be free of spelling and grammatical errors.
☑️Include Alt Text on Product Images
Every image that's on each of your product pages should include alt text. This text should describe the image, but can also include the core keyword and variations.
Alt text markup should follow the latest web accessibility guidelines.
To write the most effective alt text, be as descriptive as possible and use a natural tone of voice without being robotic.
☑️Write Excellent Meta Titles and Descriptions
Meta titles should be at most 60 characters (that includes spaces and punctuation). Google search results will display whatever you set as your title tag but will cut it off if it's too long.
Meta descriptions should be no longer than 160 characters so that they'll display optimally on search results for both desktop and mobile. However, since Google dynamically changes meta descriptions, sometimes they can be longer or shorter than what you wrote or completely different depending on the keyword searched.
Meta titles and descriptions for each page should include the core keyword.
☑️Pay Attention to Page Load Speed
People will abandon a website if it takes more than a couple of seconds to load, so it is essential to ensure it loads properly (and fast!) on mobile and desktop browsers.
If a website takes too long to load, it can negatively affect page rank.
Web developers can use a tool like PageSpeed Insights (a free tool provided by Google) to test how fast a page loads. If a page loads in under 2.5 seconds, it's considered a good score.
☑️Make Sure Your Website is Mobile-Friendly
In the first quarter of 2023, mobile devices (not including tablets) were responsible for 58.3% of all website traffic. With most people using their phones to access the internet, making sure your website is mobile-friendly is a no-brainer.
Mobile-friendliness is a ranking factor for Google. Slow site = lower page rank.
Google provides a free mobile-friendly website test tool to help you determine whether your website is mobile-friendly or not.
☑️Ensure your URL Structure is Solid
Google can crawl websites with good URL structure faster and more effectively, ensuring that all your pages get indexed. Poor URL structure means that pages may get missed or flagged as duplicates when they are not. Proper URL structure is especially important for eCommerce websites because they can have hundreds or thousands of pages.
Users can more easily type in the URL and access a website when it's simple, resulting in more visitors to your website.
A well-organized website helps keep your keyword strategy focused, ensuring each page targets a unique keyword.
4 Winning eCommerce SEO Strategies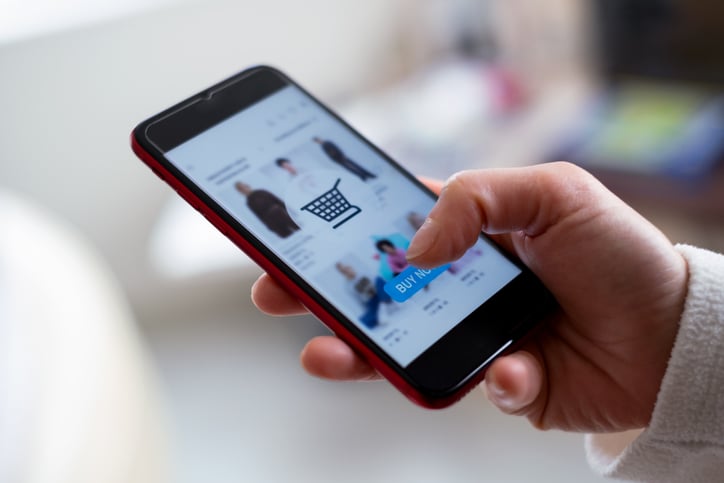 Despite the rocky outlook for consumer spending, online retailers prioritizing SEO will likely survive—and even grow. Here are several eCommerce SEO strategies that will help you on your way to success:
1. Don't Forget About Keyword Research
The words and phrases that are relevant to your website and that your audience types into Google search can be predicted with keyword research. When you know your target audience's words, you can target those keywords throughout your website. Doing so increases the likelihood that you'll attract the right people to your website so that they can hopefully make a purchase.
There are two main goals you want to achieve when doing keyword research as part of your eCommerce SEO strategy:
Find the most relevant and popular keywords in your industry or niche. This can be done by using SEO tools such as Semrush, Ahrefs, Google Keyword Planner, and more. These tools help you determine which keywords have high search volume and assign a difficulty score to them so it's easy to see whether it's worth targeting that keyword or not.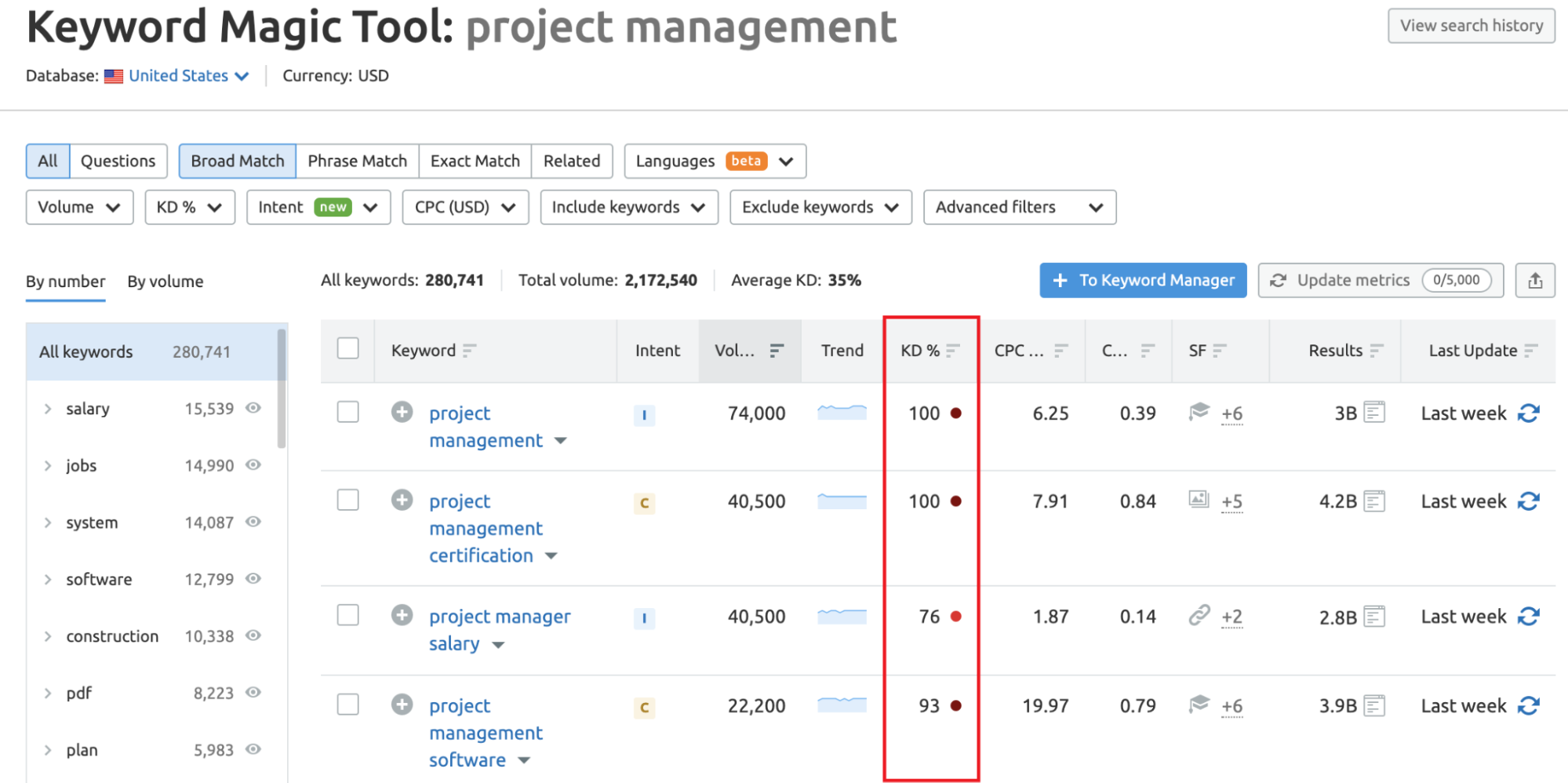 Semrush's keyword difficulty is easy to understand—they give it a percentage rating out of 100. The closer the score is to 100, the harder it will be to rank for that keyword.
Secondly, you'll want to understand the search intent behind a target keyword. Sometimes a keyword can have multiple search intents behind it, depending on what other words are associated with it. For instance, "Pizza near me" probably means the person wants to order a pizza—but "pizza dough" probably means the person wants a recipe to make pizza dough.
SEO writing is essential for executing the results of your keyword research properly, and it pays to hire a professional SEO writer to develop copy for your product pages and write long-form blogs so that you can maximize the benefits of your research.
2. Focus on your E-E.A.T Score
E-E.A.T stands for experience, expertise, authority, and trustworthiness—three essential factors that Google uses as part of its ranking factors to help detect spam and lower the search ranking of suspicious or malicious websites.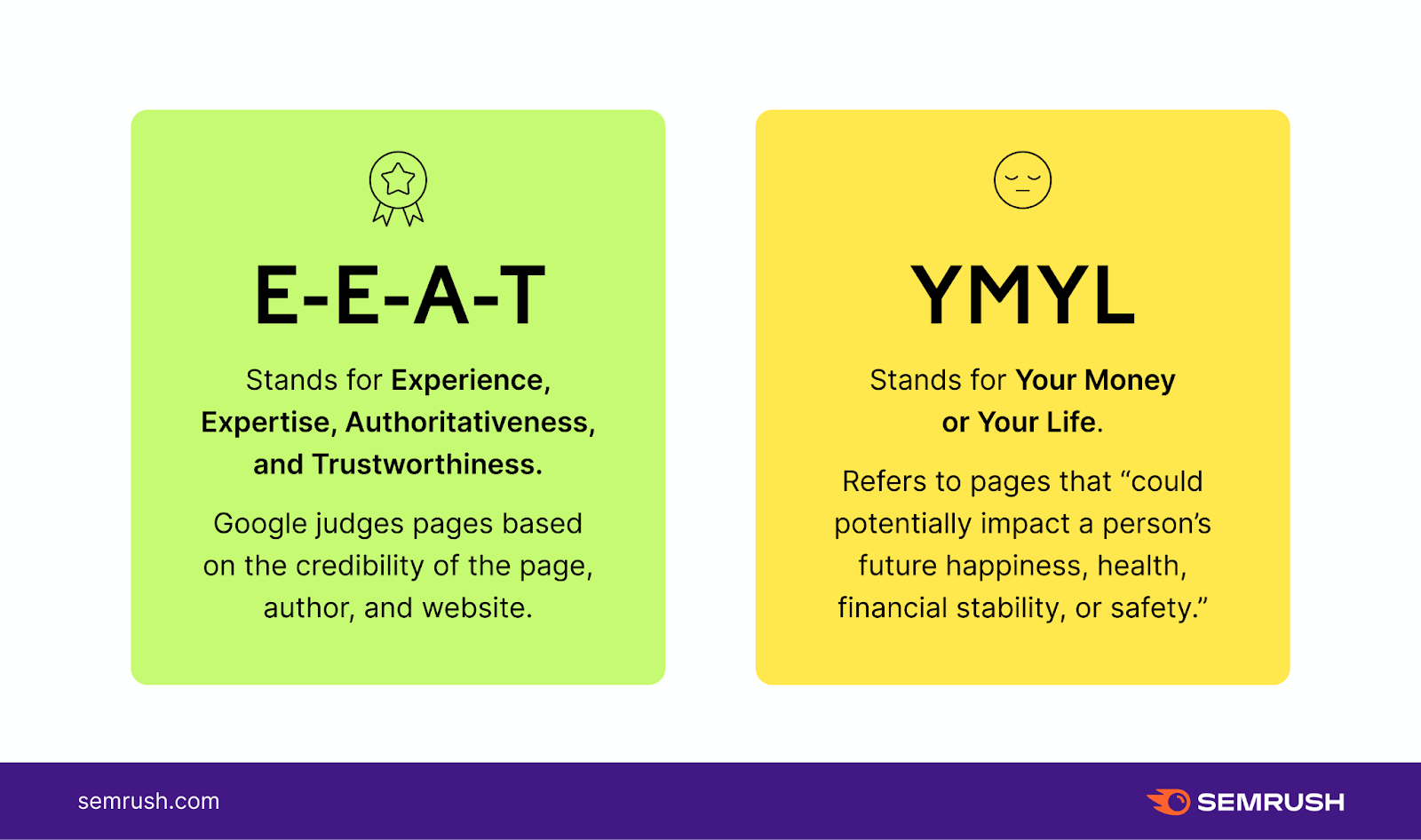 While Google is supposed to push these websites waaaay down in search results, that doesn't always happen. There are a variety of online shopping scams that happen all the time, with even tech-savvy millennials getting fooled. This has resulted in a shift in behaviour—one where online purchases are approached with a much more discerning eye as people are more conscious about where they shop online. And Google is entirely on board with this shift.
This means that conveying your expertise, authority, and trustworthiness as an eCommerce website is even more critical now than ever. One of the most effective ways to do this is through content—blog articles, SEO-optimized product pages, and meta titles and descriptions. A well-thought-out website with valuable and relevant content won't be viewed as a scam by your customers—or Google.
3. Redirect Ad Spend from Keywords that are Doing Well in Organic Search
A surefire way to save money on PPC ad spend is to stop putting your budget towards keywords that are doing well for your website in organic search. This way, you can mobilize your marketing budget across SEO and SEM, increasing the chances that you'll dominate search results for a range of keywords.
4. Showcase User Reviews and Ratings

As we mentioned, customers are becoming more cautious about who they shop with online, as they don't want to become victims of scam websites. Using trust badges and seals and highlighting real user reviews from websites such as TrustPilot, Google Reviews, Yelp, and more helps convey your trustworthiness to new and existing customers. Google even offers a "trusted store" badge to eCommerce websites that provide things like fast shipping, good customer service, and high user ratings, a huge plus for eCommerce businesses.
How To Develop An eCommerce SEO Strategy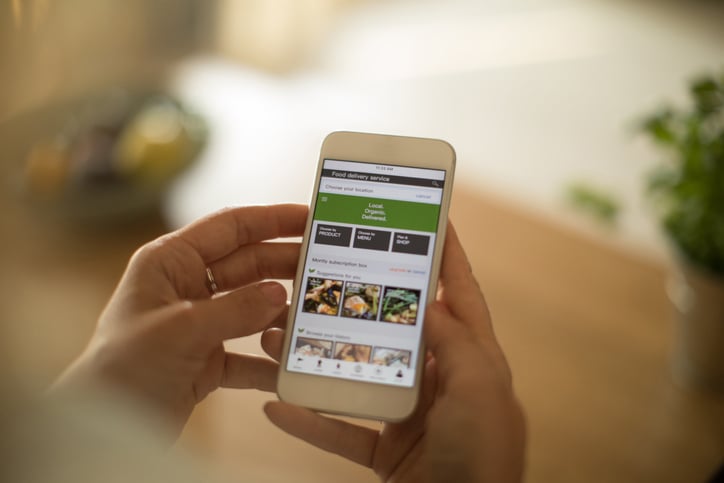 Now that we've discussed the importance of eCommerce SEO, it's time to develop a strategy. Before you get into tasks like keyword research, it's important to take a step back and ensure you have the right preliminary information ready.
Create Marketing Personas
You can't sell to customers without knowing anything about them. You can better understand your potential customers by creating buyer personas. These hypothetical personalities represent what you'd consider your ideal customers. But don't just make these personas up or base it on gut feelings—use actual data and experience to help you create the most accurate depiction of a potential customer.
For instance, if you've already been running your eCommerce website for a while, tools like Google Analytics or Ahrefs can provide demographic data—information like age, location, and gender—that can help you determine who the top visitors to your website are.
Industry or niche information is also extremely helpful. If you're a subject matter expert in your industry, your experience will likely give you a baseline of what your customers might be like. Perhaps they are more budget-conscious or are big spenders. Whatever the case, you should include this information when making a buyer persona.
Remember that buyer personas can be simple or extremely detailed—we recommend leaning more towards being as detailed as possible, as it will give you the best understanding of your customers.
An example of a buyer persona from UX designer James Donovan.
Invest in SEO Tools
Investing in SEO tools is worthwhile even if you're planning to hire an expert to manage and execute your eCommerce SEO strategy. The table below outlines different types of SEO tools and their functionality.
SEO Tool

Functionality

Examples

Audit tool

Combs through your entire website and gives you technical and content SEO improvements that you can action

SE Ranking
SpyFU
Screaming Frog
OnCrawl

Keyword research

Helps you identify which keywords your website should target for search engine rankings

Semrush
Ahrefs
Google Keyword Planner
Answer the Public

On-page SEO

Ensures that each page has a meta title, description, and the right distribution of keywords

Yoast (WordPress plugin)
On-page SEO checker (Semrush)
Wincher
Serpstat

Helps you optimize blog articles and other content for SEO by providing keyword research, grammar and spelling suggestions, and more

Clearscope
Frase
Outrank
Content writing tool (Semrush)
Consider On and Off-Page SEO
Creating a strategy (or getting help creating one) is essential for on and off-page SEO. As a recap:
On-page SEO refers to content on the page, including text, meta titles, and meta descriptions.
Off-page SEO refers to getting other websites to link back to yours. The more authoritative the referring website is, the better—so getting links from government websites or well-known websites in your industry is worth the effort.
Strategies for on-page SEO include writing blog posts and optimizing product pages to ensure that every single one has a meta title, a meta description, and a logical content hierarchy.
For off-page SEO, one effective strategy is to utilize guest posts. You can offer to write a guest blog post for a well-known website in your industry in exchange for a backlink. Or, you can reach out to industry experts to see if they'd like to contribute to your blog by offering a quote, and in exchange, you can link back to their website or social media profile.
Hire an Expert
If any of these strategies seem difficult or too time-consuming for you to execute, reaching out to an expert is always a good idea. An eCommerce SEO agency can help you with strategy development for each task, including creating a content marketing plan, performing keyword research, giving suggestions on ad-spend budget, and more.
5 eCommerce SEO Pro Tips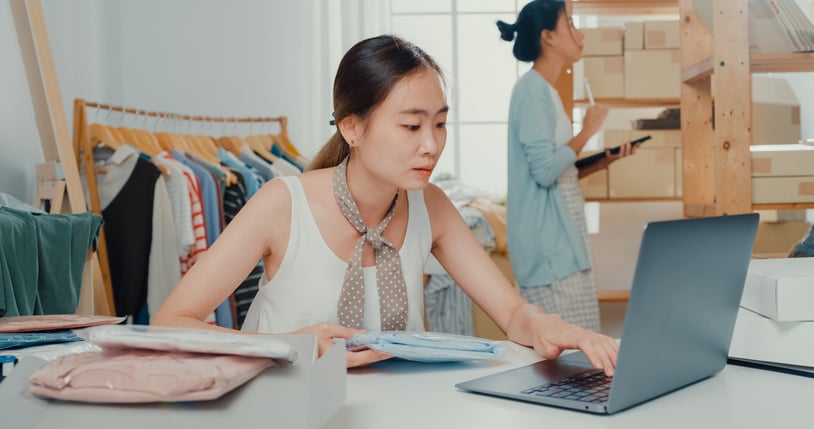 Boosting the effectiveness of your SEO strategy can be done by following these actionable eCommerce SEO best practices:
1. Write Long-Form Blogs
An often overlooked eCommerce website SEO strategy is writing blogs. You might think that because people visit your website, buy a product, and leave, there's no opportunity for SEO outside of optimizing your product pages. But the truth is that writing long-form blog content is a great way to provide more value to your target audience.
For example, blogs can be used to answer common questions that your customers have about your products in detail. They can also be used to promote new products, offer product reviews, and more. Like product pages, each blog should focus on a specific keyword related to your industry or niche.
2. Don't Use Manufacturer Descriptions for Products
Often manufacturers provide descriptions for their products that online retailers can use. Copying these descriptions verbatim and using them on your website isn't a great SEO strategy, as they aren't SEO optimized, and other websites are likely using the same description. Instead, use the manufacturer's description as a general guide, and write your unique product description from there, including the keyword you'd like to target.
3. Focus on Link Building
An effective way to climb your eCommerce website's rank is to prioritize link building. Effective link-building can be fun because there are various creative ways to do it. Here are a few actionable suggestions:
Leverage influencers. One way that eCommerce websites can effectively build backlinks is to contact influencers interested in promoting your products on their blog, website, or social media channels and encourage their audience to follow those links. To sweeten the deal, you can set a discount code that gives the influencer's audience a deal on a specific product or their overall purchase.
Consider an affiliate program. An affiliate program can be very lucrative for eCommerce businesses, as they encourage the advocate to promote your products in exchange for a commission. It creates a win-win situation for both parties and is effective for B2C and B2B eCommerce websites.
Utilize guest posts. Reaching out to subject matter experts, industry experts, influencers, or even other eCommerce websites in your industry and offering to write a guest post in exchange for a backlink can be a lucrative eCommerce SEO strategy. Your website's ranking will increase as you gain more backlinks for a specific keyword.
4. Use Structured Data
Google and other search engines use robots to crawl your website, gaining information about each page and determining its meaning. Structured data helps these robots understand your page faster and can even result in a particular page or product on your website being "featured" on search engine results pages (SERPs) via rich results.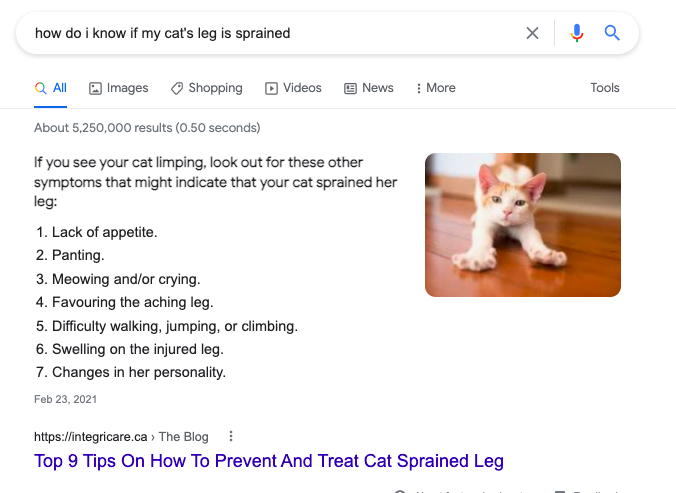 An example of a rich result for an eCommerce website.
5. Get Keyword Ideas from Google Image Tags
An interesting way to gather more keyword ideas for your eCommerce website comes from Semrush:
First, enter the name of a product or a product category into Google image search
You'll see various image tags appear above the image search results. These are all keywords related to the keyword you typed in.
You can see that for the keyword "fish tank" we've got several ideas for keywords based on the image tags:
Freshwater fish tank
Tropical fish tank
Small fish tank
Wall fish tank
Bedroom fish tank
You can then plug these keywords into a tool like Ahefs to get more information about them and see if they are lucrative options to target as part of your eCommerce website SEO strategy.
Conclusion
Now that you have effective tactics to develop your eCommerce SEO strategy, it's time to reach out to the experts to help you execute it. Contact Roketto today to learn how we can help you get more traffic and conversions on your eCommerce website.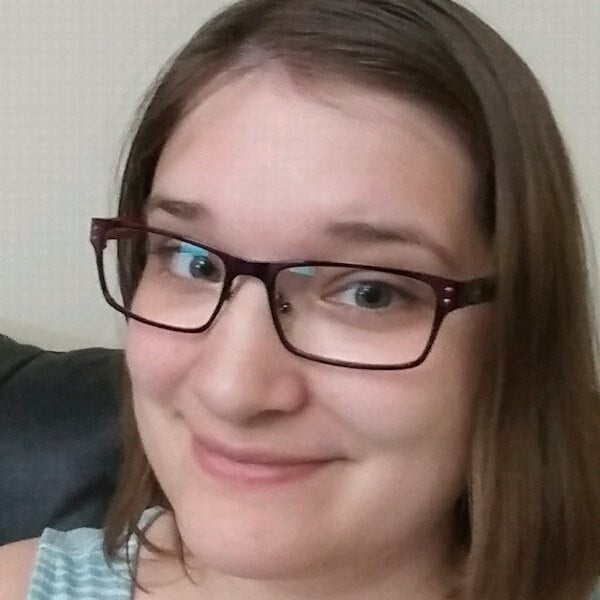 Lisa Hoffart is a professional writer with several years of experience crafting well-researched content for a wide variety of industries, from legal, real estate, technology, and more. Lisa is a huge technology geek that loves video games and computers. In her free time, Lisa enjoys sewing, crafting, and hanging out with her cat.