There are a thousand and one ways to raise funds with blockchain. But launching and marketing an ICO is one of the most rewarding and, not surprisingly, one of the most complex.
It's highly complex because it combines many other methods, from mining to trading, marketing, and liquidity mining.
But more businesses are taking the plunge because of the incredible risk-to-reward ratio of ICOs. In 2017, startups raised $4 billion with ICOs.
That figure went through the roof in 2019, topping over $14 billion.
Despite its complexity, the chances of succeeding with ICOs depend almost entirely on one factor – Marketing.
That's because many processes involved are fixed, but marketing encompasses several moving parts. You can use generic tools and solutions for processes like mining and distribution. But you need a dynamic, result-driven crypto marketing plan to consistently generate demand and ace competition.
Marketing is also vital to your brand's authenticity. Without a solid marketing strategy, it can be quite challenging to project the legitimacy and authenticity of your ICO to convince investors.
However, 81% of brands who've used content marketing swear by it as one of the most reliable ways to boost reputation.
In this guide, we'll show you what's under the hood of a winning ICO marketing plan, and how each part works together to leverage the success of your ICO.
What are the Components of an Excellent Cryptocurrency Marketing Plan?
With an ICO, startups and businesses raise funds by selling cryptocurrency to seed investors at a discounted price –as tokens.
Pro Tip: An excellent ICO marketing agency takes care of just about everything involved in marketing an ICO, from generating interests to following up on potential investors, running crowdfunding campaigns, and facilitating token sales.
You can quickly create a buzz and generate demand for your ICO using these 7 marketing tools:
Whitepapers
A well-designed website
ICO Calendar Listing
Press releases
Bounty Programs
Affiliate Marketing
Email Marketing
1. Whitepapers
Source: Filecoin
For an ICO to create enough hype and demonstrate it's legitimacy, it needs a detailed and results-driven whitepaper. This provides investors with a full picture of what your ICO project will do, how it will work, and why it's a worthwhile investment.
Pro Tip: An ICO whitepaper is less like a scientific essay and more like a business plan. It should be confident, focused, and – most importantly – it should generate excitement from potential investors.
The most important things you should include are:
Your innovative idea or project
Your team's impressive credentials
The amount of capital needed for the project
The potential ROI for investors (with substantial forecasts)
The token distribution plan
Corporate social responsibilities
How you'll prevent illegal activities
Beautiful design with helpful visual elements
When crafting your whitepaper, remember that this is your opportunity to really sell the story of your ICO. This is where you want to put your best foot forward.
2. A Well-Designed Website
You can expect 94% of your potential investors to form their first impression about your brand when they visit your site. Their journey through your conversion funnel will also relate to their experiences with your web design.
Your website should serve as a shorter version of your whitepaper, providing the most important selling points of your ICO to potential investors in the lead-up to the whitepaper presentation.
But you need to pay much greater attention to design elements with your website, not just the texts.
You need to use an attractive layout, SEO-friendly elements, and eye-catching visuals.
3. ICO Calendar Listing
Reputable ICO directories are some of the best places to find investors for your ICO. Each directory has its unique posting requirements. But they usually require details like:
ICO project name
Token details
ICO website
Your contact information
Get on as many calendars as possible to gain maximum exposure. Some of the best ones you should try out first include:
4. Press Releases
Another surefire type of content marketing for generating awareness about your ICO is press releases.
Press releases are professionally-written, brief news bulletins distributed across a network of news sites, highlighting key developments in your company that the public needs to be aware of. If you can pull off a good campaign, your press releases will quickly filter through the crypto community.
You should consider sending out press releases regularly through targeted news agencies to fill in your investors on important information concerning your offers. Besides the initial sites you share them on, they can also get featured on other third-party outlets, social media handles, and blogs who'd love to share them with their audience.
5. Bounty Programs
You can use various incentivized programs to attract more investors. With bounty programs, you can offer a wide range of rewards to incentivize actions that promote your ICOs and bring about valuable insights.
These actions range from posting content to sharing links on social media and even testing for bugs in software.
Think of Airdrop campaigns, where you give away free tokens on some blockchain networks to draw in potential investors, or CPA campaigns, where you give tokens as rewards for completing certain tasks.
6. Affiliate Marketing
Affiliate marketing is another program for incentivizing action-focused specifically on lead and sales generation. With affiliate marketing, you pay out sales commissions to affiliates who bring you leads and buyers.
They'll run marketing campaigns for you and take care of everything from managing ads to optimizing sales copies for better conversion rates, and all you'll have to do is to pay them for the sales they generate or other measurable results.
7. Email Marketing
Simple but persuasive newsletters can help you woo new investors and keep existing ones hooked.
You can build your email list by incentivizing visitors to subscribe to your newsletters.
When crafting your email marketing strategy, you need to cover all stages of the buyer's
journey for maximum impact, projecting your brand's message and concepts, promoting enticing offers, and providing adequate support to paid subscribers.
Content Marketing Tactics for ICO's + Examples
Content marketing encompasses various methods and strategies used to promote brand messages across the web.
Pro Tip: With content, you can connect with people across the spectrum in the crypto community, from newbies who're just beginning to dabble into tokens to seasoned investors looking out for the next big thing to hit the market.
Aiming to cover trending topics and relevant keywords together with your unique value propositions is a great content marketing strategy because it'll widen your reach in the crypto community significantly
There are also many different types of content to choose from to pass your message across more effectively.
Here are some tips to help you increase the efficiency of your ICO content marketing plan:
Blogs
SEO best practices
Explainer videos
Networking
1. Use Blog Marketing to Tell Your ICO Stories
One surefire way to increase engagement rates and conversion rates on your website is by curating a blog. A blog helps you generate more traffic and increase the dwell times on your website. With a blog, you can garner more attention in the crypto community, expanding your reach by targeting a wider range of relevant keywords.
Pro Tip: Try uploading new blog posts a few times a month consistently, focusing on topics that are currently stirring the pot.
You can still communicate your ICO's core messages and concepts while writing on trending topics. Just find a sweet spot where you can blend trending topics with your unique brand stories to provide something fresh and insightful.
You can also try reaching out to other bloggers in your space or re-posting your blogs and articles on platforms like Medium and Steemit.
Celcius's blog is a shining example of these blogging tips at work. The blog features high-quality videos, trending keywords, regular updates, and a rich collection of internal and external links.
If you're finding it quite challenging to pull off these feats on your website, you can always turn to content marketing services for help.
2. Dominate Search Engines
To do justice to your awesome brand stories, you need to ensure that they get the right level of exposure on the web. Your website as a whole is an important channel for communicating with your potential investors.
As such, it's a key source of revenue. The best way to maximize your site's potentials is by optimizing it for better search engine rankings.
Good SEO ranking has a lot to do with quality and consistency. For example, you can improve your site's SEO by simply:
Updating your website regularly (weekly or monthly)
Using the right keywords in the right places like headers, image alt text, and meta descriptions site-wide
Using high-quality images
To maximize your site's SEO performance, it's advisable to hire an SEO consultant to help you figure out exactly what needs to be done to improve results.
3. Ramp Up Engagement with Explainer Videos
93% of brand owners who've used explainer videos give it a nod as one of the most effective mediums for communicating brand messages. They're not mistaken.
Explainer videos can increase the conversion rates of a landing page by 86%. It can also work magic in many other parts of your website, from your homepage to your blog pages.
Many different types of explainer videos can help you communicate your ICO and core concepts more effectively. You can use interviews with executives, behind-the-scene videos, 2D or 3D animations, PowerPoint videos, and photo series.
A great example is 4Art's high-resolution video that breaks down the platform's complex concepts into easily-digestible bits with eye-catching visuals.
4. Build Ties in Crypto Communities
This is a tried-and-true Bitcoin marketing strategy that can raise your chances of success tremendously. There are a plethora of cryptocurrency communities on the web where you can find potential investors.
They focus on everything related to blockchain, from blockchain startups to crypto-currencies, crypto-assets, Crowdsales, ICO listing, digital marketing funnels, and relevant technologies. You'll find many of them on social media – groups, pages, and networks on Facebook, Twitter, Reddit, etc.
You'll find many types of people who can contribute to your success, from influencers to investors, coin creators, and other like-minded people. It's important to avoid sounding sales-y and ambiguous. Try offering substantial value with every conversation, building your authority with the knowledge you share.
Here's a rundown of some of the best communities you should join and how best to engage them.
Social Media Platform

The Best Crypto Communities

The Best Engagement Plan

Reddit

Make sure you use a variety of links when sharing information, not just links to your website, to prove your steep expertise. You can start with smaller subreddits to have a good feel of them before moving on to bigger ones.

But it's really up to you to determine what subreddits fit your cryptocurrency marketing objectives best. Read each community's guidelines carefully to avoid posting things that might get you banned.

Telegram






Telegraph is the best crypto marketing social media platform. The platform itself has launched an ICO, and many cryptocurrency publications like Cointelegraph and Bitnation run vibrant groups on Telegram.

You can reach out to your investors by creating posts, groups, and channels. Try promoting your posts and group activities both on and off the platform.

Facebook

Initial Coin Offering (ICO) Token





Read each group guidelines carefully. You can also create your group and invite people from other groups to join.

Publish high-quality content in your group at least once every week. Facebook is one of the most active platforms, so you need to stick around regularly to give timely responses to questions and comments.

LinkedIn

Bitcoin Blockchain & FinTech Think Tank

Mostly frequented by professionals and business people, LinkedIn is one of the best places to connect with potential investors.

Use posts to announce your ICOs and take your audience through your brand's unique journey.
Key Digital Advertising Tactics for ICOs (Including Examples)
One major obstacle you'll come across in your ICO ad campaign is the restrictions on ads relating to cryptocurrency on various platforms, especially on social media and search engines. For instance, you'll have to go through very tight hoops to post cryptocurrency ads on Facebook.
The best way to successfully navigate this bumpy digital advertising terrain is to work with a good ad agency. It's advisable to seek out professional help to avoid wasting time and stumbling around trying to learn on your own.
These agencies know the ins and outs of ad platforms like Google, Facebook, and YouTube, as well as other effective lead generation marketing solutions for ICOs.
However, here are some effective ad tactics on your own.
Paid ads on social media
Display campaigns
ICO influencers
Blockchain marketing
1. Paid Promotions on Social Media
You can pay to have your posts featured on prominent groups and pages on the social media platforms mentioned above. The cost is relatively low but the potential returns are usually very high due to the wide exposure you'll get. You can track your ROI through metrics like new subscribers and new buyers.
To get the most out of every post, make sure they provide valuable information about cryptocurrencies in general, not just information about your ICO. Use post layouts that work best for each platform, break up text walls with eye-catching images, and present your stories in a way that stirs curiosity about your offers.
2. Run Display Campaigns
Display networks help you run your ad campaigns across several popular sites in your niche. The best thing about display campaigns is that you can use many different types of ad assets, from banners to videos, texts, flash notifications, etc. This gives you greater freedom to tweak your campaigns for better results.
You can also approach individual websites directly rather than through a display network. Many popular cryptocurrency sites offer paid advertising, including ICO directories and cryptocurrency forums.
The major difference here is that you'll have to track the results from each site individually, rather than collectively on a central dashboard as with display networks.
Some excellent ad networks you can try include:
3. Engage ICO Influencers
You can also collaborate with ICO influencers to spread the word about your offers. Try getting your post published on popular crypto platforms like Coindesk, Cointelegraph, and CCN.
They can help you promote your offers through videos, text ads, and other ad methods in return for cash rewards or other kinds of compensation plans.
When choosing influencers to work with, do your due diligence to ensure that they produce great content consistently and have a large base of active followers. Stick to influencers within the crypto community. Don't just go after any influencer because they have a large following. You'd want to make sure that your message gets across to the right audience.
4. Bolster your ICO Campaign with Blockchain Marketing
Besides enabling you to create unique tokens, blockchain technology can also provide you with powerful marketing solutions.
Blockchain is basically a technology that facilitates decentralized access to information. As such, it poses a game-changer in the digital marketing industry, where it's usually quite tricky to track ROIs due to transparency and accountability issues.
What is Blockchain Marketing?
Think of blockchain as a public library project that allows members of a community to collaborate on curating public documents during a lockdown. Once changes are properly applied to a specific public document (the mining process in cryptocurrency terms), hard copies are distributed to every community member, so they can have access to it without leaving their homes.
Also, with this curation method, if someone succeeds in tampering with the content of either copies of certain community members (nodes in the cryptocurrency context) or the original copy in the library (or the decentralized ledger), there are tons of other accurate copies to learn the truth from.
Here are a few ways that blockchain marketing can help shore up your ICO campaign:
Eliminating the middleman
Building trust
Enhancing user privacy
Building decentralized apps
1. Eliminating the Middleman
Blockchain can help cut costs substantially by taking out the digital marketing middlemen like Google and Facebook, whose main job is to vet the traffic sources and help track results.
Blockchain tools like Brave can help you to filter out fake or low-quality traffic and platforms like AdEx and ClearCoin to connect with the right audience across the web at a much lower cost.
2. Promoting Transparency and Trust
By storing your business data on a decentralized server, blockchain can help you build trust by promoting transparency, making it easier for investors to access information about your business processes.
3. Enhancing User Privacy
Blockchain-based services like Serto and Keybase give users full control over their privacy by helping them avoid logging their personal information on centralized servers. That can put your customers at greater ease over how you use their personal information.
4. Decentralizing Mobile Apps
Decentralized app platforms like Steem, Tron, and Cardano can help you circumvent the gatekeepers of the app world, namely Play Store, App Store, and Windows Store. This enables you to create apps to engage with your audience without having to pass through any central mobile app authority.
5 Best Types of Blockchain Digital Marketing Tools for your ICO Marketing Strategy
Digital marketing tools are software and programs you need to connect with your audience online in a measurable way.
With effective digital marketing tools, you can roll out digital marketing campaigns effectively, tracking your performances accurately and gaining insights to minimize cost and improve results.
However, issues of accountability and transparency plague the industry due to the short supply of reliable digital marketing tools.
The problems not only revolve around how to verify the accuracy of measurements but also what data to measure and how best to interpret them.
However, blockchain digital marketing tools are promising to put an end to these challenges by providing fail-proof systems to track, verify, and interpret results.
Here are some of the best types of blockchain marketing tools you should have in your ICO marketing arsenal:
Ad Tracking
Affiliate marketing
Ecommerce
Influencer marketing
Loyalty programs
1. Ad Tracking
Many ad programs are blackholes that just keep sucking in cash without delivering any tangible result and are potentially harmful to your site's reputation.
Blockchain platforms like Rebel AI and tribeOS provide ad tracking tools that spot various types of ad frauds, from malicious advertising to junk traffic, and domain spoofing.
2. Affiliate Marketing
Blockchain platforms like RefToken and Coupit provide decentralized tracking solutions that help track revenue and conversion rates to detect and deter fraudulent affiliates.
3. E-commerce
Blockchain solutions for e-commerce like OpenBazaar and Bezop are now popping up in their droves, catering to just about every aspect of e-commerce, from product authentication to user privacy, and checkout systems.
4. Influencer Marketing
It's much easier to track the ROIs of your influencer marketing campaigns with smart contracts designed to release payments only when everyone can confirm that specific goals have materialized. Platforms like Patron and Ethereum-based Socialmedia.market offer tracking systems that make it quite easy to resolve disputes.
5. Loyalty Programs
Blockchain can help parties in a network to solve the common problem of high abandon rates of loyalty programs. On average, American households participate in 29 different loyalty programs per time but only follow through with 12.
That's because people struggle to keep up with all these programs at once, failing to redeem their points on time in many instances. Decentralized networks for loyalty programs like Loyalcoin and KeyoCoin allow users to redeem their points with any party in the network anytime.
Working with ICO Marketing Agencies / Companies
Developing and executing an ICO marketing strategy on your own is seriously daunting. But you can always call in an ICO marketing company to save the day when you're at your wit's end or don't want to risk burning out your in-house marketing team.
An excellent ICO marketing agency takes care of just about everything involved in marketing an ICO, from generating interests to following up on potential investors, running crowdfunding campaigns, and facilitating token sales.
Here are some ICO marketing agencies with the best track records in the industry:
| | | | | |
| --- | --- | --- | --- | --- |
| Company Name | Founded | Location | Funds Raised | ICO portfolio |
| Ambisafe | 2015 | USA | $300 million | Armor Ceramics, BitBoost, ChronoBank, Cryptaur, ESR Wallet, Hacken, iBuildApp, SwissBorg, TaaS, WorldCore |
| Crowdcreate | 2014 | United States | $133 million | Acebusters, BaaSid, Bancor, Bezant, BGX, Pally, PopChest, Profede, RewardMob, |
| Bitcoin Marketing Team | 2014 | Ireland | $110 million | LocalCoinSwap, Salt Lending, Playkey, Knowledge.io, Aventus, RepuX, Leverj |
Here's a short description of each company:
If you're launching an Ethereum-based token, you should consider Ambisafe. They focus mainly on crypto digital marketing for Ethereum-based applications but are also well-versed in ICOs in general.
They can help you out with every aspect of your launch, from creating tokens with smart contracts to setting up cryptocurrency wallets for token distribution, as well as marketing.
The process of launching ICOs on Ethereum is automated from start-to-finish, taking out all the technicalities you'd otherwise have to wade through. You can also trust them to get your cryptocurrency listed on prominent exchanges.
Ranked among the best ICO marketing services on the west coast by Forbes, Crowdcreate provides simple yet powerful marketing solutions. They breakdown the entire marketing process into three main stages: growing and managing communities, working with crypto influencers, and public relations.
Their approach to community building is unique and result-driven. With incentive programs, they encourage people to contribute to ICOs in many different ways, including through insightful feedback and brand promotion.
So far, they've built a community of over 1.7 million investors and users.
One of the oldest cryptocurrency marketing companies in Europe, Bitcoin Marketing Team has one of the most remarkable track records in the industry. They boast a deep bench of experts with over 50 decades of experience in the digital marketing and advertising industry combined.
They're particularly renowned for connecting coin creators with B2B partners and investors. Flexibility is also their strong suit - they can cater to ICOs of any magnitude, and marketing plans with various budget sizes and other unique requirements.
They can cover your marketing plan from end to end. And if you have any challenges in specific areas like SEO, communications, conversion funnel improvements, email marketing automation, and project management, you can always bank on their expert recommendations.
Launch Out With a Sound ICO Marketing Plan
If you can nail your ICO marketing strategy, you can turn a simple ICO idea into a massive revenue stream. While it's important to see other aspects of an ICO like regulatory requirements, token pricing, and technical models, you need to prioritize your marketing plan to ensure success.
A tight marketing plan will help you easily convince potential investors about the veracity of your value propositions and the potential returns they can make. You can make waves with an effective content marketing strategy, proven organic traffic techniques, as well as the other blockchain marketing strategies above.

While Roketto is not an ICO marketing agency like the 3 companies we've mentioned above, we can help you with your brand and product marketing needs. If and when you need help with your:
Website design
SEO-driven content
Paid ads on Google, Facebook/IG, or LinkedIn
...give us shout and we'll see if we're the right partner to help promote your brand and product.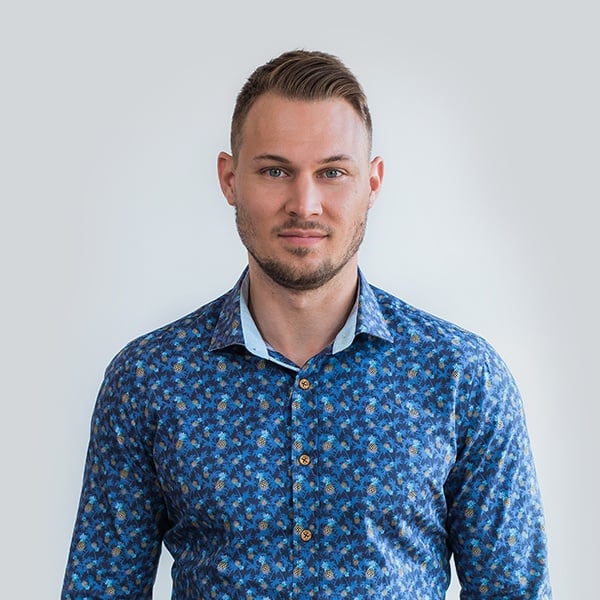 Chris is one of the managing partners at Roketto. His area of expertise is digital marketing and loves sharing and educating on topics like Google Ads, CPC bidding tactics, Google Analytics, and marketing automation. When Chris isn't in the office, he enjoys playing volleyball, mountain biking, and hiking with his American Eskimo.