Hey. Psst.
Who writes your content?
Awkward question, huh?
Although almost every SaaS company uses SaaS content writers and content writers, it's still not something we discuss openly.
It's a universal truth that SaaS marketers outsource content creation, but it's still weird to admit that maybe the CEO didn't write that 3000-word article with his name in the byline.
We think it's high time to cut the crap about content and openly discuss the importance of hiring good SaaS content writers. We babble on about the value of quality content and powerful inbound marketing strategies, but we need to have a chat about the standard of writers we use.
So if you're sick of spell-checking late articles and rewriting case studies during your lunch break, this one's for you.
We'll walk you through the most important qualities to look for in a SaaS content writer that will plan and write content that will actually lead to more leads and sales for your software company.
Plus, we'll break through a major fourth wall because, if you haven't caught on yet, we also happen to have a great team of SaaS content writers — one of which is writing this post.
1. Make Vertical Specialization A Requirement for Your SaaS Content Writer
When evaluating a SaaS writer for your software business, one of the most important considerations is how well they understand what you're all about.
This means that they already have a deep understanding of your industry and where you fit in the current environment — far beyond reading your website and trying out your product as a pretend customer.
A SaaS writer specializing in your industry vertical can appreciate and understand your position from several angles.
Firstly, there's an understanding of your industry:
Why there's a market
How big that market is
The latest trends in your market
Where your company sits within your target market
Then, there's an understanding of your SaaS company:
Where you're at in the market
How long you've been around for
What stage you're at with marketing
What your competitors are up to
What the next steps might be
Finally, there's an understanding of your product:
What your product does
Why it's better than the others
Who the competitors are
How your product works
What it solves for customers
The barriers your customers encounter when trying to find a solution
The questions your customers ask when trying to find a solution
Pro Tip: A B2B SaaS content writer with vertical specialization brings immense value to marketers in SaaS companies because they already speak your language.
They don't have to be fluent in all the jargon, but they come with a decent understanding that makes your life much easier when it comes to briefing them on particular campaigns, goals, and strategies for content marketing.
Plus, you and your company could benefit from working with someone who knows the ropes and has already spent time writing for similar companies.
By tapping into that experience, you gain real insights into what inbound marketing strategies, blog topics, and content tricks have worked wonders for others. You gain a powerful inbound marketing ally by building on your SaaS content writer's pre-existing knowledge.
So why don't SaaS companies invest in writers with vertical specialization?
It seems like a no-brainer to demand experience, yet so many companies settle for amateur content writers because:
They're cheap
They're desperate for work
They're cheap
Sure, sometimes there's merit in working with a B2B SaaS writer with less experience. It's a noble story — finding a young writer to invest in so that they become a loyal part of the brand and grow with the company.
But at the same time, there are clearly plenty of companies who would rather pay someone a pittance per word on Upwork than invest in a rewarding content marketing partnership.
The thing is, SaaS marketers actually shoot themselves in the foot by focusing on the dollar per word and not on the time it takes them to bring an amateur up to speed and trust them with their precious SaaS content marketing plan. Not to mention the damage a poorly written article can do to a company's reputation or the money wasted writing articles on topics that nobody searches for.
Pro Tip: Investing in a SaaS writer with vertical specialization demands less time from you in terms of writing lengthy briefs, running long-winded coaching sessions, and pouring over edits because your content writer doesn't know your niche — or even the SaaS industry as a whole.
Next time you hire a SaaS content writer, consider adding a requirement for a portfolio in your industry or specific vertical.
2. Got Experience? Back It Up
Do you ever get a draft from a new B2B SaaS freelance writer and just...
Infuriating, right? Despite reading a great CV and connecting well over email and Zoom, a self-diagnosed 'experienced content writer' turns into a totally unusable blog.
This is what happens when you mistakenly assume someone is an experienced content writer just because they said so on their CV and attached a few half-decent blogs.
Marketers are busy people, and often that urgency to find a SaaS writer who can plug and play leads to cutting corners — with depressing results on the article due date.
The crucial mistake? Not asking for results or testimonials.
Come on, man. We've ranted enough about how testimonials and case studies are an effective strategy for SaaS lead generation — people want social proof, right?
The same principle applies to hiring an epic SaaS content writer; you need to ask for proof that they can walk the talk and that they've delivered for previous clients.
Here are a few of my favorite let-downs in bad content writing:
| | |
| --- | --- |
| Rookie Mistake | Why It Sucks For Your Business |
| Chunky paragraphs | Walls of text with no breaks, bullet points, or images turn readers away from your content — especially if they're on their smartphone. |
| Incorrect linking | Linking to competitors, attaching links to the wrong words, and putting links too close together seriously hinders your SEO. |
| Keyword stuffing | Search engines will penalize content that uses too many keywords – plus, people can tell because keyword-stuffed content reads robotically. |
| Incorrect structure | Writing good content for the web requires an intuitive structure. Failing to properly use headers, bullet points, lists, tables, GIFs, and links will make your business look unprofessional. |
| Fluff | If a sentence isn't making a point, explaining a said point, or providing an example — it's fluff. Fluff betrays a writer's inexperience and brings down the quality of your content. |
The 'current situation' or 'the c-word' has driven millions of people to freelancing, making it hard for SaaS marketers to find good writers in an oversaturated marketplace.
Sure, there are many quality SaaS content writers out there, but having the time to sift through countless applications to find them is going to be tough.
So what's the best way to ensure the content you get from SaaS content writers is high quality?
Consider these:
Chase-up references
Search for LinkedIn testimonials
Don't leave it too late
Chase-up References
A freelance SaaS writer worth your time will provide links to the content they've written for other clients. Take the time to get in touch with the business and just ask them straight-up if the writer was any good. You'll either feel more confident with your decision to work with them or dodge a major bullet.
Search For LinkedIn Recommendations
Social proof is a powerful thing in marketing, and the same principle applies to finding an awesome SaaS content writer. Next time you search through applicants, check out their LinkedIn profile to see if SaaS marketers have enjoyed working with them and — more importantly — if their standard of work was as excellent as they say in their application.
Don't Leave It Too Late
Too many SaaS marketers leave it far too late in the piece when they start hiring a SaaS writer. If you only start searching when you've got blog topics and deadlines on the go, you'll become too desperate and find yourself glazing over important details.
By searching for writers early, give your inbound marketing the time and effort it deserves. Better still, keep up the search for SaaS content writers all year round so you have a list of qualified applicants to go to when you need more content.
3. Pay Attention To How Your SaaS Writer Expert Communicates
Today, you can have a professional working relationship without ever meeting the other guy and shaking their hand.
Working closely with anyone worldwide, across time zones and cultures, with our most important interactions being confined to emails, Slack, and Zoom calls, is increasingly becoming the norm.
Although there are many advantages to hiring remote SaaS content writers, it's more important than ever to pay close attention to how they communicate with you between deadlines.
They could be an epic SaaS content writer, but if they can't communicate or connect with your company, you will inevitably run into trouble.
Communication is especially important when handing over briefs for blog posts, SaaS landing pages, or lead magnet materials — if something is misunderstood, thousands of words of content will need to be redone.
Some communication red flags include:
Taking too long to respond to emails
Forgetting important details discussed in meetings and briefs
Making the same mistakes you've already picked up on
Writing in the wrong form of English
Not asking meaningful questions
Not bothering to connect on a personal level
When hiring a SaaS writer for a long-term working relationship, it's so important that you have an appreciation and respect for how they communicate.
Pro Tip: The best content writers put effort and flair into all their digital communications — not just the content they get paid for.
Here are some communication best practices from top SaaS content writers:
| | |
| --- | --- |
| What? | Why? |
| No BS | Getting straight to the point, calling a spade a spade, and putting honesty first are qualities that make an epic SaaS writer. It's a breath of fresh air for you and makes communication so much more effective. |
| Owning mistakes | Slip-ups are inevitable, especially in the first stages, so it's important that your SaaS writer can own these mistakes — and offer tangible solutions. |
| Clarity around pricing and deliverables | Being clear and open about what they're doing, by when, and for what price makes it easier for everyone. |
| A genuine interest in you and your company | This is a kicker. If you don't feel like your SaaS content writer gives a crap about your company, you lose the opportunity for meaningful discussion about your inbound marketing strategy. |
| Asking good questions | In both emails and Zoom calls, asking good questions is a satisfying signal that you've got a content writer who listens, understands, and cares. They should structure their questions clearly and demonstrate that they use their initiative as well as making sure they've got your approval. |
| Craving feedback and criticism | I can't say this enough – every writer should crave feedback. No content writer worth their salt expects to not receive criticism or avoids criticism entirely. Good SaaS content writers chase criticism because they want to improve. |
| Keep you on your toes (in a good way) | By this, I mean that they keep up with industry news and tell you if they see something interesting that could be used for your inbound marketing. They'll make suggestions and ask for more work (respectfully) to show they're available and ready to commit more time to your SaaS company. |
4. Test Your SaaS Writer's Marketing Knowledge
Without knowledge of marketing, a SaaS content writer is just... a writer.
But SaaS marketing is your job, not theirs, so a writer will just follow your brief and write the blog — right?
Not really.
An effective SaaS content writer must have an in-depth knowledge of how to market software.
Pro Tip: When a B2B SaaS content writer understands inbound marketing for SaaS and appreciates their role within your wider strategy, their writing becomes more direct, intentional, and valuable to your audience.
Let's say you work for a company selling appointment booking software for businesses. You've built a content marketing strategy spanning each stage of the marketing funnel, and you call in a SaaS content writer to create blogs and case studies to execute this strategy.
A quality content writer for SaaS will already understand the wider goals of blogs and case studies and where they sit on the marketing funnel as vehicles for customer action.
They'll know that blogs sit at the top, at the Awareness stage, educating your audience about topics relating to your product and gently guiding them towards the solution to their pain points.
They'll also know that a case study sits much later, at the Decision stage, convincing your audience with social proof to choose your product over a competitor.
With this awareness of where their work aligns with your overall inbound marketing strategy, a SaaS content writer brings immense value to your business because:
It saves you time because you don't have to explain everything (no eggs for you, Grandma)
The tone of every piece of content aligns back to an overarching marketing goal
Call to actions are more targeted and effective
Content is consistent and results-driven
Your audience is more likely to respond and engage with your content
Now it's about finding a SaaS content writer with marketing expertise. You might specify in your ads that you need a knowledgeable writer, but how can you tell from their portfolio that they can really walk the talk?
Here are some key signs to look for when discerning the marketing knowledge of your future SaaS content writer:
| | |
| --- | --- |
| What? | How? |
| Break down buzzwords | Self-awareness is a great sign that your content writer understands marketing. If they use buzzwords like 'unprecedented' and 'low-hanging fruit,' keep them in the LinkedIn echo chamber where they belong. |
| Demonstrated awareness of what type of content works for different stages/goals | Being able to match their work to your content marketing strategy, thoughtfully and intentionally, is a great sign that your SaaS content writer knows what's up. |
| Experience of what works and what doesn't | This one is super valuable. Ask them to reflect on their previous work experience and whether what they've done before has been effective. If they've never considered the results of their past projects, it might be wise to stay away. |
| Understand your role and want to help make your life easier | Oh, the joy of meeting a SaaS content writer who gets it. Your writer should pay close attention to what you do so they can be as helpful as possible. |
| Thoughtful and effective CTA's | The devil is in the details at the end of a blog post. Do they use super generic CTA's, or do they pay close attention to your customer persona and say something meaningful? |
| Content appears more intentional and considered | Zero fluff. Every sentence is knowledgeable, backed by research, and aligned to the overall strategy. |
It's not your job to teach a SaaS content writer about B2B SaaS marketing and lead generation. If they sell themselves as an experienced writer, they should know this already. Don't be afraid to quiz your prospects about their marketing knowledge!
5. Is Your B2B SaaS Writer Results-Driven?
As a SaaS marketer, it's obvious that you'll be searching for results to back up your inbound marketing investment. You want to know if your content is doing its job, so you'll be keeping an eye on the metrics and watching for signals that what you're doing is (or isn't working).
But do you know who else should be results-driven? The person writing the damn article.
Source
How else can they know that they're a decent content writer for SaaS? If your SaaS content writer is worth your time, they'll ask you for results because they want to know that what they do works — or how they can improve.
Too many writer wannabes are happy to throw half-assed blogs at clients and never chase them up. This sucks. It sucks for you, it sucks for your audience, and it sucks for SaaS inbound marketing because the standard of content writing doesn't improve.
Pro Tip: Only work with a SaaS content writer if they're hungry for improvement and want to see evidence that their writing makes an impact.
How can you tell that you're hiring a content writer for SaaS who is driven by results? Look out for these crucial signs:
They ask if they're using the right CTA
They ask about your wider inbound marketing strategy and goals
They show interest in what else your company has been doing with marketing
They ask for key metrics around engagement in your content
They want proof that their work is aiding your strategy
You can be a results-driven marketer, but if your freelance SaaS writer isn't bothered about results, the standard of your content will inevitably plateau — or drop.
6. Can They Connect With Your Audience?
This is perhaps the essential quality of a content writer. You could hire a marketing expert, a SaaS writer with decades of experience, or even someone with a Ph.D. in your field.
But, if they can't use words that resonate with your audience and turn mindless clicks into purchases, it's a useless exercise.
Content marketing works only when it connects with the people who read it. This is important for any type of marketing, whether you sell software, submarines, or soap.
But it's perhaps even more important for SaaS content marketing because the product you're selling is intangible and complex, and people might not even know they had the particular pain point that it solves.
What tends to happen with SaaS content marketing is that companies do a great job of explaining how their product works, but they're not so good at showing people why they should care.
This is where your SaaS content writer can be a real asset. I'm not saying that you should expect them to crack your target audience right off the bat, but they should be asking the right questions and trying new angles to boost response rates.
We've come up with a few tell-tale signs that your SaaS content writer can connect with your target audience:
You feel some type of way when reading their stuff
Your team also feels some type of way
The SaaS writer checks in with you before trying new angles and tone of voice
The SaaS writer demands clear buyer personas and studies them vigorously
The writer shows interest in your sales process and asks for input from your sales team about their conversations with prospects
They use humour and relatable scenarios that your customers often mention in sales calls
But the most effective and powerful way for a SaaS marketer to know that their content is working is simply to ask your audience themselves.
Consider sending out a survey or asking for feedback once you've published a couple of new blogs from your new content writer. Be authentic and transparent, tell them you're trying something new, and ask them what they think.
7. Cost-Effective
This is a tricky one. How much should you spend on a good freelance SaaS writer?
Because, honestly, it depends on all sorts of factors. The size of your company, how much you're investing in overall inbound marketing, the technical level of your topics, the savviness of your audience, how much content writing you need each month, and the list goes on.
It's not just the price you must think about but also the pricing model you'll use. Content writing is usually paid for using three types of pricing models:
Package with a confirmed set of deliverables
$ per word
Retainer model
Package Deal (With Confirmed Deliverables and Prices)
This is a safe and secure option for both the writer and your company. You agree on what's being delivered — a certain number of blogs, case studies, or other forms of content — factor in time for meetings and research and agree on a total figure to be paid at the end of each month.
This is great because everyone knows exactly what's expected. Problems can arise, though, if your company needs some flex in your monthly deliverables. For example, you might need a few blogs written urgently, but your SaaS writer can't do it because they'd already planned their month's schedule.
$ Per Word
This pricing model is rudimentary but it can work. You agree on a word limit for each blog, and the writer invoices you for however many words they've delivered each month.
However, $ per word models get a bad rep for undermining the value of creativity and reducing content creation to a basic transactional level.
$ per word pricing schedules can turn off experienced content writers who value their time and pour hours over a powerful blog post. It's also a method used by notorious scammers on Upwork to charge amateur writers $5 for 500 words (which is criminal, really).
So be mindful before suggesting a $ per word agreement, especially if you're looking at hiring a SaaS writer with a great deal of experience.
Retainer model
When an up-and-coming SaaS writer professional gets their first retainer model, they feel like they've finally made it. In basic terms, a retainer model gives a SaaS company a certain amount of a writer's time each month, which they pay for in advance to secure that time for their content marketing requirements.
It gives a SaaS content writer a great deal of security, which in this economy is what everyone is dreaming of. Having a secure income from your company will encourage SaaS content writers to work hard and commit themselves to your marketing efforts.
When you've found your content writer, a SaaS writer expert who truly gets your business and writes content that melts pain points and generates leads effortlessly, it's time to break out the retainer model.
The most important thing to look for is transparency in whatever pricing structure you decide to use.
The best SaaS writers practice what they preach in their SaaS blogs – Joel Klettke's pricing page has really set a precedent for openness about cost (if you can afford a $15k content audit).
8. Freelance SaaS Writer vs. Inbound Marketing Agency
When it comes to finding content writers, you tend to have two options: hiring a freelance SaaS writer or working with an inbound marketing agency.
Source
Like every decision, there are a bunch of pros and cons to consider. Here are our two cents:
Freelance SaaS Content Writers

Pros

Cons

Flexible

Unreliable

Cheap

Unscalable

Un-cloneable

No commitment to results
SaaS Inbound Marketing Agency

Pros

Cons

Scalable

Expensive

Experienced

Less flexible

Organized

Results-driven

Highly efficient / follows processes
You might find the dream freelance SaaS content writer. They're talented, they're committed to your business, and they're willing to adapt their schedule to fit your needs each month. It's the perfect situation only until your content needs to change — as your business grows, you need more content, but your freelancer can only do so much this week.
Pro Tip: For most SaaS companies, working with a SaaS content writing firm offers far more experience, security, and the peace of mind that they have tried-and-tested processes that work for their other clients.
The right SaaS content writing firm can plug and play just like any freelancer, but they have the muscle of an entire team of writers who can scale up your content creation at a moment's notice. Sure, the cost might be significantly more in the short term, but you'll gain immense value from an established expert in the SaaS community.
A SaaS content writing firm takes care of the task of finding the best SaaS content writers, so you don't have to bother with reading portfolios or spell-checking each blog. It's all taken care of by their team, so you can trust that your company's blogs, whitepapers, lead magnets, and landing pages are written by experienced SaaS content writers who have been specifically selected for the job.
If you really want to use inbound marketing for long-term growth, a SaaS marketing agency is the way to go
With An Inbound Marketing Agency, You Get More Than Just a Content Writer for SaaS
The truth about hiring a SaaS content writer is that it takes time, effort, and a ton of patience.
There are only so many bad portfolios and shady examples you can read before you give up and start plotting ways to do all your content marketing in-house.
By partnering with an inbound marketing agency, you gain the support and expertise of a team that understands SaaS companies. They'll come with tried and tested processes, strategies that get results, and a dream team of SaaS content writers who are ready to grow your business.
If you're ready to take your content marketing to the next level, talk to us about our epic SaaS content writers.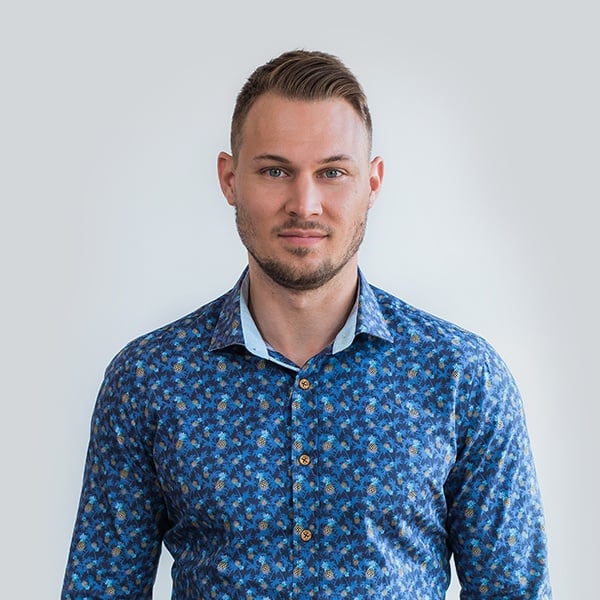 Chris is one of the managing partners at Roketto. His area of expertise is digital marketing and loves sharing and educating on topics like Google Ads, CPC bidding tactics, Google Analytics, and marketing automation. When Chris isn't in the office, he enjoys playing volleyball, mountain biking, and hiking with his American Eskimo.