Welcome to another blog about B2B SaaS content marketing. You might be wondering what makes this one any different to one of HubSpot's top-of-the-shelf, all-you-can-eat, 101 Ways To Do Things With Statistics, Infographics, and a 4-Week Course To Help You, articles.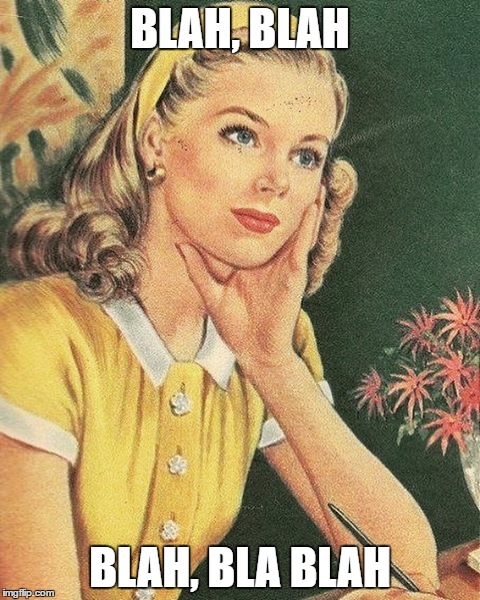 Well, chances are we know you a little bit better.
So we can talk a bit less from a high horse and more like an old friend at a bar downtown. We know you're busy and need valuable information you can act on today. So we'll speak more frankly than the rest about what you can do and why it'll work.
Today, I'm going to highlight 5 things that you simply must be doing as part of your SaaS content marketing strategy. If you do these things right and you start doing them now, you'll set your company on a trajectory for success - maximizing lead generation, customer acquisition, and industry authority.
So make yourself comfortable, grab an overpriced beverage, and let's get started.
1. Blogging Should Be The Backbone Of Every SaaS Content Marketing Strategy
Blogging isn't what it used to be. Back in the dark ages, before the surge of content marketing, blog writing was the hobby of the artist, the journalist, and the deeply disturbed teenager on Tumblr.
But, perhaps thankfully, the online world has shifted to break-open blogging and bring it into the mainstream. Commercial activity has gone digital and people are reading 3-5 bits of content before they make their next purchase. Blogs are no longer just a source of alternative news or unsettling fanfiction, they're a legitimate form of marketing used to educate customers about everything from cars to candy to software.
Businesses with good blogs do far better than businesses that don't. Out of hundreds of statistics available to back this up, here are a couple of my favourites:
69% of businesses attribute their lead generation to blogging
Companies with blogs generate 55% more website visits than those without
You might have heard this already, but just to be sure, let's run through the basics quickly before getting into the specific benefits of blogging for SaaS companies - and how you can start doing it right now.
Blogging is a form of inbound marketing, right? Right.
So you invest your time and money into building a goldmine of articles on your company's blog to achieve the following 5 things over time:
Establish industry authority by demonstrating how well you know your field, customers, and your product and making your competitors look like amateurs.
Educate customers by breaking down important concepts into layman's terms so that every Tom, Dick, and Harry understands how epic your product is, and how it helps them overcome their problems.
Leverage SEO efforts by targeting specific search terms, earning backlinks, and climbing up those SERPs.
Showcase your brand personality by writing blogs in your brand's unique voice to connect with your target audience and show them there's a human at the other end.
Boost customer loyalty by consistently offering valuable content that keeps your business front-of-mind when it's time to buy your product or service.
Still with us? That's the end of Blogging 101. Time to get into the secret sauce of blogging for B2B SaaS content marketing.
We've talked before about SaaS-specific marketing metrics, now we're gonna show you how content marketing supports SaaS-specific challenges.
Pro Tip: Blogging is the most simple yet powerful way to kickstart content marketing for SaaS companies.
That's because, aside from the basic principles of blogging for businesses in all industries, blogging aligns perfectly with the nature of SaaS and the customer journey that takes place in this industry.
Without a kickass content marketing strategy, SaaS marketers have a tough time selling their software. Clever SaaS marketing managers know that strategic, educational, and compelling blogs are perfect for an industry with specific features and challenges.
To understand how different kinds of blogs can be used by SaaS companies to solve specific industry challenges, with an example of who's doing it, check out this helpful table:
Feature of SaaS
Type of blog
Why it works
Example
Short sales cycle
Listicle, How-to
Customers need to know your software works and get inspired by what's on offer.

A listicle or how-to article such as 'X Ways To Do This Important Thing With Our Software' or 'How To Use Our Software To Never Experience This Problem Again' immediately demonstrates the value of your product to a customer who makes a transactional decision in around 2 days.
Wix
Need for information
Industry overviews, research
Information is your secret weapon for acquiring customers.

If you're selling software, customers need to know you're a trustworthy source who knows what they're talking about before signing up.

Articles that cover the latest research and coverage of industry news are a great way to establish authority and win the trust of customers.
Lastpass
Long-term customers
Product updates, team interviews
One of the fundamental sales strategies for SaaS companies is to minimize churn rate. To keep customers paying for their monthly subscription, they need to know they're paying for a quality service that's improving over time and that they're a valued part of the business.

Blogs featuring product updates and celebrations or interviews of your team are an effective way to boost brand loyalty while showing customers where their hard-earned dollars are going to improve your service even more.
Zoom
Selling a service
Case studies
When you're selling a service, customers need hard evidence that it works.

Case studies are a powerful piece of blog content that feature clear evidence and customer testimonials that back-up your business's performance.
Hubspot
If your SaaS company isn't blogging yet, or you're posting a random 500-word ramble whenever the office is quiet, it's time to start taking content marketing seriously. Put some strategy into play and use content to tackle the challenges that your sales team complain about.
2. Video Equals Powerful Content Marketing For SaaS Companies
Viral videos like this one were just the start. Video is now taking over the world, with online businesses taking the lead. People watch 30 minutes of video on their smartphones every day. I'm not ashamed to admit it, I often spend a ridiculous amount of time watching obscure tutorials in the bathroom. It's engaging, it's informative, and it's addictive.
The fundamental entertainment factor of video makes it a content marketing heavyweight. With the accessibility of video on platforms like YouTube, Instagram, TikTok, mobile-optimized web pages, businesses can communicate with customers like never before.
And for people like you, dear reader, video is now an essential part of any B2B content marketing strategy. This is because, just like blogging, it directly tackles industry-specific challenges and widens the accessibility of your content to a larger target audience - blogs with videos attract three times as many inbound links as blog posts without video.
Let's start with the classic how-to video.
No one wants to read instructions, and anyone who has ever tried to assemble a flatpack table from IKEA you'll know what I mean.
With the power of high-quality video content, businesses can grab a customer's attention and show them how well their product works in the same amount of time it takes you or me to eat a burger. 30 seconds. Oh, that's just me?
Take a look at Vidyard, for example.
Vidyard cleverly uses its own medium, embedded into its website, to achieve a number of things:
Demonstrate how to use their video-creation tool
Showcase how easy the tool is to use (the video doesn't even require commentary)
Point viewers straight to the call-to-action
It's a winner for SaaS content marketing because what could be a complicated concept is broken down into a seamless and accessible format, so even my grandma could watch the video and work out what's going on.
Pro Tip: How-to videos are an essential part of any SaaS company's arsenal because they make the explanation part of your pitch so darn easy.
Got a new software that no one really knows about? Make a video showing them how it works and how it solves their problem.
Customers can tell right-off-the-bat whether or not you can walk the talk, because the value of your product is playing out in front of them.
Another company using video as part of their B2B SaaS content marketing is Moz.
Moz is an SEO tool. Shudder. Those things are intimidating, complicated, and it takes forever to learn how to use them properly.
Moz knows that people find SEO intimidating, so they started Whiteboard Friday. To help make SEO less scary, Moz shares videos of a nice man called Dr Pete explaining SEO tools on a whiteboard.
Look at Dr Pete explaining things. Way more exciting than a 10,000-word article about SEO tactics, right?
Moz has nailed the concept of video for SaaS content marketing because they've broken a critical barrier to customer acquisition with a relatively cheap formula. How much do you think it costs to film someone talking in front of a whiteboard? Who's Dr Pete's stylist?
Speaking of the cost of video content marketing. Have you guys seen the beef between Monday and Trello lately? Over the last couple of months, these two giants of team strategy and organization software have spent a ridiculous amount of money slagging each other off on paid ads through YouTube.
This kind of Dominos vs. Pizza Hut behaviour is exactly what happens when two companies dominate an industry - an all-out war that costs thousands of dollars every month and confuses potential customers. If you want to stay classy, stick to inbound content marketing with valuable video content.
3. Case Studies
Case study videos are a powerful tool for any company, but particularly as part of a B2B SaaS content marketing strategy.
Customers are far more likely to purchase when they've watched a video about a product, especially when they can connect with a personal story about how it's already helped someone else.
That's not just a generalization. 88% of people are influenced by testimonials and trust them as much as they would trust a recommendation from a personal friend. Case studies are like testimonials on steroids.
They don't have to be too fancy to make an impact. Case study videos only need these 3 features to be effective:
A clip of your customer experiencing the product
A 'before and after' demonstration of life before and after your product was discovered by the customer
The concept of a case study video is that it's not just your company tooting its own horn. One of your hundreds of over-the-moon customers is telling the rest of the world how your software worked for them.
This achieves several things:
Customers are far more likely to connect with the value of your software by watching another human being talk about their experience with it. I guess it's a human thing.
Demonstrates a pain point being resolved
Case study videos prove that your product solves a challenge people have. This works really well if it's a pain point people don't realise is a major barrier, because they can watch someone talk about and realise 'that happens to me, too'. Bingo.
Case studies are a fantastic form of content marketing for SaaS because your happy customers start doing the marketing for you. I mean, you film it and make sure they say the right thing, but it's essentially a customer's story selling the product instead of some abrasive ad on Facebook Messenger.
Feeds your marketing strategies
Need to do an email marketing campaign but aren't sure what to say next? Boom. Walk the talk with a case study video. With a goldmine of case study content organised by each customer persona, you can send prospects a case study video that best applies to their situation.
Simple. Investing in case study video production creates high-level content marketing that inevitably leads to a long-term influx of customers. That's exactly what SaaS companies need.
I hate using HubSpot for every example, but I've just got to do it this time. HubSpot uses case study videos powerfully, with dozens of in-depth customer interviews backed by statistics demonstrating how successful they were.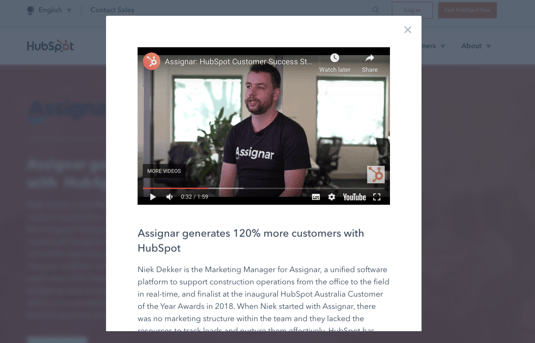 This is the gold standard of content marketing for SaaS companies. The title of the video says it all: Assignar generates 120% more customers with HubSpot. If you can distil your product's value to a sentence like that, people are going to listen.
If your SaaS company has a call list of happy customers, it's time to cash in on that happiness and share these success stories with the world. We've talked about SaaS marketing tactics to fast-track growth, and this is a tactic that'll take your business further.
4. Infographics Add Flair To Your B2B SaaS Content Marketing
Infographics are like videos on a budget. They achieve very similar things that video does for SaaS content marketing, but they really hone in on the need for content to be educational for it to be valuable.
If you've got a beautiful 2,500-word blog post about your software, you can use an engaging infographic to extract and emphasize some key facts and figures.
They also help break down important concepts that your customers have to grasp to understand what your product does and why it's so effective.
Are you ready for another helpful table?
| Elements of an epic infographic | Why that's important for SaaS content marketing |
| --- | --- |
| Timeline of events | Putting information on a timeline is an excellent way to present research or a process. If your B2B SaaS content marketing strategy involves presenting the latest research or explaining your software's innovation over time, presenting this in an infographic is going to impress your customers. |
| How-to or a method | I said before that written instructions are boring. Presenting directions on a well-designed infographic educates customers using on-brand text, designs, colors, and logos - so you provide value and get brand recognition in return. |
| Statistics | What would SaaS content marketing be without statistical data? Stats are powerful and instil immediate authority. If your next blog has some hearty percentages in there to back-up your points, illustrate them on an infographic to make them emphatic and memorable. |
| On-brand colour scheme | Color psychology is real, just ask these guys. When creating an infographic, using the right colours to command attention and conjure certain emotions in your customers will help make your messages memorable and entertaining. Infographics should follow your brand guidelines to the letter - publishing content with different fonts isn't just tacky, it makes customers wary of your authenticity. |
| Animated characters | I'm not suggesting you put anime versions of your staff members on posters, but consider creating animated characters to help explain the content on your infographic. Animated characters help customers to identify your brand quickly - plus they're fun, and everyone needs a bit of fun in a SaaS content marketing strategy. |
| Strategic topics | Cover topics that your customers will find interesting - such as what's trending at the moment, the latest research on your industry, the story of your business, or something a little bit… controversial. No, not too controversial, but something a bit saucy like 'why we're better than our biggest competitor'. If you can back it up with strong factual content on an infographic, you'll look pretty darn powerful. |
It's time for an example. Who's been doing a great job of infographics for their SaaS content marketing? The winner is Jobvite.
These guys seem to do all their content marketing very well, but their infographics are noteworthy. From glancing at one of Jobvite's infographics, readers can tell immediately that this company is positioned literally on the pulse of their industry's developments.
They've got a specific niche - recruitment and job seeking - and they use this to their advantage by being the number 1 communicators of data about this subject.
Check out how they present their 2020 report: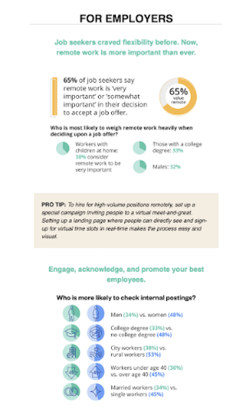 The infographic was so in-depth we could only use a piece of it, but you can marvel at its entirety here.
Basically, the above example is exactly what you should be doing for a powerful B2B SaaS content marketing strategy. It's about going the extra mile to instil authority with the latest industry research, but make it palatable and accessible for anybody using colourful graphics and intelligent design.
Bravo, Jobvite.
Infographics require the same kind of customer-specific strategy as a SaaS landing page. To do them well, you and your team need to plan out a results-driven structure that takes your customer persona on an educational and entertaining journey - that ends with a call to action.
5. Put Whitepapers Into Your SaaS Content Marketing Strategy. Now.
Sometimes you just have to get a bit nerdy.
Distilling information into infographics and videos is a powerful way to make data accessible to a wider audience, but the best way to demonstrate thought-leadership and industry authority is with an academic masterpiece. It's like saying 'we wrote the book on this sh*t'.
Whitepapers are an important part of your repertoire if you're selling software.
A big SaaS content marketing mistake to avoid is dumbing down all your content into bite-size chunks for all audiences. Sure, these are important to get people interested, but they need to eat the whole pie - or, at least, see it with wide eyes and say 'woooow'.
The whole pie is an in-depth, persuasive document that describes the scientific background behind the pain point that your software solves.
You've got to show that your company is a leading expert on this topic, describing everything about the problem and everything about the solution you've created to fix it.
Whitepapers are different from blog posts in 5 key ways:
Whitepapers require more effort to read than your average listicle. Forget a quick scan during a coffee break. Whitepapers require the same reading power as when you take a newspaper (well, your smartphone) to the bathroom with you. Let's make an afternoon of it.
The science-y nature of whitepapers means you should expect to see graphs, tables, infographics, and illustrations embedded within the text to help illustrate technical concepts.
Where a blog takes a couple of hours for a talented copywriter to churn out, a whitepaper is the result of months of research, planning, design, writing and rewriting.
Where blogs can be a bit more cheeky and colorful to win your reader, whitepapers require a much more serious tone to demonstrate that some very serious stuff is about to go down.
Blogs should be freely accessible on your website, but whitepapers can be a little more hidden away like a holy grail. After seeing a glimpse of the introduction, perhaps, readers are more than happy to give away their email address to get the whole pie. Hello, SaaS content marketing for lead generation.
Let's get onto an example.
Henry Schein One Australia is a dental software company. With a target audience of dentists, Henry Schein knows its customers are used to ready some tech-heavy, academic material. Dentists are clever people, and if they're going to spend their hard-earned cash on some practice management software, they need to know it's backed by a ton of research.
Cue Henry Schein One Australia's bank of whitepapers called 'Best Practice Guides'.
Each whitepaper targets a specific challenge that their software solves for dentists - from learning to track performance metrics to using automation to streamline their services.
The whitepapers provide the latest industry research into the challenge experienced by dentists. Facts like 'dentists who fail to use automation lose x revenue every quarter'.
This agitates the pain point for their target audience, leaving the perfect opportunity for the whitepaper to discuss how and why Henry Schein's software solves the problem - and creates a serious ROI for customers.
And the best part? After reading a tasty sample of information, dentists have to hand over their name, practice details, and current software solution in order to read the whitepaper.
Check it out.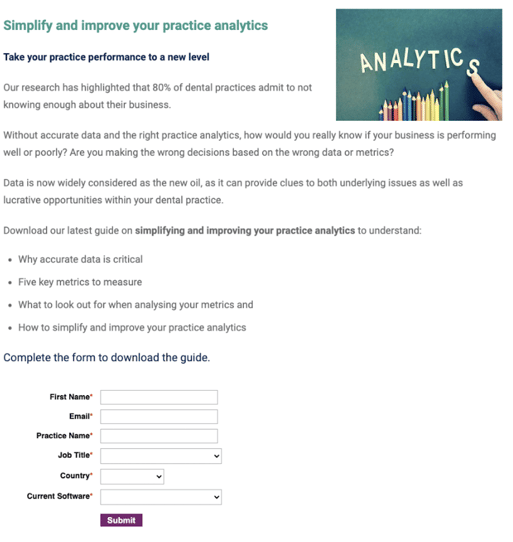 So not only does Henry Schein One Australia win the lead generation game with this tactic, but their team can accurately personalize a winning sales pitch by directly challenging the weaknesses of the prospect's current software. It's genius content marketing for SaaS.
Conclusion: Everything You Need For A Content Marketing Strategy That Kicks -aaS
Sorry, I had to.
We've just served you a tall glass of B2B SaaS content marketing success. All you have to do is get your marketing team together, see which method fits with your goals and requirements right now, then put a strategy together that incorporates other methods into a long-term SaaS content marketing strategy.
And, hey, if you need some support, we're right here.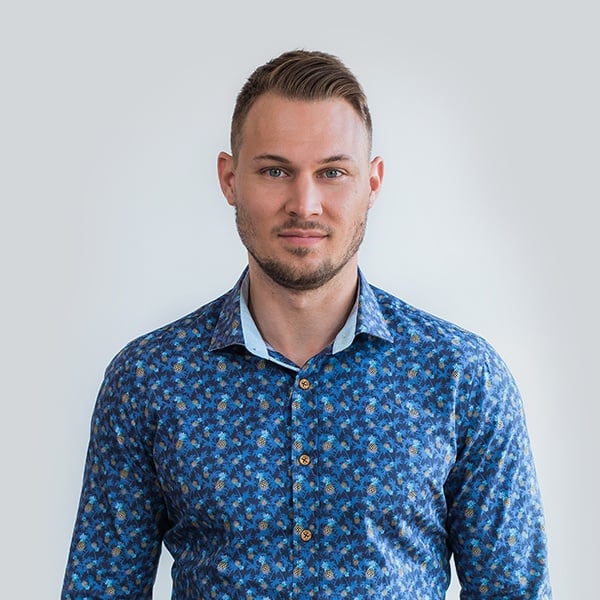 Chris is one of the managing partners at Roketto. His area of expertise is digital marketing and loves sharing and educating on topics like Google Ads, CPC bidding tactics, Google Analytics, and marketing automation. When Chris isn't in the office, he enjoys playing volleyball, mountain biking, and hiking with his American Eskimo.