Are you struggling to improve your website's search engine ranking? You might need an SEO auditing service. Think of it as a checkup for your website's health. Like when you go to the doctor for a physical, your website needs an expert to assess its performance, identify issues, and suggest solutions.
Let's say you've optimized your product pages and created a blog, but your traffic and sales aren't growing as expected.
What's going on? Why haven't you seen the results you expected?
An SEO audit is valuable in this case because it can reveal technical issues, such as slow site speed, broken links, or content issues, such as duplicate content or missing meta tags, hindering your site's ranking. Additionally, an audit gives recommendations, like that you need to improve your keyword strategy or gain more high-quality backlinks.
Our guide will explore the types of SEO auditing services, their benefits, and the best tools for an effective audit.
Let's get started!
What is an SEO Audit Service?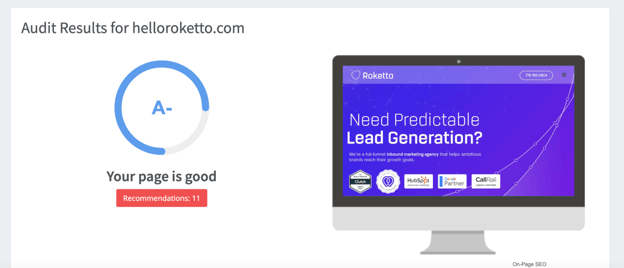 An SEO audit service thoroughly evaluates your website's technical aspects, content, and backlinks to identify the issues that could potentially be preventing your website from ranking at the top of search engines.
Some of the areas an SEO auditing service can identify problems with include:
On-page SEO (e.g., improper use of headings, meta tags missing)
Technical SEO (e.g., page speed, poor mobile experience, broken links)
Off-page SEO (e.g., site authority, backlink profile)
In addition to identifying issues with different SEO elements, an SEO auditing service can also make recommendations to help you improve your website. These recommendations are broken down into different SEO categories and listed in a detailed report. That way, it's easy for you to see the exact elements you need to take action on to improve your website's performance.
Types of SEO Audit Services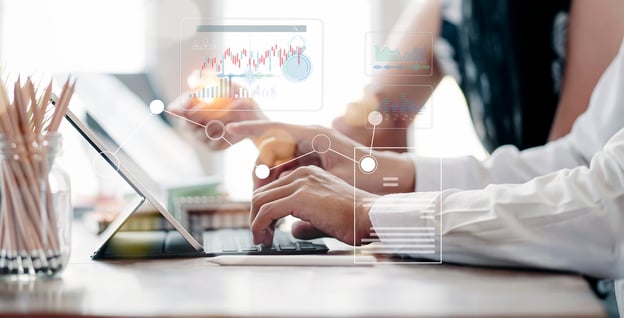 The three SEO elements that we mentioned in the previous section (on and off-page SEO, technical SEO) refer to the content on your site, the perception of your site by search engines and users, and your site's performance in terms of speed and usability. An SEO auditing service can provide information about all of these SEO perspectives or just the ones that you choose.
Specifically, these are the different types of SEO audits an SEO agency can conduct for your website:
Type of SEO Audit Service

Brief Description

Areas Looked at

SEO Technical Audit Service

A detailed analysis of the technical aspects of a website that can affect its ranking in SERPs.

Website architecture
Site speed
Mobile responsiveness
Indexing
Crawlability
Sitemap
Schema markup
URL structure
Redirects
Meta tags, and more.

SEO Content Audit

An evaluation of the quality and relevance of the content on a website to optimize it for search engines and users.

Keyword research
Content relevance
Structure
Quality
Readability
Freshness
User engagement
Meta titles and descriptions
Internal linking, and more.

Website Audit Service

A comprehensive examination of a website's performance, including technical, content, and design aspects, to identify opportunities for improvement and growth.

Technical SEO
On-page SEO
Off-page SEO
User experience
Website design
Website architecture
Content strategy
Social media integration
Analytics tracking, and more.
Benefits of SEO Audits Services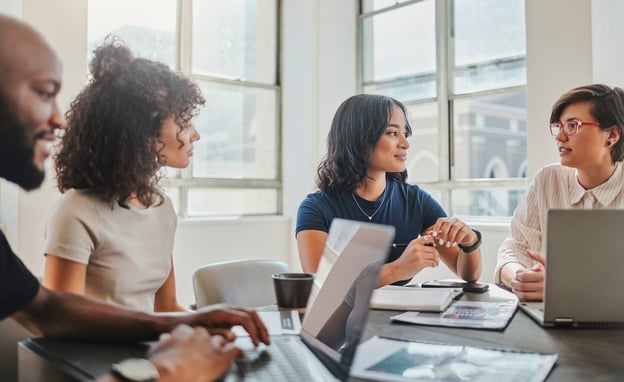 Just like optimization has its benefits, so does an SEO audit. When you do an SEO audit, it pinpoints specific areas of concern and empowers you to take corrective measures to improve your SEO strategy.
The potential outcomes of getting an SEO audit (and implementing the recommendations) include:
1. Improved Website Visibility
An SEO audit service helps uncover any areas of your website that require optimization for increased visibility to your target audience. Improving your website's search engine rankings can drive more visitors and increase conversions.
2. Enhanced User Experience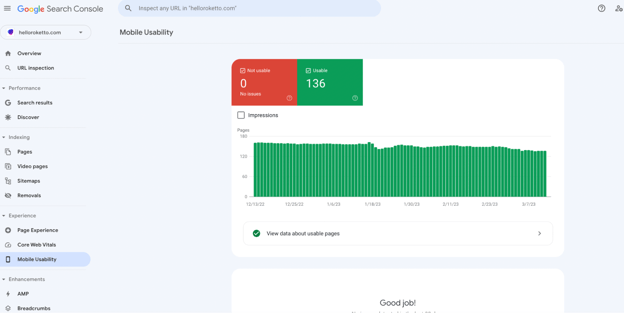 By analyzing elements such as page speed, mobile-friendliness, and navigation paths for users, you can enhance the overall usability of your site quickly and efficiently.
SEO audits consider the entire user journey, evaluating how easy it is for users to find what they want. It also considers factors such as website design and layout and gives recommendations on adjustments to ensure users remain on your site for as long as possible.
3. Identification of Technical Issues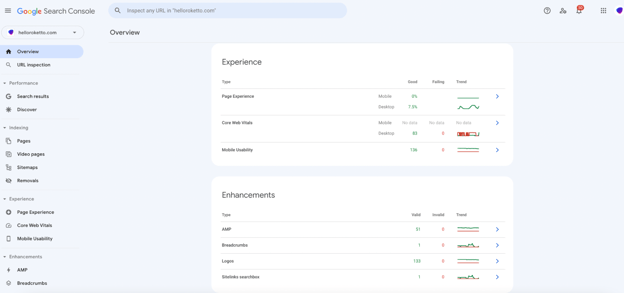 A thorough technical SEO audit service identifies issues with website performance, such as broken links, duplicate content, or problems with mobile performance, so that you can take action for improvements.
Pro Tip: Technical issues can prevent search engine crawlers from correctly accessing and indexing a site's pages, leading to lower rankings and reduced visibility in search results.
For example, a common technical issue that an SEO audit might uncover is a slow page load speed. Slow loading times can cause users to abandon a site, leading to a higher bounce rate and decreased engagement metrics. Additionally, search engines like Google consider page speed as a ranking factor, so fixing this issue can improve a site's search engine rankings.
Another technical issue that an SEO audit may reveal is broken links or errors in the website's HTML code. These issues can prevent search engine crawlers from properly indexing a site's pages, negatively impacting rankings. By identifying and fixing these technical issues, an SEO audit can help improve a site's visibility and performance in search results.
4. Optimization of On-page SEO Factors
SEO audits analyze the entire structure of your website, ensuring that all on-page SEO factors are optimized. H1 tags, title tags, meta descriptions, and keywords should be examined in detail to ensure they meet SEO best practices.
The audit will also check for content relevance and quality, including any duplicate or thin content that might hurt your SEO rankings. Optimizing these on-page factors can improve your website's relevance to search engines and drive more traffic to your site.
5. Competitive Analysis and Benchmarking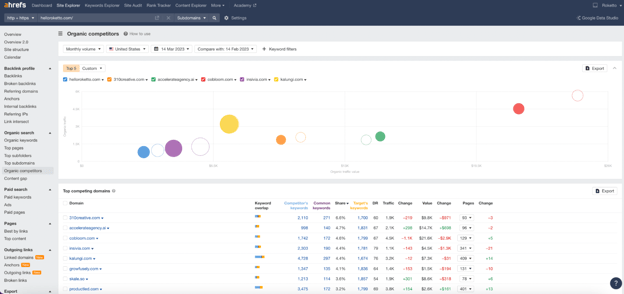 With detailed competitive analysis, you can easily compare your website's performance against competitors' websites.
This involves measuring your site's search engine rankings compared to other websites in the same industry or niche. It also helps determine which keywords and phrases perform better for you than others.
Let's say you're in the pet industry and want to know which keywords generate more traffic. An SEO audit service will provide insights into the performance of your website versus others in the industry.
Some of the things you can uncover include the following:
Keyword rankings
Inbound links
Page speed
This way, you can know exactly where your website stands compared to competitors.
Tools Used in SEO Audit Services
Every digital marketer knows how essential SEO audit tools are, as they save time and speed up the process of performing an audit. Here is a list of essential tools that a typical SEO auditing service would use:
All-in-one SEO Tools
An all-in-one SEO tool is exactly what it sounds like—a single unit with two or more functions. With this kind of service, you don't have to source individual tools for different purposes; one can handle everything!
Utilizing these services is essential if you want to save money and simplify your website audit process.
Some of these tools include:
1. Ahrefs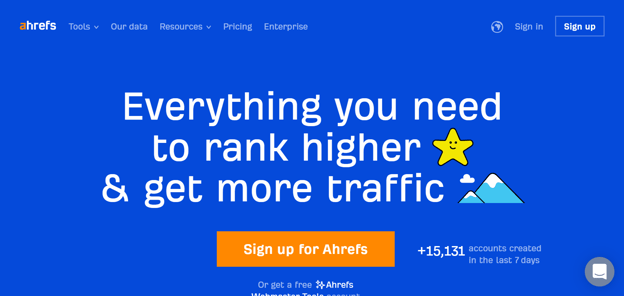 Ahref is a comprehensive site analysis tool that helps you check your site and uncover issues with your on-page and technical SEO issues.
This comprehensive website auditing tool is easy to use and has been utilized by many renowned organizations, indicating its high quality and outstanding capabilities.
Some of the features and capabilities of using Ahrefs include:
| | |
| --- | --- |
| Features | Descriptions |
| Site Audit | Checks your website for on-page and technical SEO issues, including broken links, crawl errors, and missing meta tags. |
| Backlink Analysis | Analyzes the backlink profile of any website or URL, providing insights into referring domains, anchor texts, and more. |
| Keyword Explorer | Helps you find new keyword ideas, analyze search volumes and competition levels, and track keyword rankings over time. |
| Content Explorer | Lets you search for popular content in any niche or topic and see how many backlinks and social shares it has. |
| Rank Tracker | Monitors your website's search engine rankings for any keywords and provides reports on changes in rankings and visibility. |
| Competitor Analysis | Lets you compare your website to competitors in terms of backlinks, keyword rankings, content, and more, and find opportunities to improve your SEO. |
If you opt for monthly billing, the subscription for Ahrefs starts from $99/month to $999/month. But the annual billing option starts at $83/month and goes up to $833/month.
*Pricing as of Feb 2023
2. Semrush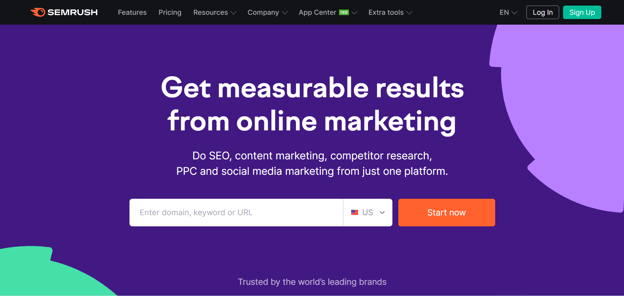 Semrush is a software solution designed to help businesses and marketers improve their online visibility through effective SEO. It provides a comprehensive suite of tools and features that enable users to research keywords, analyze competitors, track rankings, and identify areas for improvement.
Some of the key features of Semrush are listed in the table below:
| | |
| --- | --- |
| Features | Descriptions |
| Keyword Research | Helps identify the most relevant and profitable keywords for your business, including search volume, competition, and related keywords. |
| Site Audit | Scans your website to identify technical SEO issues and provides actionable recommendations to improve site health and performance. |
| Competitive Analysis | Analyzes your competitors' online presence to identify their strengths and weaknesses, including their top keywords, backlinks, and traffic sources. |
| Rank Tracking | Monitors your website's search engine rankings for targeted keywords over time, allowing you to track progress and identify areas for improvement. |
| Backlink Analysis | Provides insights into your website's backlink profile, including the number and quality of links, as well as competitor backlink analysis to identify potential link-building opportunities. |
If you pay monthly, prices start at $119.95/month and upwards to $449.95/month - alternatively, if you decide to commit for a year's worth, they decrease this from $99.95/month up to $374.95/month.
*Pricing as of Feb 2023
3. Moz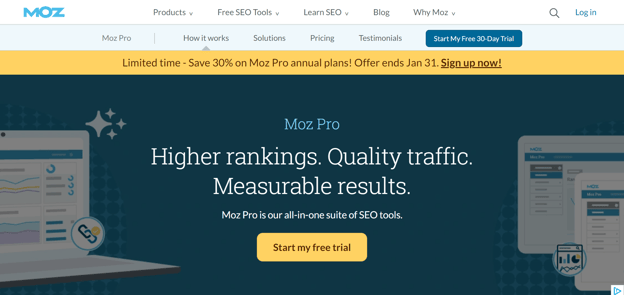 Like the first two options, Moz is an SEO tool that provides a suite of features designed to help businesses and individuals improve their online presence. It provides comprehensive SEO audit tools, including keyword research, backlink analysis, and on-page optimization insights.
Let's look at five features of Moz related to SEO auditing services:
| | |
| --- | --- |
| Features | Description |
| Site Crawl | Moz's Site Crawl feature analyzes key factors like page titles, meta descriptions, headings, and images. The feature can flag any broken links, duplicate content, or other common SEO issues. |
| On-Page Optimization | Looks at factors like keyword density, content quality, and internal linking to improve a page's relevance and authority for specific search terms. |
| Link Explorer | Moz's Link Explorer helps identify high-quality backlinks and link-building opportunities. |
| Keyword Explorer | Helps users identify high-value keywords to target in their SEO content strategy. |
| Moz Local | Moz Local helps businesses improve their local SEO performance by managing and optimizing their online listings on various directories, social media, and search engines. |
You can get Moz Pro from $99/month to $599/month when you pay monthly, and discounts are available for annual or longer-term payments.
*Pricing as of Feb 2023
Google Tools
Unlike the initial three choices, Google offers its users a comprehensive selection of refined tools to determine why pages or sites are not achieving their goals.
The most commonly used Google tools that offer SEO auditing capabilities include the following:
1. Google Search Console

Provided as a free tool, Google Search Console is a site audit tool used to monitor your site's online presence. GSC is the ideal tool for monitoring technical SEO issues with your site and confirming that all of your pages—especially new ones—are indexed.
You can also use the tool to receive alerts when spam or indexing issues are detected and to do backlink analysis and your keyword ranking position.
2. Google Mobile-Friendly Tool
As its name implies, Google Mobile Friendly Tool is an auditing tool designed to test whether your website is compatible with mobile devices. In the age of online connectivity, it is essential that your website be optimized for mobile devices.
With more people browsing from their phones, you don't want to miss out on potential customers or viewers because they can't access your site easily when using a phone or tablet.
3. Google Analytics
With this tool, you can easily measure website traffic and related stats like visitors' time on the page, bounce rate, and more. Such information can be useful when diagnosing any website performance issues.
That's not all. Google Analytics also gives you insights into your website visitors' location and device type, so you can make informed decisions about improving user experience.
4. Google PageSpeed Insights

Google PageSpeed Insights is a free technical SEO audit tool enabling you to gauge and optimize a site's speed. Moreover, the tool provides recommendations to make the website load faster.
Nowadays, page speed is a major component of your SEO strategy that can considerably impact your rankings. Therefore, using such a feature can take you one step closer to improved visibility and success!
5. Google Trends
Google Trends is an SEO audit tool that provides marketers with a large pool of commonly searched terms on Google. Using it means you get insights on whether your keywords are popular and what keywords you should target based on your niche.
The best part is Google Trends' interface is easy to use and highly customizable to the geographical region of interest.
6. Google Rich Results Test

The last tool on our Google Tools list is the Google Rich Results Test. This useful tool helps web admins and SEO consultants to check whether their pages are eligible for some of the most attractive SERP features, such as snippets or AMP stories.
With such intel, you can assess how well your page is optimized for SEO and make the necessary adjustments to ensure you get the best results.
How to Get Started with SEO Auditing Service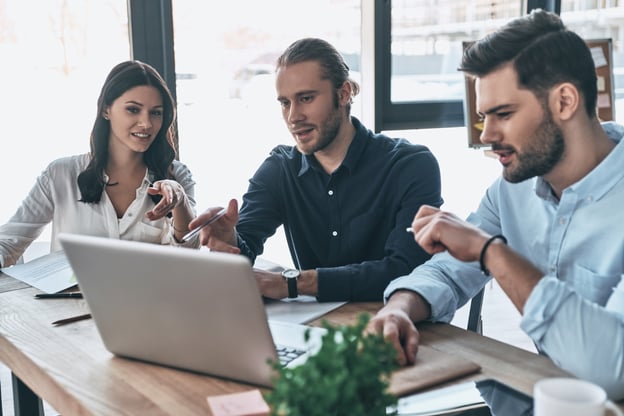 Getting started with an SEO auditing service can be daunting for businesses with little or no experience in the digital marketing world. However, the process can be seamless and productive with the right information.
The first step is to define what you want to achieve. This could include improving website visibility, increasing organic search traffic, or getting more conversions from existing digital channels.
The best way to clarify your goals is to ask yourself the following questions:
Why do you need an SEO audit service?
What is your budget for SEO auditing services?
How often do you need SEO audits performed?
Which areas of SEO do you want to focus on first?
What goals do you want to achieve from SEO audits?
The next step is to find a reputable SEO auditing service provider. Look for a company that offers comprehensive SEO audits, provides detailed reports, and is up-to-date with the latest SEO trends. This will ensure you get the most accurate website performance assessment and optimization potential.
After selecting an agency for your SEO auditing service, below are some of the ways to get started:
Share your website and business goals with the agency. Provide the agency with access to your website, Google analytics, and other necessary information to enable them to understand your business better.
Let the agency conduct a technical audit of your website. This will involve a comprehensive review of your website's structure, navigation, load time, responsiveness, URL structure, and other technical elements that affect SEO.
Request for a content audit. The agency will review the authority, relevance, and originality of your website's content to determine if it meets Google's standards and caters to your target demographic.
Analyze your backlink profile. Backlinks are a crucial element of SEO. The agency will evaluate the quality and quantity of backlinks to your website, identifying any spammy links that may harm your SEO.
Request for keyword analysis. The agency will analyze your website's keywords, identifying high-performing keywords and suggesting changes to improve your rankings.
In summary, an SEO auditing service is crucial for businesses that want to improve their SEO and achieve higher search engine rankings.
Conclusion
Keeping your SEO in check is necessary for successful business marketing, and Roketto's comprehensive auditing service can help you do just that! When you team up with us, your business will have the advantage of a group of experts devoted to finding and addressing possible dilemmas sabotaging SEO performance on your website.
We personalize our SEO auditing service to every client and their individual requirements and industry. Following the audit process, we provide you with a precise report indicating any areas needing attention, along with pertinent advice and strategies to improve them.

Don't let your website's SEO performance hold your company back. Contact us today to learn more about our SEO auditing service and how it can help you reach your business goals!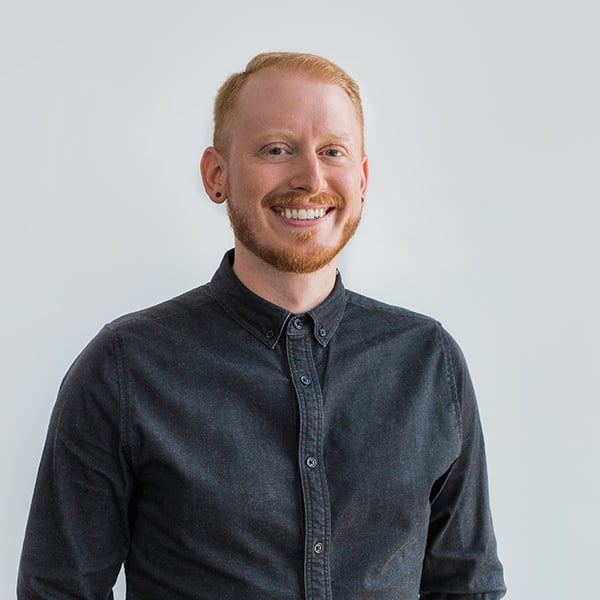 Ulf is one of the co-founders here at Roketto. His passion shines brightest when tasked with increasing business growth through inbound marketing. If you want to talk strategy, give Ulf a shout and you're likely to see him spark with excitement.