For many marketing managers, thinking (or dreaming) up marketing blog topics is the biggest barrier to building momentum with content marketing.

How did you plan the topic for your business's last blog post?
Yikes.
You can't expect to get results by sitting at your desk and waiting for inspiration to smack you in the face.
To build an effective business blog that gets results, you need a set process for generating blog topics that are directly relevant to your target audience and boost your inbound marketing efforts.
Considering we created 90% of what's on the internet in the last two years, it's clear that the online world has become a lawless wasteland of content. To stand out above the rest, you've got to break away from the mundane and say what no one else has thought of yet.
Don't worry, it's not rocket science. By implementing a few tried-and-tested strategies from B2B content marketing examples, and prioritizing value for your customer, you can nail it.
And in this blog, we're going to show you what those strategies are.
Create Detailed Marketing Personas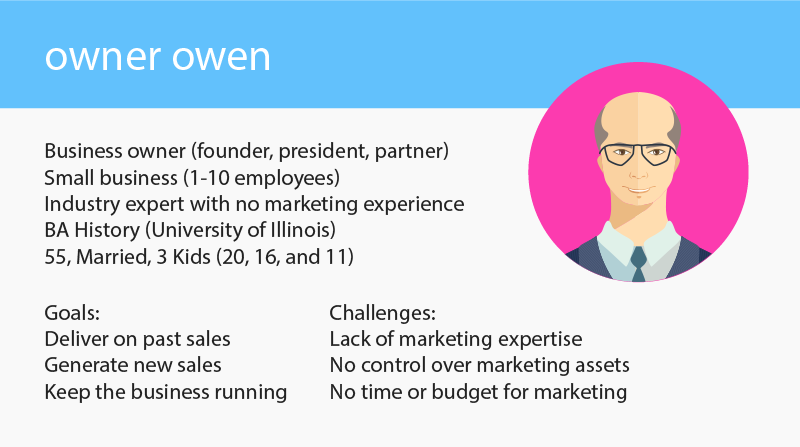 Without a thorough breakdown of your target audience, you'll have a hard time thinking up relevant marketing blog topics.
Yes, we've talked about marketing personas at least a thousand times before. We'll stop banging on about them when they stop being vital to inbound marketing success – they haven't.
A marketing persona is like an avatar that represents your ideal customer, except you don't have to be artistic to create them.
A marketing persona is essentially a detailed list of your target audience's:
Age
Gender
Occupation and salary
Goals
Everyday challenges
Barriers to purchasing your product
Common questions they ask your sales team
They're useful for all inbound marketing efforts because they help you keep your content directly relevant to your audience's wants, needs, and interests.
You'll likely find that you have more than one marketing persona. You might have a primary, secondary, and tertiary audience depending on which product or service you're selling.
Method 1: Talk To Your Sales Team
This is when you should bring in your sales team to help you out. Run a brainstorming session with your top salespeople and ask them about the conversations they have with prospects:
How do they speak and how do they like to be spoken to?
What are the most common questions?
What are the most common objections to using your product?
What are their priorities?
What subjects or words are off-limits?
With this valuable intel from your salespeople, you now have the start of some kickass marketing blog topics that are directly relevant to the people you want to target.
To demonstrate, here's an example I made up. Let's say you're a company selling gym management software to upmarket gyms and fitness centers.
| | | |
| --- | --- | --- |
| Persona | Pain Point | Blog Topic |
| Gym Owners | "Members are often late paying their fees and we have to chase them up manually" | X Ways Gym Management Software Drives Revenue |
| Fitness Instructors | "I'm always losing important forms and it takes ages to file important waivers" | The Solution To Forms: How To Make Your Gym Paperless |
See? What starts off as a meaningful sales conversation quickly turns into a marketing blog topic opportunity that delivers direct value to the people you want to target.
Method 2: Talk To Your Customers
But what if you're a startup and don't have historical sales conversations to fall back on? How do you find out what your prospects want to read?
Here's a wild suggestion for you – just ask them.
Customers love it when you ask them questions, especially if you offer them a reward in return – a discount or entry into a giveaway. Create a survey that asks 5-10 specific questions about what your audience wants to hear from you and use those results to inform your marketing blog topics.
With all that valuable data, you can start creating a spot-on marketing persona that gives you enough information to create targeted content that blows their minds.
Analyze The Journey From Prospect To Buyer
So, we've established a foundation for generating marketing blog topics – based on who your target audience is and the conversations they have with your salespeople.
At this point, you might have a notes page (or a whiteboard, if you're old-school) covered in potential blog topics for each marketing persona.
But you can't just start writing and chucking those ideas out there just yet. A fitness instructor won't be ready to learn the benefits of gym management software if they don't even know what gym management software is yet.
So, we need to apply a method to the madness by working out the 'journey' your customer takes to go from prospect to customer.
This is because marketing blog topics are only valuable when they're received at the right time.
Your audience will respond to your content differently depending on whether they:
Have just found your business online
Want to learn about your product
Are working out whether it's what they need
Need to evaluate whether it's better than what else is on the market
At the most basic level, we can split this journey into three parts – awareness, consideration, and decision. I'll use the gym management software example again in this example below:
Stage

Prospect Behavior

Marketing Objective

Marketing Blog Topic

Awareness

[Top of Funnel]

Identifying their pain point or challenge and realizing they need a solution.

Describe the challenge in a way that makes prospects self-identify, then educate them about the solution.

"What is gym management software? X things you need to know"

Consideration

[Middle of Funnel]

Prospects know they need a solution, but they want to know what features they should be looking for.

Showcase the power and potential of your product.

"Case study: How [Gym] increased class attendance with gym management software"

Decision

[Bottom of Funnel]

The customer wants your product and is ready to purchase.

Make it as easy as possible for them to purchase and start benefitting from your product.

"Product Guide: Tips & Tricks To Make The Most of Your Subscription:
Awareness Stage
When a potential customer is at this stage, they have just realized they have a problem. They are far from ready to make a purchase and shoving an offer in their face won't be effective. In fact, it can annoy the heck out of them and chase them away.
Your content should be informative and help solve a problem that your customer has without raising your hand as an option. This kind of content establishes the foundation of your relationship with them.
In this article on managing rising customer expectations, Intercom gives a detailed, valuable explanation without pushing their product to the readers. Instead, they solve a problem that their target customer is struggling with, positioning themselves as a helpful friend willing to give a hand.
Consideration Stage
In the consideration stage, your customer is actively looking for a solution to their problem. Here is when you can include yourself in the conversation and explain what you have to offer.
One great way to create blogs for this stage is using comparative articles, where you compare your product to your competitors.
The Ahrefs team uses this comparison post to position themselves as the leader SEO Tool. I love the way they used social proof to show why they offer the best solution, aiming to reduce the bias. Then, they explain what makes Ahrefs stand out from the crowd.
Decision Stage
During the decision stage, you want to be straightforward in your offer, but still tons of value to your customer. They are ready to make a purchase, but they need an extra push to take a step in the right direction and buy from you instead of your competition.
Let's look at an example:
In this blog, Buffer explains how you can engage better with your Instagram audience. They share insight on what's possible to achieve, offer tips on what improves your engagement, and offer their tool that makes everything run smoothly.
Cool, right?
Build Marketing Blog Topics With Keyword Tools
We can't show you how to create kickass marketing blog topics without talking about SEO stuff. Sorry.
You probably know the basics of keyword tools – low difficulty and high volume equals good. You might have started a few trial accounts on one of the three market leaders ripping each other apart online.
But, like many marketing professionals, you might be stumped as to how these finicky tools can help you with blogging.
Without diving too deep into the lawless wasteland of SEO strategies, we'll show these business blogging tips for keyword tools. These are the most valuable ways that keyword tools can help you get results with your business's blog.
Stalking Competitors' Keywords
It's useful to have a cheeky look at your competitors' keywords. By discovering what your competitors are targeting, you can:
Know what is working for them
See new keywords that you didn't find before
Identify opportunities to compete and out-do your competitors' content
While it's not wise to target all of your competitors' keywords (come on, be original), having a competitor analysis strategy will help you stay on top of your game.
You can use SEMrush or Moz to look at your competitors' keywords, both sites have thorough walk-throughs teaching you how to do it.
Detect Trending Topics
If you write about something that everyone is talking about, you're more likely to get traffic to your blog.
That doesn't mean you should go-off about anything and everything that's trending or use clickbait headlines – don't be that guy. It's got to be somewhat relevant to your industry, your customer's interests, and your product.
A useful tool for this is Google Trends. Google Trends is totally free and unlimited, allowing you to check the search frequency of your blog ideas to evaluate which ones might be more popular.
Here's an example with the general blog topics we like to write about:
Pay attention to:
Spikes – upwards and downwards
Patterns – indicating seasonal popularity
Correlations – indicating two topics are connected
Find Common Questions
It makes sense that strong marketing blog topics provide answers to common questions asked by potential customers.
By following this simple yet powerful method, you can position your business as an authority, initiate trust with your audience, and offer immediate value with your content marketing.
But…
How do you know what your audience is asking?
What if you work for a startup and don't have the historical data for sales conversations or the CRM to direct questionnaires to prospects?
With keyword tools, you can find commonly searched-for questions that are relevant to your offering, but that you missed in your initial brainstorming. This is useful if you're still figuring out how your audience talks – they might use different language to you because they don't understand all the jargon relating to your product.
Before you open up your analytics tool of choice, there is one cheat method to find popular questions quickly – the 'people also ask' section in Google.
You know the one, it's the box that pops up in the SERPs that shows you what questions other people have been asking that are similar to yours.
Like this:
Now you have a useful list of related questions that you can use as LSI keywords. Supplementing your blog topics with LSI keywords helps Google recognize that your blog is semantically related to the main keyword. Big brain stuff.
All of the top keyword analytics tools have filters that generate questions related to your key topics.
Group Your Keywords Into Pillar Pages & Topic Clusters
Now you're ready to create an actionable content plan. This will be the backbone of your business blog and it will be your ally as you implement, test, and adjust your content marketing process.
Take the marketing blog topics that you've created and use them to build a hierarchy by:
Identifying the main overarching topics – these are your 'pillars'
Grouping together the related topics that sit beneath each pillar – these are your 'topic clusters'
You should have a blog hierarchy that looks something like this:
Content Type

Description

Example

Pillar Content

A broad topic that can be broken down into narrower subtopics.

"The Ultimate Guide To B2B Inbound Marketing"

Cluster Content

A subtopic that supports the broader content.

"How To Write A Blog"

"What Is A Buyer Persona"

"How An Agency Can Help"

"How To Hire Marketers"

"What Metrics To Track"
As well as unlocking a goldmine of marketing blog topics to keep your content writers busy for months on end, building pillar pages will provide a wealth of valuable information for your audience.
Business Blogs That Get It Right
Skiplino is a cutting-edge queue management tool. They've developed a range of software products that are adaptable for businesses in many industries with a wide range of budgets.
Skiplino's blog exemplifies what a blog should do and how companies can attract prospects by blogging.
It's segmented into key topics so that readers can find blogs that are relevant to them. The blogs are also immensely valuable with a range of topics that cover top-of-funnel conversations to bottom-of-funnel evaluations, capturing prospects at varying stages of the buyer journey.
Each Skiplino blog is conversational yet factual, speaking in a language that's relevant to the audience in a helpful format – with images, tables, bullet points, and lists to create a satisfying experience.
ClickUp is a cloud-based work platform for teams and businesses. Its mission is to help people save time and become more productive. Their blog is focused on productivity hacks that cleverly show prospects how they can make the most of the day – by using ClickUp's software.
I love the blog's casual yet direct tone. They are fun and fresh but still packed with value. ClickUp knows how to attract its target customer by offering comparisons between different productivity tools. This, of course, includes their own products and features.
Close is a CRM provider that was created to help sales teams be more effective in their everyday tasks. Their blog is also categorized into key topics that help their customers learn anything they need to know about sales.
I like how they highlight their latest feature launch with an interesting article that lays down their target customer's problems and shows how they are now able to solve it. This is a fantastic example of bottom-of-the-funnel content.
Need more reviews of industry-leading blogs? Check out our content marketing examples to see what works in the real world...online.
Use Popular Structures For Blog Topics
Content writing is creative, but to get results from your business blog you need to have consistency.
Let's face it, creativity isn't a constant resource.
Thankfully, there are some tried and trusted frameworks for your marketing blog topics that'll help you publish content in a package that is palatable to your audience
These are some of the most popular and effective frameworks that you will find in any blog:
| | | |
| --- | --- | --- |
| Content Framework | Description | Example |
| Listicle | An article that consists of a list of facts, tips, strategies, etc. | "8 Strategies to Build a Kick-Ass Blog" |
| Comparison Post | An article that compares two companies, tools, strategies, etc. | "Inbound vs Outbound Marketing" |
| Ultimate Guide | A comprehensive article that details everything a person needs to know about a topic. | "The Ultimate Guide to Content Marketing" |
Conclusion: Hire An Inbound Marketing Agency
Let's be honest.
Planning, strategizing, and deploying a business blog is hard work. It saps away at your daily tasks and, if you're a marketing manager, you've got a ton of stuff to do.
What's worse is, you know that you can't solely focus on writing and editing your blog. You have other marketing strategies to implement and supervise.
You don't have time to chase lazy writers or proofread and even rewrite their work.
Content marketing can bring you epic results, but it's more a marathon than a sprint.
That's why you need an ally to help you not only create content that your customers will love but to create the strategy and planning that goes behind the scenes before a brief reaches the hands of a writer.
With that said, you'll want to make sure that your inbound marketing agency has a strong group of writers that can flawlessly execute your content strategy.
At Roketto, we pride ourselves on being the partner that SaaS companies need to scale their blogs by:
Providing scalable resources: we assign a team of inbound marketing experts to your project.
Proven industry expertise: we know your business, your market, and your customers.
Repeatable best practices and processes: we bring tried and tested strategies that get results for our clients.
Are you ready to create a kick-ass business blog? Talk to us.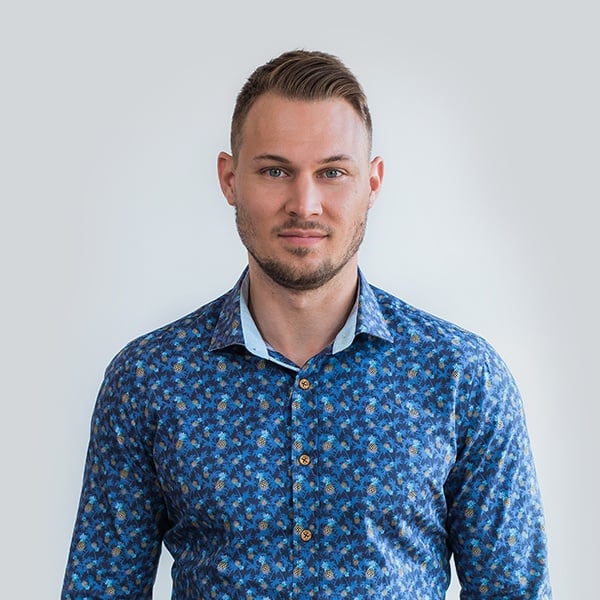 Chris is one of the managing partners at Roketto. His area of expertise is digital marketing and loves sharing and educating on topics like Google Ads, CPC bidding tactics, Google Analytics, and marketing automation. When Chris isn't in the office, he enjoys playing volleyball, mountain biking, and hiking with his American Eskimo.