If you're in the SaaS space, you'll know that it's standard practice for SaaS companies to utilize a freemium conversion funnel, and offer free trials for their customers.

That being said, you can't simply offer a free trial and call it a day - it's important for you to optimize your trial, so you end up converting more trial users into paid customers.
In this blog post, we'll share 5 strategies that you can use to hook users with your free trial, and show them the value that your product brings to the table. After all, having a solid SaaS free trial strategy is an absolutely crucial part of your overall SaaS marketing plan. Once you've done that, it'll make it that much easier for you to upsell your customers, and get them to sign up for a paid account.

Quick aside: generally speaking, the average free to trial conversion rate hovers at around 2% to 10%. Those aren't great odds you're working with, but by utilizing the SaaS free trial best practices we've outlined below, you can make the best out of an iffy situation.
What's a Good SaaS Free Trial Conversion Rate?
So we already know that the average conversion rate for SaaS free trials is 2% to 10%... but what's a good conversion rate that you should be aiming for?

Obviously, this differs depending on your industry, product, and target audience. But as a general rule of thumb, growth specialist Lincoln Murphy says that anything less than a 25% conversion rate means your marketing isn't working.

If you're nowhere near 25% at the moment, don't sweat it. Look at your current numbers, and come up with a goal that you'd like to hit. Then keep that figure in mind, and start implementing tactics to achieve your goal.
1
Don't Ask For Credit Card Information
If you're asking for credit card information in your trial sign-up, you're doing it wrong.
Why do we say so? Well, according to statistics, SaaS companies generally get more website visitors converting to paid customers when they offer free trials without requiring any credit card information.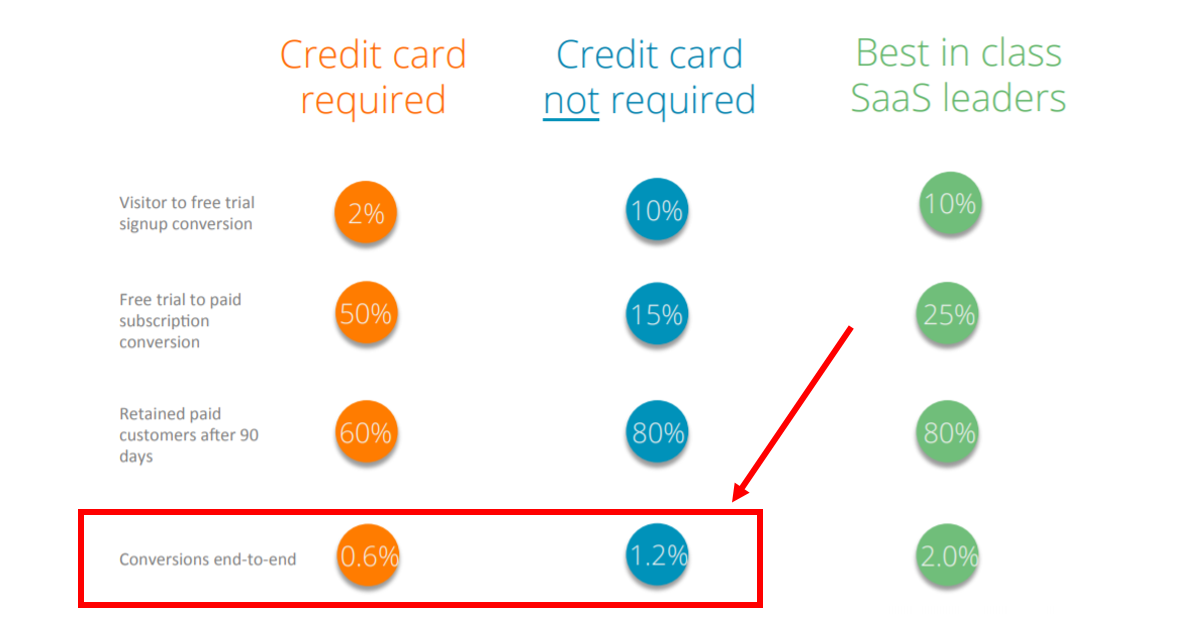 Now, we get that correlation doesn't equate to causation, and that the increase in conversions might simply be correlated to the fact that these companies aren't asking for their users' credit card information. Nevertheless, it's worth switching up your sign-up process, and allowing users to sign up without their credit card details -- just to test it out.
2
Come Up With a Robust Onboarding Plan
As any good SaaS marketer will know, getting users to sign up for your free trial is just one part of the puzzle. Once that's done, you'll also have to onboard your users successfully, and make sure that they're making use of their trial.

To do this, think about what you're hoping to help your user achieve, and figure out your users' Aha moment.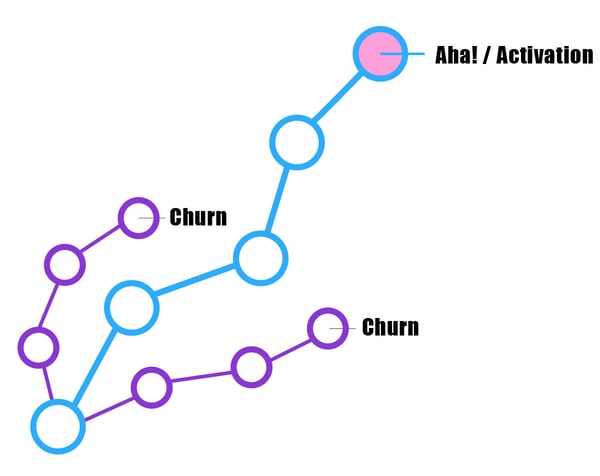 If you're new to the concept of the Aha moment, this basically refers to a point in the user experience where your product's value becomes clear to your users. To find out what this is, you'll have to pinpoint key behaviors that correlate with success.
For example, say your product is an AI tool that helps marketers create videos to use in their PPC campaigns. Now, your overall objective might be to make it easier for marketers to create videos, and your Aha moment might be the point where your user successfully creates a video using your tool.
Bearing this in mind, come up with an onboarding plan to guide your users through the process of creating a video, and lead them towards their Aha moment. Some ideas we recommend here include:
Product tours
Product tutorials
Drip campaigns
Some SaaS companies even go to the extent of calling their customers to check up on them, and making sure they've got everything they need.
3
Segment Email Lists and Personalize Communications
If you've set up an automated email campaign to trigger emails to your users throughout their free trial, that's a step in the right direction. To take this one step further, though, make sure you segment your email list, and personalize your communications to each different segment.
There are many ways in which you can do this, but one of the most effective ways is to segment your users based on their activity. For instance, you might work with the following definitions:
Inactive users = Users who signed up for your free trial, but didn't go on to use your product
Semi-active users = Users who logged in and used your product once or twice over a one-week period
Active users = Users who log in almost everyday, and/or have hit multiple milestones within their free trial
Firstly, when crafting emails to inactive users, the goal is to convince them to give your product a chance.
If your product is somewhat complex and hard to navigate, and you think these users aren't using your product because you're too intimidated, send them a GIF tutorial showing them how to set up their account, or offer to schedule a call with your support team.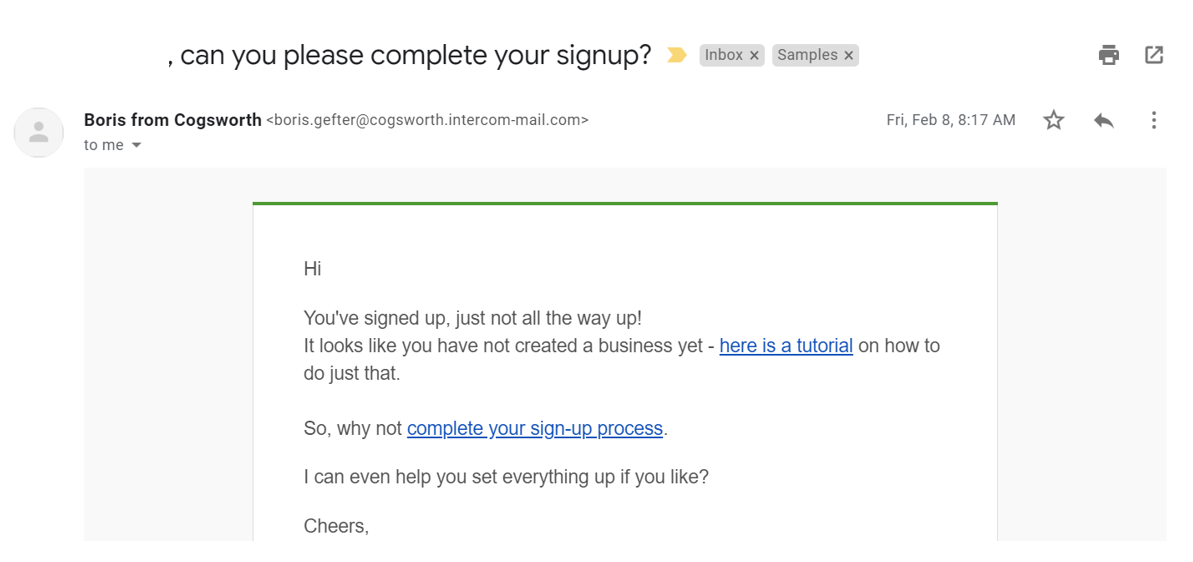 If you think these users aren't biting just because they've got other things on their plate, use the power of social proof to entice them. For example, state in your email that your product is used by 14,000+ marketers from 59 countries across the globe, and they've collectively created 93,000+ videos with your tool.
Next, when addressing semi-active users, think about how you can get them to use your product more. Here, you might highlight certain features that they haven't used, or share different use cases that are relevant to your product.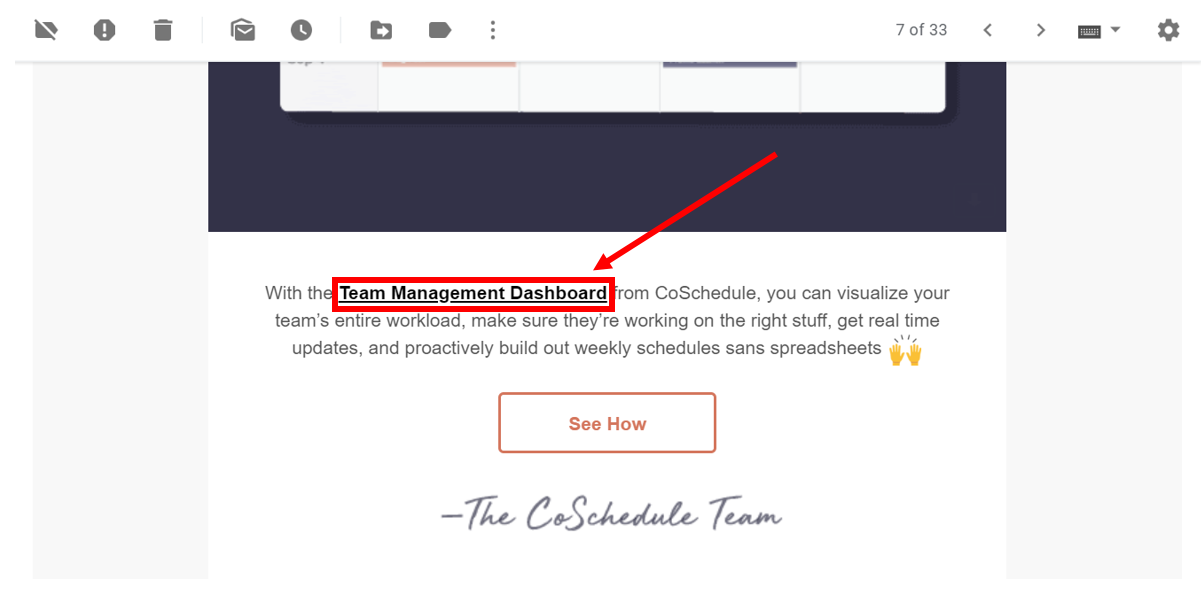 Finally, in targeting active users, you'll want to get them even more invested in your product, to the point where it's a no-brainer for them to convert to a paid user.

Here, we recommend sharing advanced tips and tricks related to A/B testing, using your reporting/analytics feature, and importing/exporting data. You might also want to encourage your users to integrate your product with the other tools they use on a day-to-day basis; this promotes stickiness, and reduces the likelihood that your users will churn.
4
Ask For the Sale Once Your User Has Achieved Success
Many SaaS companies wait till the end of the trial before upselling their user to a paid account. To increase your conversion rates, go in for the sale the minute your user has achieved success, or had their Aha moment.
Think about it: when your user has just achieved a win, that's when they're the most excited, and that's when they're feeling good about your product. It makes sense to ride on that high, and ask your user to sign up for a paid account right there and then.
If you wait till your user's trial expires, on the other hand, your user might be less excited about your product at that point. They might also have researched other competitors and vendors by then, so you'll have to deal with more sales objections and more friction when upselling them.
5
Get Feedback On Why Customers Aren't Converting
If your free-to-paid conversion rates are dismal, one smart way to address it is to get feedback on why customers aren't converting. This way, you can fine-tune your product (or the way you're pitching your product), and increase your conversion rates.

For example, Trak.io offered their users who didn't convert to a paid plan a three-day trial extension -- in exchange for feedback about why the users weren't ready to purchase. Check it out: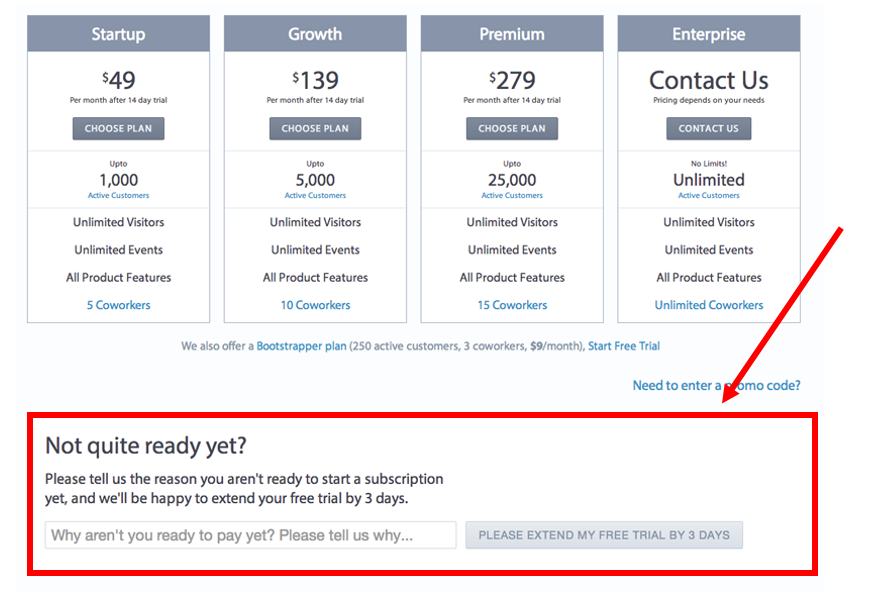 Conclusion
Awesome - you've made it all the way to the end of this guide, and you're now well-equipped to optimize your free trial marketing strategy, and get more paying customers. Here's a quick recap of the strategies we've covered:
Don't ask for credit card information
Come up with a robust onboarding plan
Segment your email list and personalize your communications
Ask for the sale once your user has achieved success
Get feedback on why customers aren't converting
If there's one takeaway you get from this article, let this be it: it's a huge mistake to assume that offering a free trial will help you close a customer. Remember, in this day and age, the vast majority of SaaS companies offer free trials, and this simply isn't enough to win over your customers.
Need some help with improving your free-to-paid conversion strategy? Get in touch with Roketto, a saas marketing agency that helps drive long-term growth and conversions.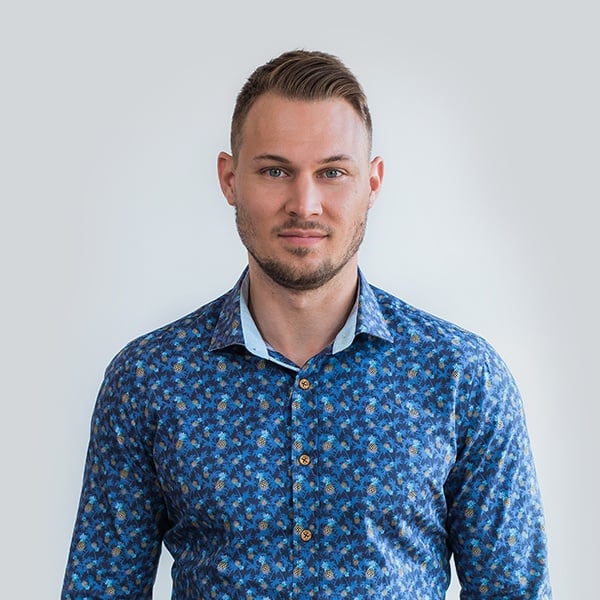 Chris is one of the managing partners at Roketto. His area of expertise is digital marketing and loves sharing and educating on topics like Google Ads, CPC bidding tactics, Google Analytics, and marketing automation. When Chris isn't in the office, he enjoys playing volleyball, mountain biking, and hiking with his American Eskimo.