People have been calling social media the future of customer service since 2015, and they were right.
The more your brand grows, the more mistakes you will make. It's inevitable; not everyone can have a perfect experience with your company, product or service. But empowering your customers to be heard and provide feedback can go a long way. Identifying and rectifying issues can even turn bad experiences into great new opportunities.

Did you know that 96% of people that discuss brands online, don't actually follow that brand's owned profiles? The conversation is happening with or without you. And since 71% of consumers who have had a good social media service experience with a brand are likely to recommend it to others, it's in your best interest to participate.

Read our top 5 strategies to improve the customer service experience for your customers, including inspiring examples.
Humanize The Customer Experience
People are often frustrated when reaching out because of a poor experience they've had, so it's important to be positive and show genuine care about helping solve their problem. If it feels robotic or automated, it can easily make them even more frustrated. However, a human response taking ownership of the problem and working to find a solution will reflect well, and make your brand shine.
Customer Service Twitter Example
In the example below, Hootsuite's twitter customer service helps solve a problem by giving customized solutions for the customers need. This delights the customer, and builds strong brand loyalty. And, it's way more efficient for the business than call support!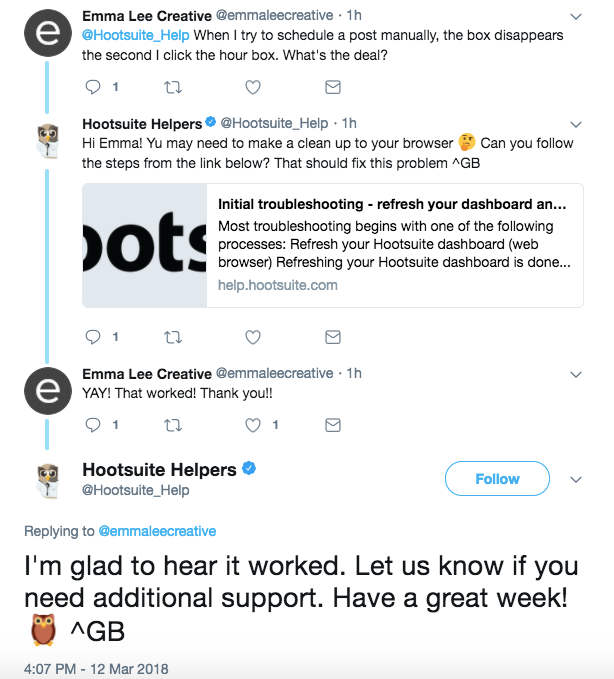 Be Timely
Every company is limited by their available resources, but if you're offering social media customer service, it has to be timely. When people reach out, they expect quick responses, so be clear about that right on your profile. The longer they wait, the angrier they'll get so set a clear expectation of when they will hear from you so they're not stuck wondering.

The more you know about your customer, the more timely you will be able to support them. For instance, if you pay attention to the top questions and challenges your audience encounters, you can proactively have support ready and waiting for them. This could be in the way of proactive live chat messages OR information rich resources on specific pages you know customers often have specific questions on.
Content Marketing Customer Service Example
Ruffwear knows their customers might be hesitant of which size of apparel to order for their dog. So they have a fit guide for every single one of their products, so online shoppers can easily solve this challenge on their own.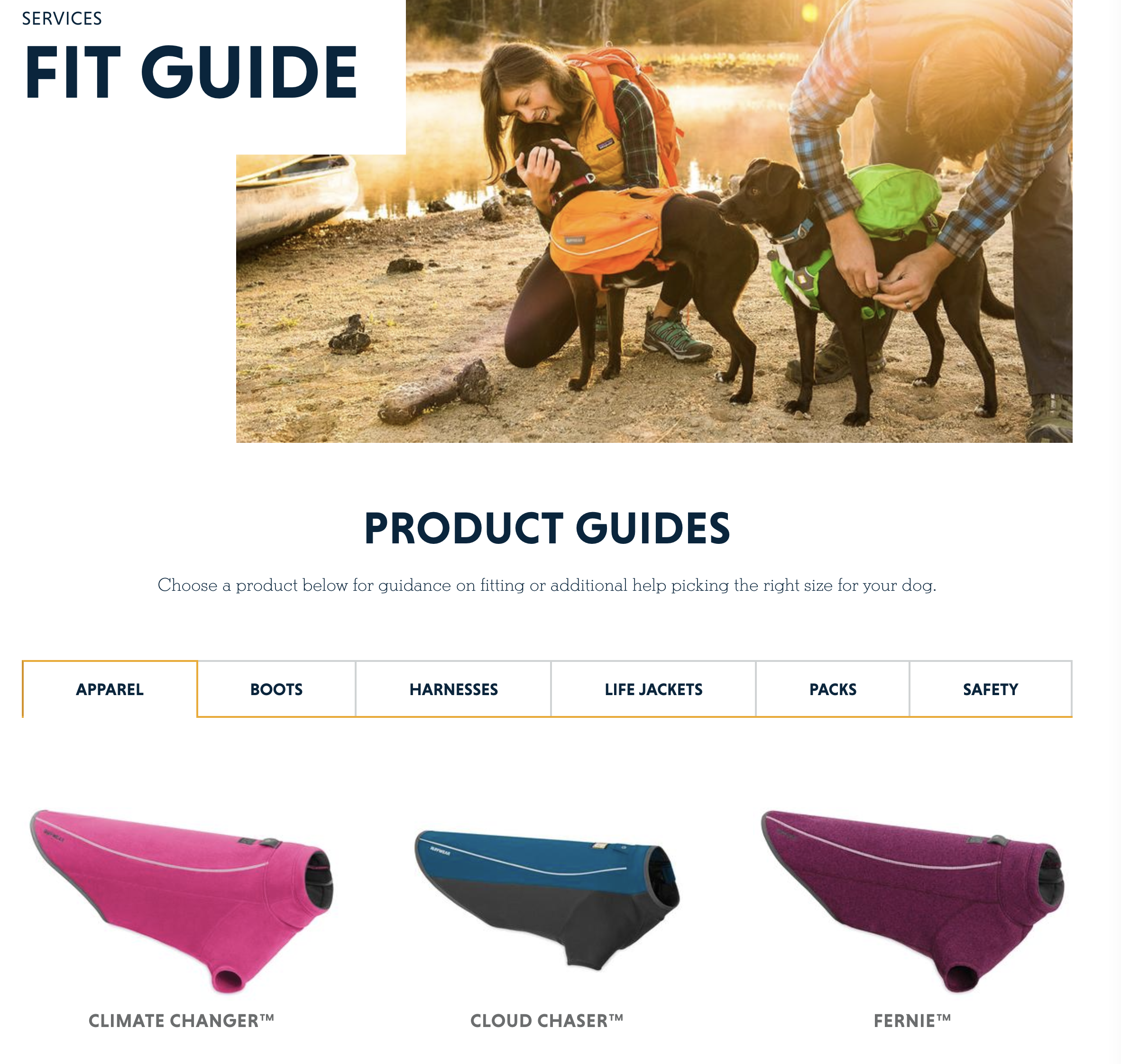 Monitor Brand Mentions
Monitor your brand mentions and any applicable hashtags across social channels so that you can be aware of, and participate in conversations that you need to be a part of. Respond to complaints, thank people for the good things they're saying about you, engage conversations your audience is having about you and always be looking for new ways to delight them and increase brand loyalty.

It wasn't technology that ruined the music industry, or the video industry, or the taxi cab industry. It was forcing people to buy full length albums, charging ridiculous late fees, and unfair meter rates. These businesses were the opposite of customer centric, and focused on what worked best for them instead of putting the customers needs first.

Monitoring and participating in the ever changing interests and needs of your customers is key in staying relevant, protecting your brand, and simply showing that you care. You can use our favourite tool Mention to get incredible data and insights into mentions of your brand, or even Google Alerts if you're on a budget.
Brand Mention Monitoring Customer Service Example
In this example, the Netflix support twitter account picked up on one of their customers complaining about a title they'd like to see. They sent a personalized (not automated or "canned") response with a clever tone. This shows they are listening to their customers, and taking the time to inject their brands wit and humour into their communication.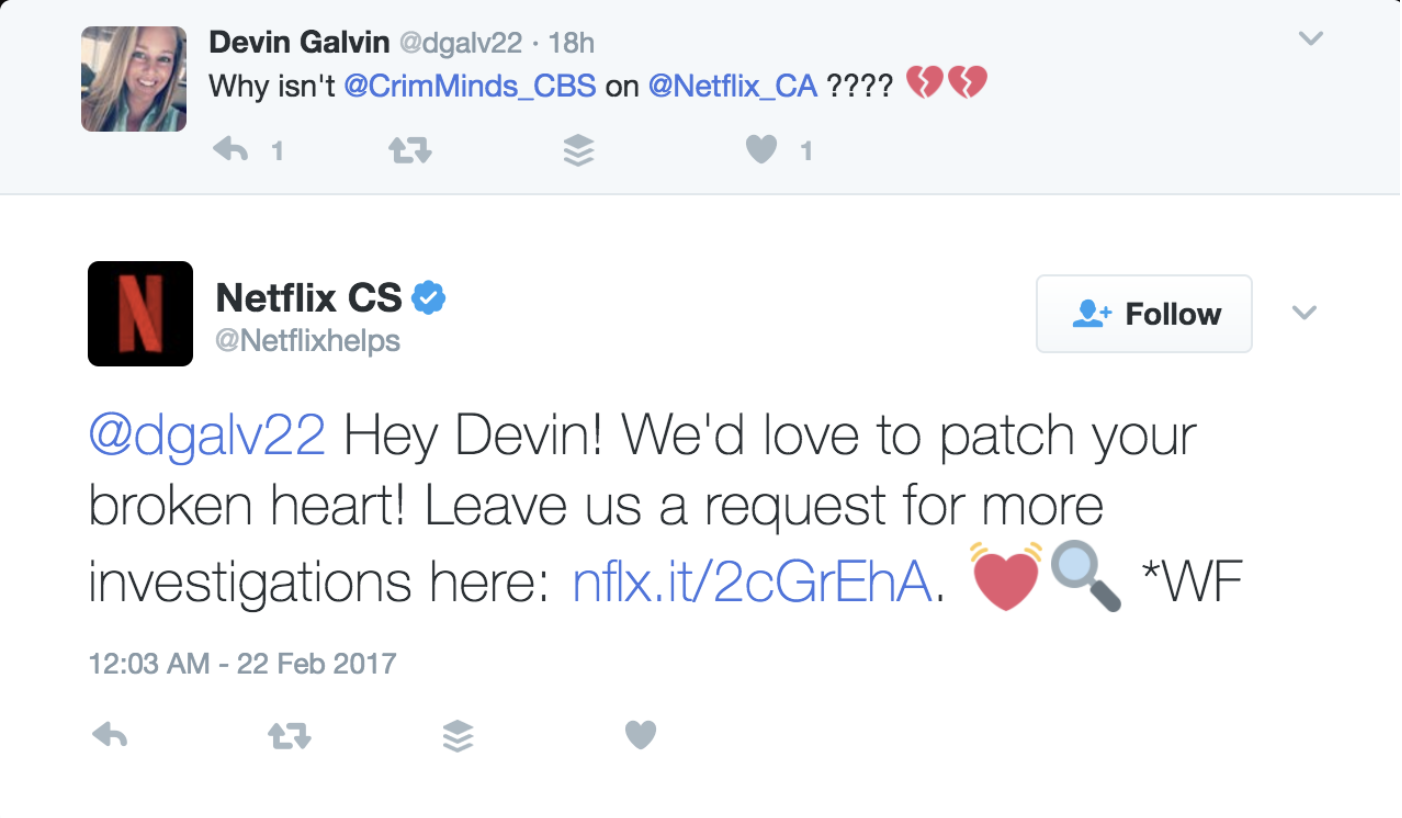 Be Proactive
Expecting a service outage, or discovered a new software bug? Don't wait until there's a problem to reach out. Let your audience, and anyone who might be coming to your social platforms to complain, know about the problem, and that you're actively working on solving it.

This saves you and them time, and assures your customers that you're on top of it!
Service Outage Customer Service Twitter Example
This is one that I appreciate myself quite often. Our local power supplier "Fortis BC" is really great at posting current service updates on their twitter profile as well as giving people a heads up of when to expect possible outages.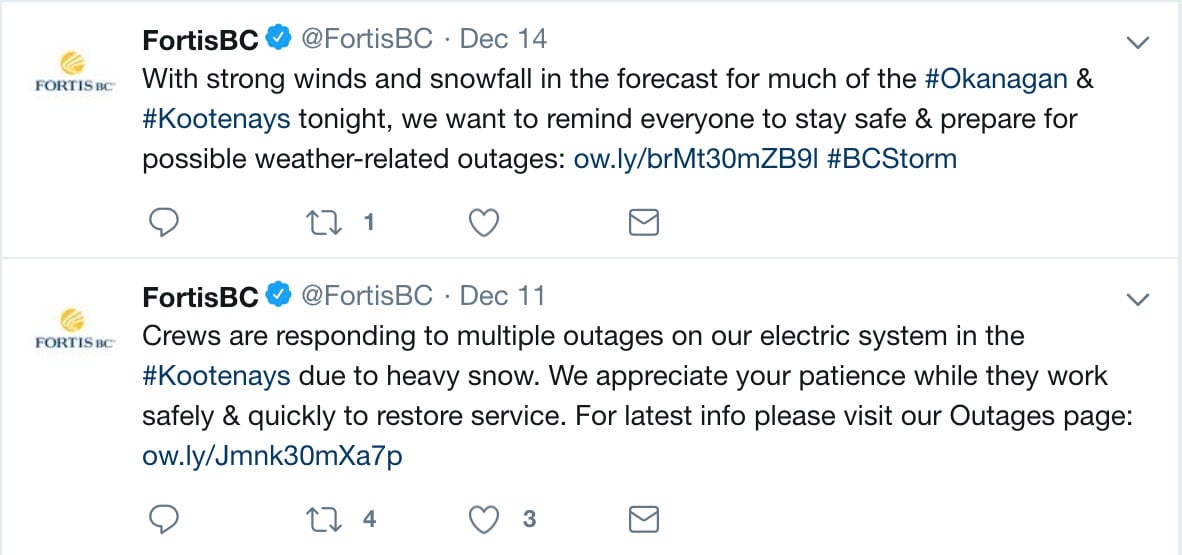 Highlight Success to Delight Customers
Don't keep success stories a secret. Remember what we said about people loving being featured? Highlight happy customers, and issues that get resolved to the rest of your followers. Show them how much you care as often as you can, and create a loyal brand following in doing so.

In fact, if you truly focus on a customer centric way of doing business, it's the customers who will highlight you.
Social Media Customer Service Example
While staying at the Vancouver Delta for a conference, a customer tweeted that he didn't like the view from his hotel room. He wasn't making any requests and didn't tag the hotel.

The Delta clearly has a social listening strategy of some kind, as within an hour they moved him to a room with a better view. Also, when he returned to his room there was a handwritten letter and a plate of sweets.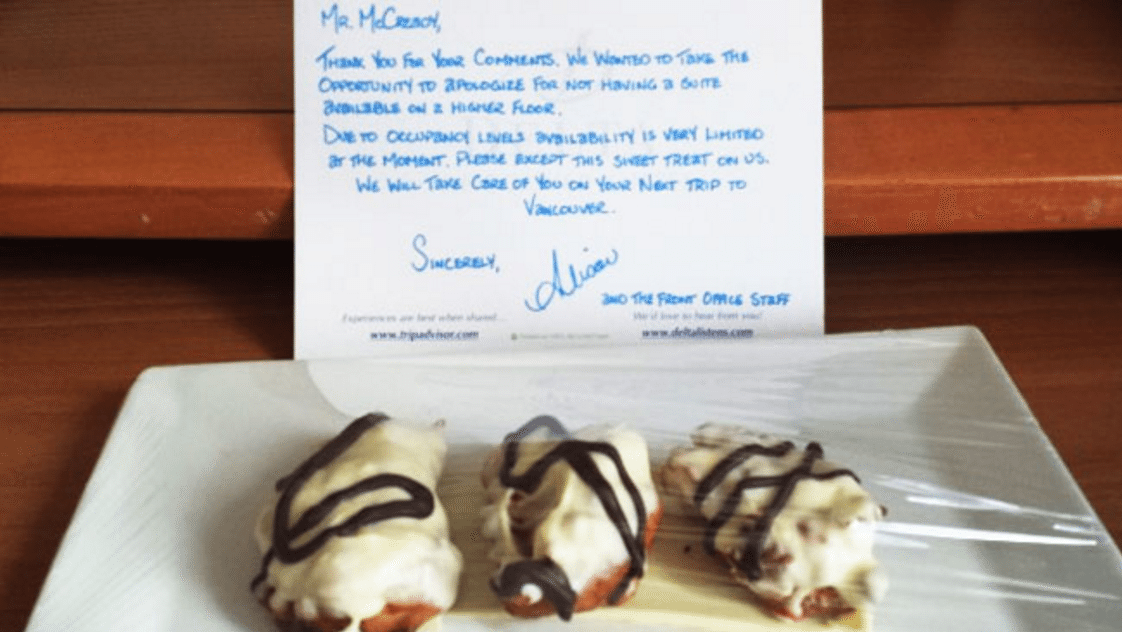 They could have easily ignored him and nothing bad would have occurred. But, since they make a habit of going the extra mile, they delighted a customer so much that he wrote a post about how awesome they are.

Conclusion
To summarize, companies who follow a customer centric way of doing business are simply going to succeed over those who do not. Lead with incredible customer service and you'll grow a loyal following of brand fanatics.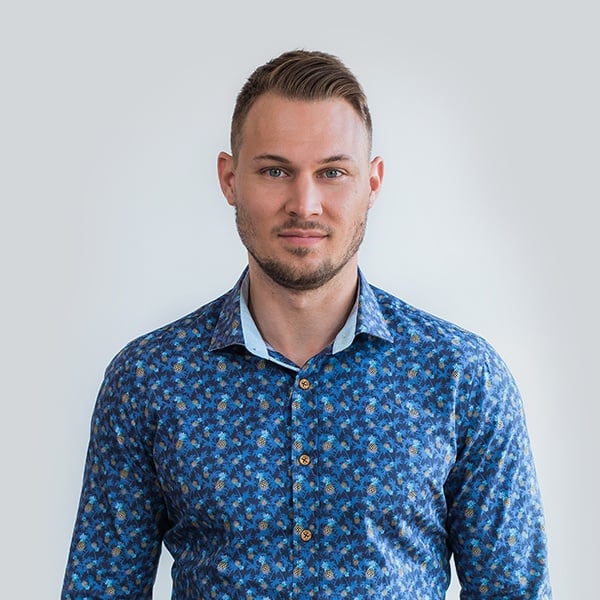 Chris is one of the managing partners at Roketto. His area of expertise is digital marketing and loves sharing and educating on topics like Google Ads, CPC bidding tactics, Google Analytics, and marketing automation. When Chris isn't in the office, he enjoys playing volleyball, mountain biking, and hiking with his American Eskimo.